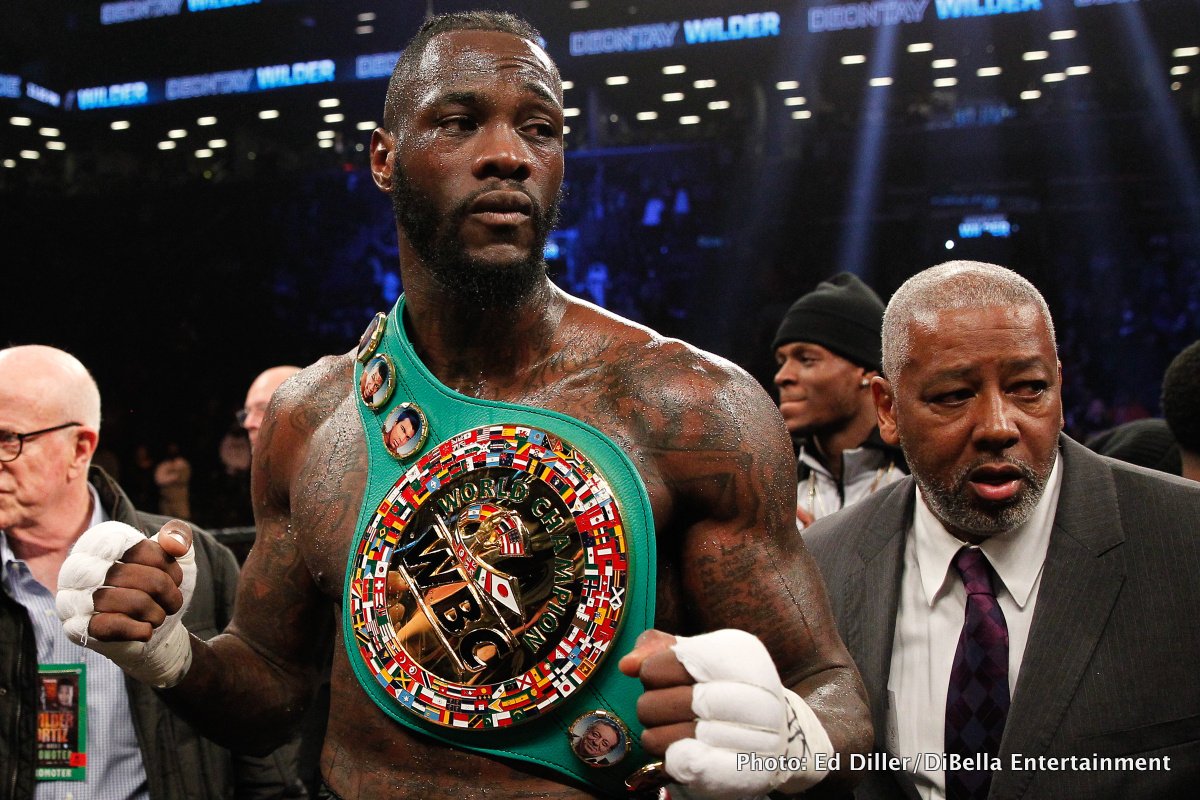 WBC heavyweight king Deontay Wilder is not, as fans have likely read, coming to Cardiff on Saturday to watch and provide punditry duties on the big Anthony Joshua-Joseph Parker three-title unification showdown. AJ promoter Eddie Hearn did not mince his words upon being told Wilder would not be attending – suggesting in his own colorful manner how Wilder had basically suffered a bad case of nerves upon finding out that Dillian Whyte – the fighter Hearn sometimes seems desperate to have Wilder fight – would also be in attendance in Cardiff; "breathing down his [Wilder's] neck," as Hearn put it when speaking with iFLTV.
But Wilder, although his presence will undeniably be missed, seems to have a fair enough reason for declining to work for Sky Sports in co-calling the fight. Speaking with Tha Boxing Voice Podcast, Wilder explained how he was initially told by Sky Sports how it would "not be a problem" for him to get into the ring with Joshua after the fight (providing he won of course) and "look him in his eyes, face to face and tell him that I wanna knock him out."
Now, Wilder says, he has been informed that he will not be allowed to confront AJ, that there was talk of "extra security" and even "something about a restraining order." So, Wilder will be a no-show on Saturday. As to whose fault this is, it is open to interpretation. Why now let Wilder get into the ring and "hype" the big fight with Joshua – the fight all of boxing wants to see? Imagine Joe Frazier demanding how Muhammad Ali not be allowed to get into the ring with him, to confront him after a fight, as the build-up to the "Fight of The Century" was underway. Ali even gatecrashed Frazier's training camps yet Joe just got on with it, knowing and understanding the power of publicity.
Hearn says he truly believes Wilder does not want to fight Joshua, that if he really did want it, he'd be in the UK for the fight on Saturday. But does Hearn really believe Wilder is scared of taking a fight with Joshua? This after risking everything, for a whole lot less money than an AJ unification clash would net him, against Luis Ortiz? Before Wilder took out Ortiz (and came through a rough patch or two, proving he DOES have a chin) the conspiracy theorists claimed Wilder didn't really want to fight Ortiz, and was only calling him out to look tough, that in fact he knew the fight would not happen (and, for a while, due to Ortiz' failed drugs test, it looked like the fight would never happen).
But Wilder, when he could so easily have "ducked" Ortiz – the Cuban southpaw arguably being THE most dangerous heavyweight out there prior to be flattened by Wilder – gave "King Kong" a second chance. For this risky, risky fight (a far riskier fight than the one AJ will encounter two days from now) Wilder earned a little over $2 million. Now we are supposed to believe Wilder, 40-0(39) is running scared from a fight with Joshua – one that would see him earn over three or four times that much (if not more)!
I don't buy it. But Hearn wants Wilder to further "earn" a fight with his prize heavyweight by fighting and defeating his highly ranked heavy, Dillian Whyte. To this, Wilder has made a counter offer:
"I will fight Whyte," Wilder said on Tha Boxing Voice Podcast. "If they put Joshua on that contract. I have no problem fighting Whyte. Better yet I'm gonna make them another deal: If Dillian Whyte will fight Luis Ortiz and beat him, I will fight Dillian Whyte. They can take it or leave it. You fight Luis Ortiz and beat him – I'll fight you. You put Joshua on that contract – I'll fight you."
This seems fair enough, and whether Wilder is in attendance at Joshua's latest fight or not, the ball is back in Hearn's court. Bottom line: the fans want to see Wilder and Joshua fight. Now Wilder has laid down terms for how it can happen.