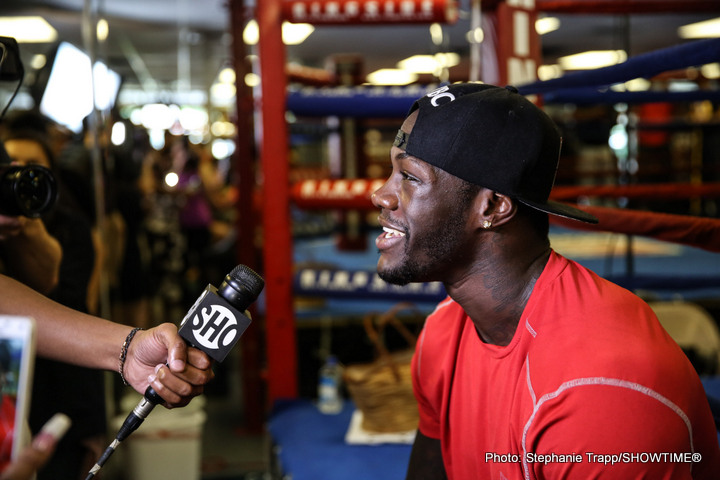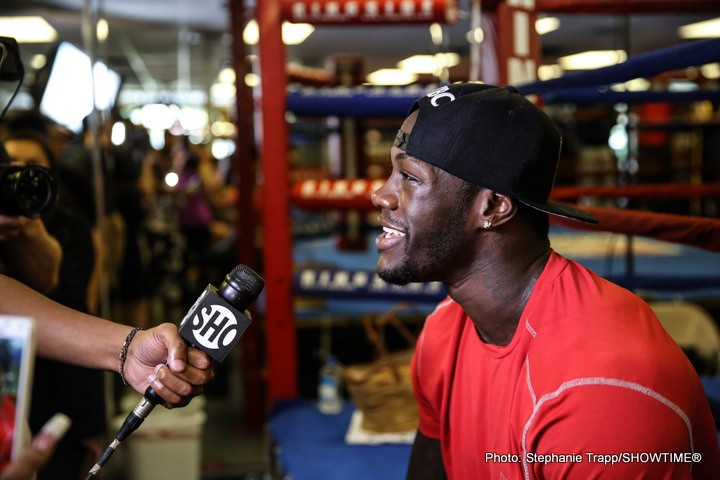 Artur, would you like to say a few words to start?
A. Szpilka – Welcome to everybody. The new heavyweight champion is here. You'll see. I wait for questions.
L. DiBella – Well, the man who believes he is going to be the new heavyweight champion just said a couple of words. Now we're going to go to the Heavyweight Champion, undefeated Deontay Wilder.
Deontay Wilder
Good evening everyone. Happy New Year. We're headed into a new year. It's going to be a hell of a year this year for not only myself but a lot of other fighters as well. There are a lot of things going on in the heavyweight division. The division is definitely alive, and I'm looking to claim it all.
I wish all the heavyweights in the division good luck on their up and coming journeys. And I definitely wish my opponent good luck on becoming the first Polish champion. That is something that has been a hard task to complete for many Polish guys.
He's not the first to come. It's going to be difficult for him as well, but I wish him luck. He should be proud that he made it this far, and got this opportunity. So I'm looking forward to January 16, to conquering the world.
Q
How's training going, Deontay? How's camp been? How's your training? Same question for Artur.
D. Wilder
Camp has been wonderful. We've had a lot of wonderful guys that come in camp. I've always been in shape. That's always been my motto, that I'm never out of shape. To not have fought a southpaw in three years, and to have a great camp like I've had, it's been crazy.
It reminded me of why I enjoy and love fighting southpaws. I definitely had fun in this camp. I'm looking forward to the fight. I really am. This is my statement year, the start of the year. I'm looking forward to make a statement on Szpilka's face.
A. Szpilka
Everything is great. Everything is fine. To be honest, I cannot wait to start this whole commotion. Especially I am waiting for the moment that I will be able, for the first time, to look in Deontay's eyes, and be in the middle of this whole fight week preparation, and fight week craziness.
Q
For each fighter, what is difficult about preparing for the other guy? For Deontay, how different is it facing a southpaw, especially one that kind of fights out of a crouch? And for Szpilka, how difficult is it to prepare for someone who is so tall, and with such reach?
D. Wilder
It's different levels of what you look at as difficult. Southpaws are my fun people to fight. You know, southpaws are people that pressure me. They are the ones I enjoy the most in sparring and actual fights and stuff like that.
There's nothing, difficult about the southpaw, other than you're switching sides with fighters. What you're used to seeing is just backwards. That's about it. Everything else is all about your feel, your determination, your IQ in the ring, and what you're able to do with your ability.
I could put everything I got in the bank on my abilities and skill and will, and what I'm capable of doing in the ring. There's no other heavyweight in the division like me, especially when it comes into the athletic department. I'm the most athletic heavyweight in the division.
There comes a point in time where it's enough talking and it's time to fight, which is what we're doing now. We're in the last few couple of words here, and a couple of more days. Then it'll be time to fight. That way, every fighter has something to say about what they're going to do.
There comes a time when you have to put forth the action, and actually see whether you're really just talking to promote yourself, just to sell yourself, or to build your confidence, or build confidence around you, the people that you have inside, or are you the real deal. And I'm pretty sure that I can put every penny on it that I'm the real deal, and what I talk about, I put full action in.
What I'm saying I'm going to, I'll do it. Everybody that knows me personally knows that if Deontay says he's going to do something, it's going to be done. So it's exciting times, and I can't wait. I really can't. I'm in love with boxing. I'm in love with the sport. I love fighting. I love every bit of it and this is just a part of it.
This is the part I hate, just the waiting. And I'll be so anxious to beat somebody up, just look at their face. This is the part that I hate — the waiting part. I'm ready for the fight. I'm ready to fight. Training is enough. I could have taken off that last little week of training, I didn't need it.
I'm ready. I didn't need the last week of training. I didn't need the last week of strength training. I don't need that. These guys could have went home. If I wasn't paying my sparring partners, I would have sent them home.
But I don't believe in giving out free money, so they had to stay and they had to spar — not to the point that they didn't give me no work, because they gave me great work. It's just to the point where I am super-ready. I'm just done, ready.
I'm looking forward to it, and I hope everybody is and everyone who is going to be attending this fight, who all's going to be attending it or watching it on TV. They're in for a treat. They're in for a huge treat, just to start the year off.
I'm excited about the new year, that we get to start it off, make a statement. I want this fight to be already the fight of the year, and this is just the beginning of the year. So that's what excitement I'm trying to bring to this fight. I'm trying to bring a severe knockout.
I want to get back to my knockout days. My hands were still out of all this time, last year my hand was about 85% when I defended my title. Now it's, looking back, strong as ever. It's back to 100%, and I'm looking to go back to where I used to be — four rounds or under.
A. Szpilka
For now I'm just ready to step into the ring. I also like to fight taller fighters. All the time when I'm spending time in Houston with my trainer, this is what we train for. I understand the training is not the actual fight. But I always liked the taller fighters.
Whatever Deontay is saying just makes no sense. I don't believe in his words, and I will be able to prove it in the ring on the 16th. But for now, it's just talk by Deontay.
Q
Everybody was just really looking forward to 2016's Klitschko against Wilder. How disappointed were you when Klitschko just didn't show up?
D. Wilder
I was very disappointed that Klitschko didn't show up and do the things that we expected of him and what he was capable of doing. It could be many reasons why that Klitschko didn't show up, because that wasn't him as a fighter. Klitschko as a person, his body was there, but as a fighter, something was missing. That isn'tt what we're used to seeing out of Wladimir Klitschko.
I think Father Time has knocked on his door, and he don't want to let him in yet. But, I think it's knocking at his door, and that fight proved it.
There's talk of a rematch, and I'm going to see the second time around. So some people are still in daze of belief, because they can't believe what they've seen.
Just like my career, many times, people make excuses for me. They say different things; even criticize me because they can't understand why I'm able to do what I do, and how I do it when I do it. So, it's the same thing as Klitschko. So we're going to see the second time around, was this real?
Q
Does it mean extra to you to be fighting in such a new arena in the borough of Brooklyn?
D. Wilder
I'm very happy and honored to be able to be able to fight in Brooklyn. Barclays Center as well with so much rich heavyweight history throughout the state of New York. I'm so looking forward to finally putting my name down in history.
I definitely want to come in in the new year, and not only put history down, but in a great fashion; make a great statement to all the others that are in the division. This is a fine time for me. 2016 is going to be a starting time as well, so just making the whole division back and exciting again.
It's definitely an exciting time and I'm just happy to be a part of it, and bringing that excitement truly back to the heavyweight division. I may be a country boy, but I don't think the city's ready for this boy right here.
Q
My first question is to Szpilka. Where are you guys at right now with the drug testing?
A. Szpilka
I'm still waiting. I'm still waiting. I don't know why.
D. Wilder
Well I don't know what he's talking about. I just went to LabCorp yesterday and got blood drawn for the fight. So this is a championship fight. You're not going to have a championship fight without being drug-tested. Period. So whether the test is happening before the fight, or whether the test happens after the fight, there will be a drug test.
Q
Is this camp different compared to all the other camps that you guys went through?
D. Wilder
This camp has been one of the most fun camps for the simple fact that I haven't been involved with a southpaw in like three years. To get my brain back in functioning how to defeat a southpaw, it has been fun. I can't say challenging, because I had too much fun doing it.
I can't wait to show you everything that I have to offer. Just as I developing my skill, I develop everything I've learned over the years, and apply them in the ring.
Like I said before, I keep saying that I want it to be embedded in you guys' brains that 2016 belongs to Deontay Wilder, where he will unify the division. There hasn't been one since 1999. That was Lennox Lewis. Now I must make history. I can't let any man get in my way from that.
If any man feels that I'm just talk, like Szpilka says, he thinks I'm just talk. There's never been anything I said that I haven't done. But we've seen him, many times, talk. We've recently seen him say the same shit he's talking about now. And what happened? He ended up becoming the loser.
Everything I've said I've backed up. That's why I'm still the champ. That's why I am a winner. And the thing about it, my 10,000 hours is coming up – of training is coming up (unintelligible). So now I'm coming up four complete fighters now. I understand my abilities and skills inside that ring, and those 10,000 hours is definitely approaching.
I'm looking forward to the world embracing me, and to continue being the heavyweight champ of the world, soon to be the undisputed heavyweight champion of the world.
A. Szpilka
Just like I said before, and just like Deontay said before, I also could have skipped the last week of training. Everything is done. Everything is prepared. Right now it's just waiting. So we're going to find out who is who on January 16.
Q
I wonder what you think about the fact that you're fighting in Deontay's home country, but chances are you're going to be the one that everybody's cheering for?
A. Szpilka
There is no doubt that my crowd, the Polish crowd, will be predominant on January 16 in Barclays Center. They will be like additional gloves in the ring for me. They're going to carry me to be a winner, to be a champion, something special. I'm going to fight also for them.
Q
What would it mean to you to become the first Polish heavyweight to win a world title?
A
This is the most important part of this fight for me, not even to become a world champion. It's not about that. It's about to be part of the history; becoming the first Polish heavyweight champion; to be the one when, even after I'm going to be dead, people are going to say, oh, this was the Szpilka guy, the guy who was the first Polish heavyweight champion. This is what I want to do, and this is what I'm going to prove to everybody on January 16.
L. DiBella
Well thank you, Artur, and thank you, Deontay. That'll be our last question. Once again, the Showtime telecast will begin at 10:00 ET/7:00 PT. But there are tickets still available at Barclays Center in Brooklyn, and we urge people to come out.
This is a rare opportunity to see the heavyweight champion of the world defend his title, and to see another heavyweight championship contested — two heavyweight title fights in one night, Barclays Center, January 16, on SHOWTIME Championship Boxing.
Tickets again are at Ticketmaster.com, by calling Ticketmaster; Barclays Center.com; by going to Barclays Center box office. We hope to see you in Brooklyn. Deontay and Artur, we'll see you next week in Brooklyn, and we look forward to a great event on January 16. Thank you all for joining us.