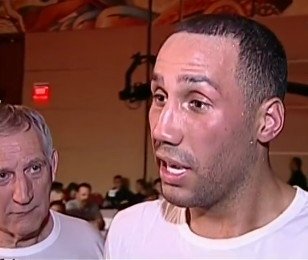 This coming Saturday, Al Haymon's Premier Boxing Champions format attempts to deliver once again with the clash between Britain's gold medal winning Olympian James DeGale and Michigan native Andre Dirrell for the IBF 168lb title that was recently vacated by Nottingham's Carl Froch.
DeGale, who is hoping to become the first gold medal winning British Olympian in history to go on and win a world title in the pro game, has spoken to Sky Sports ahead of the eagerly anticipated battle of two tricky southpaws to insist he firmly believes that Saturday is his destiny and everything he has worked so hard for will culminate in championship gold around his waist.
He said;
"This is a chance I can't let slip. I'm too good. People aren't going to give me the opportunities again because I'm too good. No one is going to fight me for a voluntary defence so I've got to take this chance."
"History is going to made I'm telling you that. I've trained too hard and come too far in my career. You probably hear this a lot but I'm going to be world champion. Trust me history is getting made next Saturday on the 23rd."
DeGale who has been finishing training camp in Miami ahead of the fight said;
"I'm just doing my last bits of training, last bits of sparring and last bits of road work so I'm feeling really, really good. I'm feeling ready."
And it would seem that even if DeGale does win the belt at the weekend, then Carl Froch – who is essentially retired – has said this morning that he has no intention of fighting "Chunky" in a huge domestic clash. He didn't fancy the job when the Londoner was his mandatory so the news shouldn't really come as much of a surprise.
The Cobra also said to Sky Sports;
"I'll be flipping a coin to see if I do fight again but to be totally honest, the DeGale fight does nothing for me. I just can't get motivated to fight him, it's not an exciting fight for me. That's in no way disrespectful to DeGale 'cause if he beats Dirrell – which is a tough ask – he's done well."
Froch, who had his own fits with the American back in 2009 at the Super Six said;
"I hope he does beat him and brings the title back to Britain. That's good for British boxing, keeping the titles over here. I've just vacated the IBF so it would be nice to see it back here. But is it a fight I fancy? Not really, no."
Make of that what you will. The fight will be screened from 8pm in the UK on Sky Sports.
Thanks for reading
Twitter @Undilutedpoison