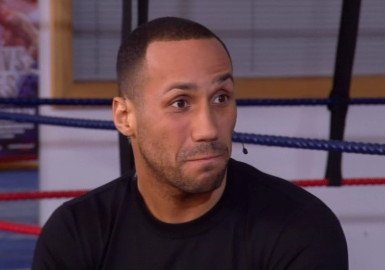 May 23rd DeGale, and Dirrell will climb into the ring, and one will return home with an impressive red belt, and a second chance at stardom. Both of these men are at a critical point in their careers, and each has traveled a rocky path to arrive. Despite bringing home a gold medal in 2008 Olympics, DeGale was far from a fan favorite. The crowd erupted in boos as Chunky made his pro debut.
He later played the villain during the lead up to a George Groves clash, and further estranged his fan base.
After losing for the first time however, DeGale was humbled. He made changes, and not only sharpened his boxing acumen, but also polished his people skills. He went on to have a 10 fight winning streak, and win a European title. Now he is boxing for a world title.
In his own words "he is more of a pro now."
Possibly most important to DeGale though, is that he is starting to receive support from his countrymen. Instead of derogatory comments, people are saying "this Flashy Londoner can fight".
Andre Dirrell, has had his own rough start.
Dirrell, is a fellow Olympic medalist, but was also not a fan favorite early in his pro career.
His fight with Curtis Stevens was described as a "track and field version of boxing", by Larry Merchant. Harold Letterman went as far, as to say, it was the worst fight he had ever seen.
Dirrell, took the criticism constructively though, and improved his game afterwards. He started to become a more "in the pocket" fighter, and started delivering more fan friendly performances. Many thought he had a chance of causing an upset as he entered the super 6 tournament.
Unfortunately in the first round he suffered his first defeat at the hands of Carl Froch in a controversial decision. In the second round he experienced an even more controversial victory.
Dirrells second opponent in the tournament was Arthur Abraham. In the fight Dirrell slipped on the canvass, and while in a sitting position, Abraham proceeded to connect a looping uppercut to Dirrells jaw. Afterwards Dirrell was either doing a superb acting job, or he was seriously hurt. He was on his back trembling, and appeared completely unconscious. He later woke up with no memory of the punch. Abraham was disqualified, and Direll moved on the victor.
Before the 3rd round, Dirrell withdrew from the tournament citing neurological issues. It was uncertain whether he would ever step into a ring again, but after a 21 month layoff, he laced up again. He then proceeded to string together 6 wins, in not the most consistent manner.
May 23rd two men will step in the ring who will have everything on the line, and that is a recipe for a great fight.
A win will posture the newly crowned champ for a 168 pound super fight.
You have probably heard this fight described as a 50/50 fight, and as it turns out the odds are currently exactly even, according to odds shark.
There are a lot of similarities between these two men beyond the perception of odds makers.
One significant commonality is that both have suffered their lone losses from each side of Froch vs Groves.
DeGale seems to have the momentum coming into the fight, and possibly the mental edge. It is also the perceived that DeGale has the better inside game, a place that Dirrell has spent most of his career trying to avoid.
Direll is the faster man, and will have the home court advantage, as the fight will take place on US soil.
It will be interesting to see which version of each fighter will show up Saturday night, as that will have a great impact on the outcome.
I have heard very compelling arguments on why DeGale will win this fight, and I must admit that on a technical level it is the safe prediction.
I personally am going to pick Dirrell in this match up, solely based on his speed, and fluidity. Its not the most detailed prediction, but it's the biggest difference I see in an otherwise close match up in every category.
No matter who wins this fight, it will be the beginning of the reshaping of the 168 pound division, and both men deserve this shot.
May the best man win.