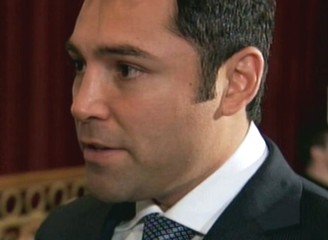 The list of the next great fighters (and writers, promoters, photographers, etc) set to enter The Hall of Fame has been announced. To the dismay of absolutely nobody, ring greats Oscar De La Hoya, Felix Trinidad and Joe Calzaghe head the newest inductees.
The special Hall of Fame weekend will take place next June and all three retired greats are sure to be there to make speeches and meet and greet the fans. Also to be inducted are: Barry Hearn, promoter, Richard Steele, referee, Graham Houston, writer, and Neil Leifer, photographer. Also to be inducted are: George Chaney, Charles Ledoux and Mike O'Dowd in the old-timers category, and Tom Allen in the pioneers category.
Naturally, it is the names De La Hoya, Calzaghe and Trinidad that have attracted the most fan attention.
Calzaghe, known as "The Pride of Wales," is arguably the greatest super-middleweight of all-time. Calzaghe also captured world glory as a light-heavyweight. Never beaten, Joe walked away from the ring with a dazzling 46-0 record.
Trinidad, known as "Tito," captured world titles at welterweight, light-middleweight and middleweight and at one time the Puerto Rican looked headed towards exiting the ring having never been beaten. Somewhat ironically, Trinidad's biggest win came, in a controversial manner, against fellow inductee De La Hoya. The decision Trinidad earned over De La Hoya in 1999 still causes debate all these years later.
De La Hoya, known as "The Golden Boy," definitely lived up to his moniker. The East L.A fighter with Mexican roots captured professional gold (after having won an Olympic gold that spring boarded his paid career) at super-featherweight, lightweight, light-welterweight, welterweight, light-middleweight and, amazingly, middleweight. De La Hoya also broke all manner of Pay-Per-View records during his glamorous time at the top of boxing.
With a combined record of 118-9(97), there's no arguing with these three special fighters receiving their place alongside the likes of Sugar Ray Robinson, Muhammad Ali, Thomas Hearns, Mike Tyson, Roberto Duran, George Foreman and all those other fistic heroes who have inspired so many over so many years.
As to who is the greatest fighter of the three, well, that's a whole other article entirely (for my money, I'd give Oscar the nod!).
Joe Calzaghe's three finest wins: WU12 Mikkel Kessler. WU12 Jeff Lacy. WS12 Bernard Hopkins.
Oscar De La Hoya's three finest wins: WKO2 Rafael Ruelas. WTKO11 Fernando Vargas. WS12 Ike Quartey.
Felix Trinidad's three finest wins: WMD12 Oscar De La Hoya (despite the controversial nature of the decision, Trinidad did become the first man to defeat De La Hoya). WTKO12 Fernando Vargas. WU12 Pernell Whitaker.