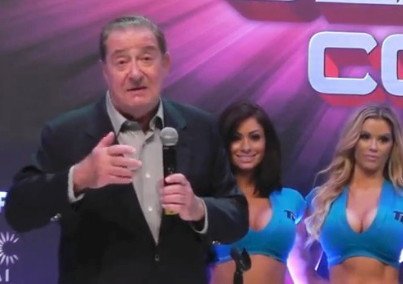 Of all the things that seem to be in the way of a Mayweather Jr. vs. Pacquiao fight, and there are many, the boxing fans claim that Bob Arum of Top Rank is one of the primary causes of the inability of this bout to materialize.
While there has been, and possibly still is some bad blood between Top Rank and Mayweather Promotions (along with Golden Boy Promotions), it is the money that dictates the flow, and it's the promoters who would ultimately secure a safe and financially care free life for their families' future.
In a recent interview with USATooday, when Arum was asked whether he still intends on pursuing the mega-fight, Arum gave a long answer:
"Yes, if people stop posturing. Absolutely. It can happen. It's stupid if it doesn't happen. They owe it to the sport. What, is Mayweather going to fight Amir Khan? Who gives a (expletive)? We've announced we're willing to make anything happen. Now somebody has got to contact us so we can sit down and explore how it can happen. Isn't that the way normal people deal? You can't wave a wand. I've said unequivocally, we're ready to sit down and see if a deal can be reached," explained Arum.
Is Top Rank along with MP Promotions truly willing to do whatever it takes, even abide by the rules that Mayweather Jr. would propose? Are they willing to accept the much smaller piece of the pie? Would they have no issues with fighting in Las Vegas whenever Floyd prefers?
All of this might be an old tale being told yet again, or it could also turn out to be an action of last resort. Which one is it?
More @ http://cgboxing.blogspot.com/
https://www.facebook.com/VitaliFightPress