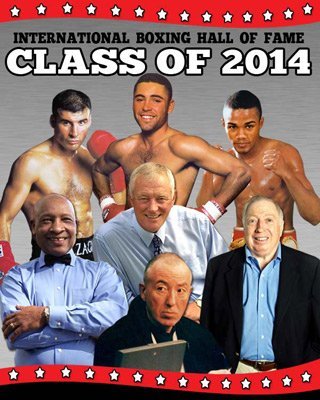 The International Boxing Hall of Fame and Museum announced today the newest class of inductees to enter the Hall. Living inductees include two division champion "The Pride of Wales" Joe Calzaghe, six division world champion "The Golden Boy" Oscar De La Hoya and three division champion Felix "Tito" Trinidad in the Modern category; promoter Barry Hearn, referee Richard Steele, journalist Graham Houston and photographer Neil Leifer. 
          "We're extremely excited about the Class of 2014 and are very much looking forward to honoring the 25th class of inductees," said Executive Director Edward Brophy.
 
            The 25th Annual Hall of Fame Weekend is scheduled for June 5-8th in Canastota, NY. Over 20 events, including a golf tournament, banquet, parade and autograph card show, are planned. An impressive celebrity lineup of boxing greats of yesterday and today will attend this year's Induction Weekend.
The highlight of the weekend will be the Official Enshrinement Ceremony on the Hall of Fame Museum Grounds in Canastota, New York on Sunday, June 8th to welcome the newest members. 
 
 
            The Hall of Fame also released names of posthumous honorees: George "K.O." Chaney, Charles Ledoux and Mike O'Dowd in the Old-Timer Category; referee Eugene Corri in the Non Participant Category; and Tom Allen in the Pioneer Category. Inductees were voted in by members of the Boxing Writers Association and a panel of international boxing historians.
###
 
 
COMMENTS UPON RECEIVING INDUCTION NEWS
 
"I'm so excited. I'm very proud and humbled. I think it's amazing to be inducted. This is a massive, massive honor, just fantastic. To receive this honor and be up there with all the legends is the ultimate honor for me. I'm so happy right now and I can't wait to come to Canastota."
                            –     Joe Calzaghe
 
 
"I am honored and appreciative to be chosen for the International Boxing Hall of Fame's Class of 2014 and I thank everyone who has been a part of this journey with me. This is the dream of everyone who puts on a pair of gloves and steps between the ropes and through the good and the bad, you always hope that when all is said and done, you put on good fights, entertained the fans and will be remembered for what you did in the ring. To know that I will be in the Hall of Fame with the greats of this sport is humbling, but it's also put a smile on my face that isn't coming off anytime soon."
                            –    Oscar De La Hoya
 
 
"This is tremendous news. I've spent many years in boxing and I am very happy. This is a great honor for me, my father, my family and my whole team. I'm extremely happy to be inducted with all the Puerto Rican boxers already in the Hall of Fame. This is the biggest triumph in my career!" 
                            –    Felix "Tito" Trinidad
 
 
"I'm honored. I never dreamed in my wildest dreams I'd receive such an accolade. My immediate reaction is shock and terrific pride and gratitude for such an honor. In my thirty odd years as a boxing promoter this is without a doubt one of my proudest moments. To share the company and be in the same conversation with all the legends in the Hall is a real honor for me and I'm so grateful for it." 
                            –    Barry Hearn
 
 
"I appreciate this so much. It really feels like my life has been completed. This means the world to me. It's an honor for me and my family."
                            –    Richard Steele
 
 
"This is amazing. To get inducted into the Hall of Fame is a great honor of course and is something that pleases me very much. After putting in so many years of writing about boxing – which I've loved – its like the end of the journey to some extent, to get the highest award that one can get in the sport. So I'm feeling overwhelmed. It's certainly tremendous validation for everything that I have achieved."
                            –    Graham Houston
 
 
"I am very, very pleased and quite honored. I'm very often asked what my favorite sport to photograph is and I always say without a moment's hesitation, boxing has been my favorite. And there are two reasons why. One, I think the nicest people I met in the world of sports were in boxing. On both sides – the fighters and the supporting cast. And secondly, being lucky enough to have my career parallel Muhammad Ali's. There's never been a greater subject for a photographer than Muhammad Ali."
                                –    Neil Leifer