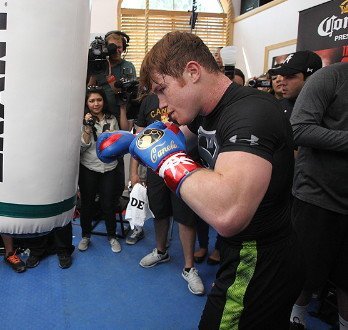 (Hogan Photos) Oscar De La Hoya of Golden Boy Promotions doesn't think WBA/WBC junior middleweight champion Saul "Canelo" Alvarez (42-0-1, 30 KO's) will have problems with his conditioning for his fight with Floyd Mayweather Jr. (44-0, 26 KO's) on September 14th.
De La Hoya says that Canelo has a nutritionist and that he's worked on his conditioning to avoid running out of gas like he did in his fights against Shane Mosley, Matthew Hatton and most recently against Austin Trout.
De La Hoya also says that Canelo won't be the flat-footed fighter that we've seen throughout his career, and that he'll be lighter on his feet.
De La Hoya said to RingTV "We are not going to see a flat-footed Canelo, and we're not going to see a heavy-footed Canelo. We're going to see a light-footed Canelo Alvarez that we've never seen before…this kid is in shape…he hired a nutritionist, and he's hired a strength coach."
If Canelo really has been working on conditioning and his fighting style, it's hard to tell from his weight. He's actually bigger for this fight than he was for his last fight against Austin Trout when he weighed in at 172 lbs.
It's not easy for a fighter that weighs 170+ to be light on their feet when they're only 5'9". It's possible, but not likely to happen. The things that De La Hoya is describing about Canelo are things that are beyond change. Canelo is going to be the same flat-footed fighter that he's always been. He's a guy that was built to fight against stationary fighters, and he's not someone that has the legs or the hand speed to deal with a mover or a guy with blazing speed like Mayweather Jr.
It's understandable why De La Hoya would want Canelo to be light on his feet, and have the ability to fight hard for 3 full minutes for every round instead of less than 1 minute.
De La Hoya's company Golden Boy Promotions will do well if Canelo can beat Mayweather, and be light on his feet to beat other top fighters. But Canelo was exposed in his last fight by Austin Trout, and was very lucky to get the win over him. It's safe to say that Golden Boy won't matching Canelo back up with Trout ever again, because he always spoiled the party for Canelo before he had even become a pay per view fighter.