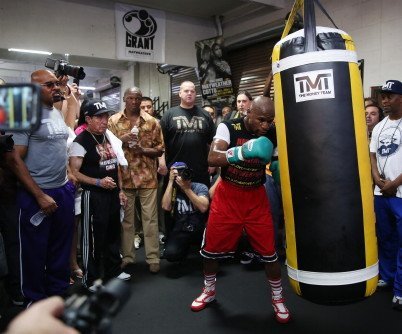 (Photo credit: Stephanie Trapp/Showtime) Episode 2 of Mayweathr vs. Canelo ALL ACCESS will be aired on SHOWTIME tonight at 10 pm ET/7 pm PT for boxing fans to tune in check out the two fighters as they go about their paces to get ready for what they hope will be a record-breaking pay-per-view card on September 14th on SHOWTIME from the MGM Grand in Las Vegas, Nevada. Episode 1 of Mayweather-Canelo was a disappointment as far as viewing numbers go with it drawing only 225,000 viewers, and those are pretty dreadful numbers.
Tonight's viewing will need to do better for the Mayweather-Canelo fight to have any chance at all to break the PPV record of 2.4 million buys set by Mayweather vs. Oscar De La Hoya in 2007.
Thus far, it's not looking good. The build up for the Mayweather-De La Hoya fight was an exciting one, not just for HBO's Mayweather vs. De La Hoya 24/7 series, which brought in monstrous viewing numbers, but also the amount of interest from boxing fans around the internet.
Maybe it's because of Canelo's low key manner of talking, and the fact that he doesn't know how to speak English in order to help attract interest in the fight. De La Hoya did a good job of trash talking Mayweather in the build up to their fight, but Canelo has been uninterested or unwilling to do the same.
It's not good for Mayweather to have a partner that can't carry his own weight in hyping a fight, and that's perhaps the reason why the Mayweather-Canelo fight could come in far below the 2.4 million PPV buys the Mayweather-De La Hoya fight hauled in.
I wouldn't be surprised if the numbers are in the 1.3 to 1.4 million buys region for the Mayweather-Canelo fight. Canelo needs a lot of work in how to promote his fights, because he's too quiet, he doesn't show emotions on his face, and he needs to learn how to speak English so that he can be understood.