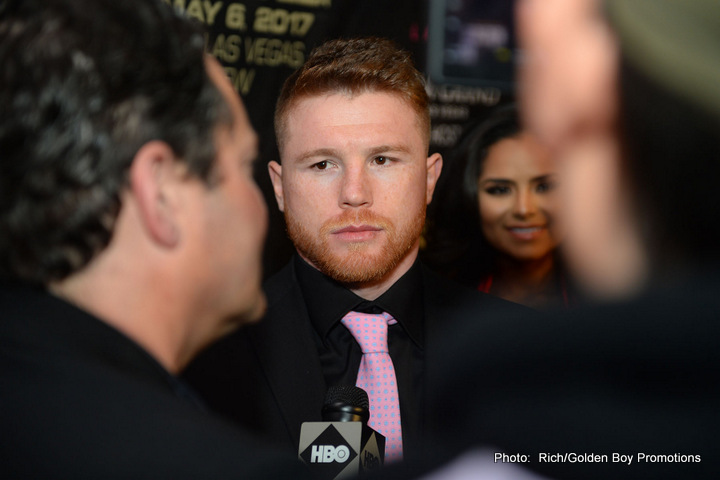 There really is no need for any further hype going into this Saturday's all-Mexican battle between Canelo Alvarez and Julio Cesar Chavez Jr. The fight has sold out The T-Mobile Arena in Las Vegas and big pay-per-view numbers are assured. A genuine grudge-match, Canelo Vs. Chavez Jr is, according to promoter Oscar De La Hoya, the biggest fight in Mexican boxing history.
Part of the reason is the very real dislike, even hate the two warriors have for one another. De La Hoya, in speaking with The Las Vegas Review-Journal, says the intensity of the dislike the two fighters have for each other reminds him of the classic, and bitter rivalry two other great Mexican warriors engaged in, in Marco Antonio Barrera and Erik Morales. It is the prospect of as great a fight that has pulled in the fans.
And De La Hoya says we can expect a fight similar to that rivalry on Saturday night.
"Just like the old days, you feel the electricity in the air," De La Hoya said in describing the atmosphere here in fight week. "There's animosity toward each other. I can't really explain it. There's a lot of pride at stake. They have many years around each other, and you have to go back. Something happened. I don't know if Canelo triggered it or Canelo triggered it, but they don't like each other. They genuinely despise each other. In terms of action, I can see this fight unfolding like Erik Morales and Marco Antonio Barrera."
If the fight that will play out over the big Mexican celebration that is Cinco de Mayo turns out to be even half as good as the first, epic war Barrera and Morales had down at super-bantamweight, the fans will be the real winners. When first announced, most people felt Canelo would win, perhaps easily, against the former WBC middleweight champ who has had a distinct problem with both weight and discipline.
But, with the pride at stake De La Hoya spoke of, along with the hate, Chavez Jr decided to be for real in this fight; pushing himself in training and getting himself in perhaps the best physical condition he has ever been in. The bigger man, perhaps the stronger man, in the 164.5 pound catch-weight showdown, Chavez Jr is convinced he will win.
Even De La Hoya is not sure any longer.
"I wish I had a crystal ball to see how this will play out," he told The Review-Journal.
One thing looks certain: Canelo and Chavez Jr. will give their all on Saturday. With so much on the line, they wouldn't dare give anything less.