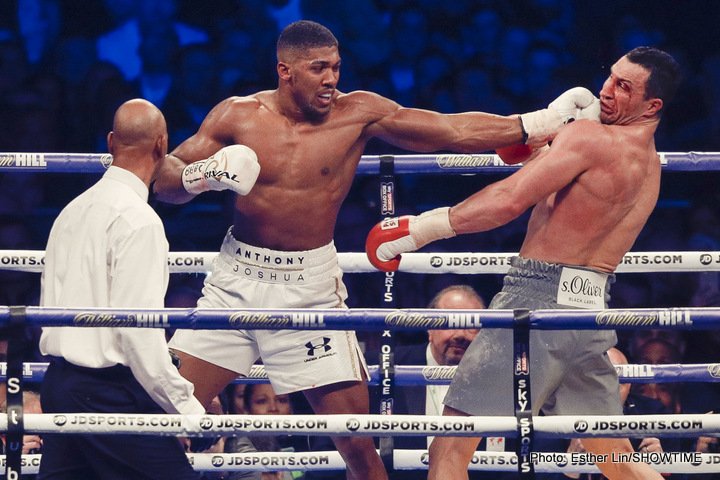 Although he scored a great win over Wladimir Klitschko on Saturday, by far the biggest win of his entire career, amateur and pro combined, new heavyweight superstar Anthony Joshua insists he has not scored his defining win; that he is just beginning his journey.
And, as he explained when speaking with The Telegraph, the new WBA/IBF ruler plans on emulating the man he smashed to 11th round defeat at Wembley, and reign as a truly dominant world champion for a full decade.
"I can do what Klitschko did, retain the title for 10 years," Joshua, 19-0(19) said. "That's why I said before for me that it [the Klitschko fight on Saturday] wasn't a defining fight, it's part of my journey."
The plans are now being made for where Joshua will go next on this journey. There are of course plenty of options, and possible opponents, for the unbeaten 27 year old star. Promoter Eddie Hearn told the paper how "we will go wherever there is the most money," and Hearn said a rematch with Klitschko could happen in Germany.
"Anthony wouldn't mind going to Germany, something different, to face Klitschko if there is a second fight," Hearn said. "He would have no problem going anywhere. The States, China, the Middle East, the Principality Stadium. We wouldn't have any problem selling it."
Indeed. Joshua, as he proved on Saturday, has genuine star power and we can expect further huge nights involving big, big numbers – big numbers in terms of cash and in terms of number of fans in attendance for AJ's future fights. Hearn says Joshua will not fight again until October and that he will likely box twice a year from here on in.
"Anthony will have May, June off, so he's not going to be ready until October," the promoter stated. "I want him to box in April/May and then go again in October/November every year as regular fixtures."
While fans everywhere seemingly cannot get enough of Joshua and would like to see him in action as often as possible, these days, two fights a year is standard. At 19-0 now, Joshua, if he does reign for ten more years, can be expected to have another 20 or so fights. The mind boggles at the thought of him winning them all, advancing to an incredible 39 or 40-0 and making 23 to 24 world title defences!
But right now, the sky really is the limit as far as AJ is concerned.