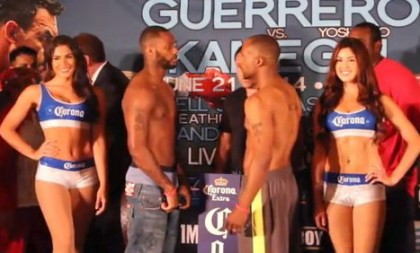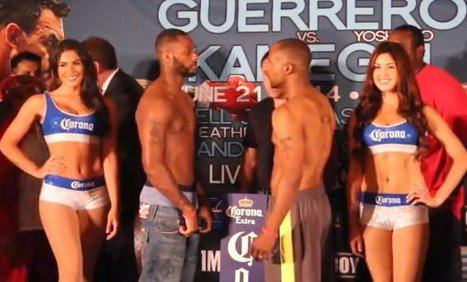 Chad Dawson (31-3, 17 KO's) is hoping a win tonight against George Blades (23-5, 16 KO's) will help reignite his stalled career. Dawson and Blades will be squaring off for a 10 round fight at the StubHub Center, in Carson, California, USA.
Dawson hasn't fought in a year, so his handlers didn't want to match him too tough given the time off. But once this fight is out of the way, Dawson needs to be pushed up fairly rapidly if he wants to make something happen in the light heavyweight division.
It's not a good sign that Dawson failed to make the contracted weight of 179 pounds for this fight. He looked flabby around the middle, and he seems to have lost some muscle mass from the year that he's been out of the ring. He's going to need to improve his conditioning if he wants to compete with the likes of Sergey Kovalev, Juergen Braehmer and Bernard Hopkins in the light heavyweight division. Adonis Stevenson, who Dawson was knocked out by last year in June, is obviously out of the question because he's just too dangerous for Dawson.
"It's the process of boxing, and I had to accept that," Dawson said. "You take one step forward. You get knocked down. You take one step back. "I'm older and I'm smarter, and I wouldn't be a former world champion if I wasn't confident. As long as I do what's asked of me, I'm going to get back to the top. I'm going to be a three-time world champion," Dawson said. "I can see it."
In his last 10 fights dating back to 2008, Dawson has looked nothing like the fighter who had shined in the earlier part of his career with wins over Eric Harding and Tomasz Adamek. When you look at those two fights and compare them to how Dawson has looked since, he's a completely different fighter. He no longer throws a lot of shots, and he's not quick on his feet like he once was.
Dawson just seems stiff and slow. Whether Dawson can ever recapture what he was earlier in his career is unknown. If it's a conditioning issue then possibly he can get back to where he was before if he works hard enough. But he appears to have a chin problem now, and that's going to slow down his chances of success if he keeps getting knocked out left and right.