David Benavidez says he prefers facing Jermall Charlo than fighting finesse fighter Caleb Plant, and he's hoping he can make that match-up happen.
Charlo (31-0, 22 KOs) says he'll move up from 160 to make the fight happen with former WBC super middleweight champion Benavidez (23-0, 20 KOs) at 168.
IBF 168-lb champion Plant (21-0, 12 KOs) would be on the move for 12 rounds, forcing Benavidez to cut off the ring. It would be mostly jabbing from Plant, as he doesn't have the power in his shots to fight Benavidez.
In comparison, Charlo would come after Benavidez and be trading big power shots from start to finish, and it would be a pure war between in the survival of the fittest type of clash.
Before he can look to Charlo, Benavidez has a stay-busy match scheduled for next month against Ronald Ellis (18-1-2, 12 KOs) on March 13th at the Mohegan Sun Casino, in Uncasville, Connecticut
Benavidez wants Jermall Charlo
‌"You said a Jermall Charlo fight would be more exciting in a fight against Caleb Plant. Why?" said Max Kellerman on Max On Boxing in asking David Benavidez why he sees Jermall fight more interesting than one against Plant.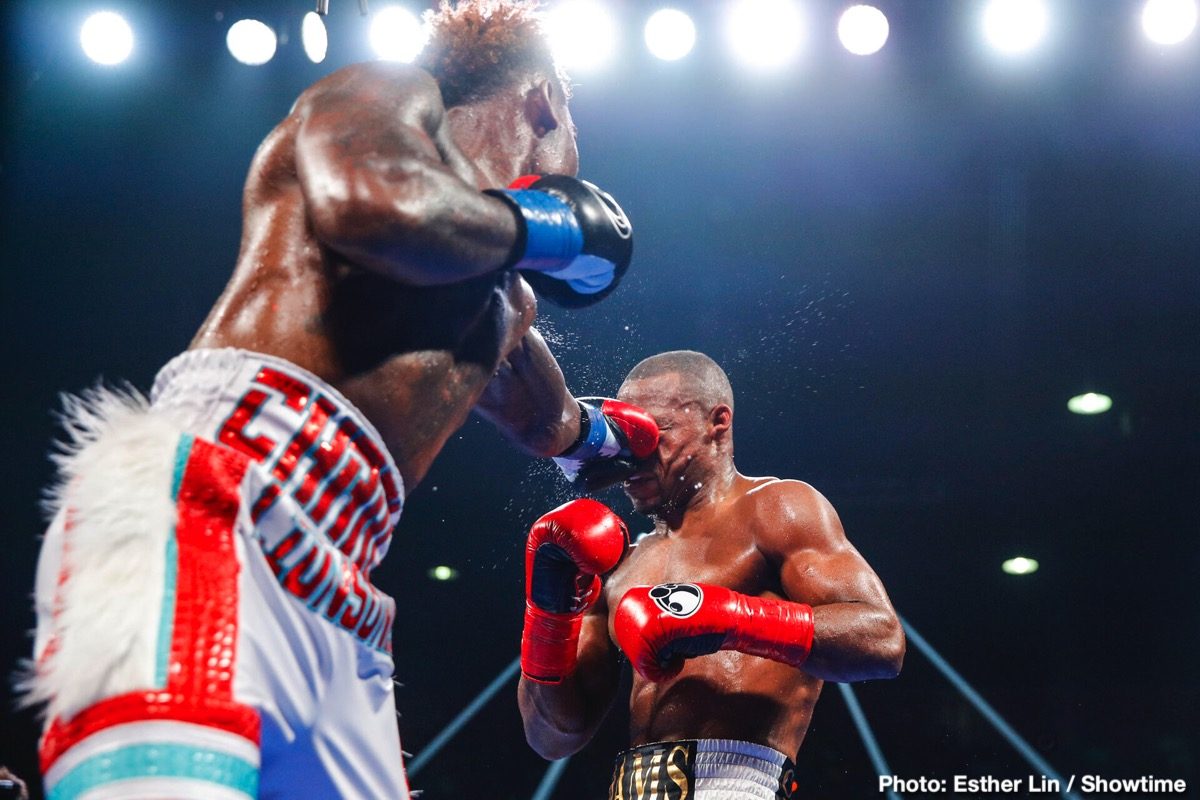 "I think we'd both come forward and we're both warriors, and we both have a high percentage of knockouts," said Benavidez about Jermall Charlo.
"So I feel like he can knock me out. I feel like I can knock Jermall Charlo out, so let's give the fans what they want to see. I think it's going to be a war from round one to round twelve."
This is the fight that both Charlo and Benavidez seem to want to happen. It's going to be up to Charlo to show that he's for real, and not just talking about wanting to make the match happen.
Jermall Charlo insists Benavidez prove he's been vaccinated
"Charlo said recently that he's been vaccinated and that you have to prove that you've been vaccinated as a precondition to fight him," said Kellerman to Benavidez.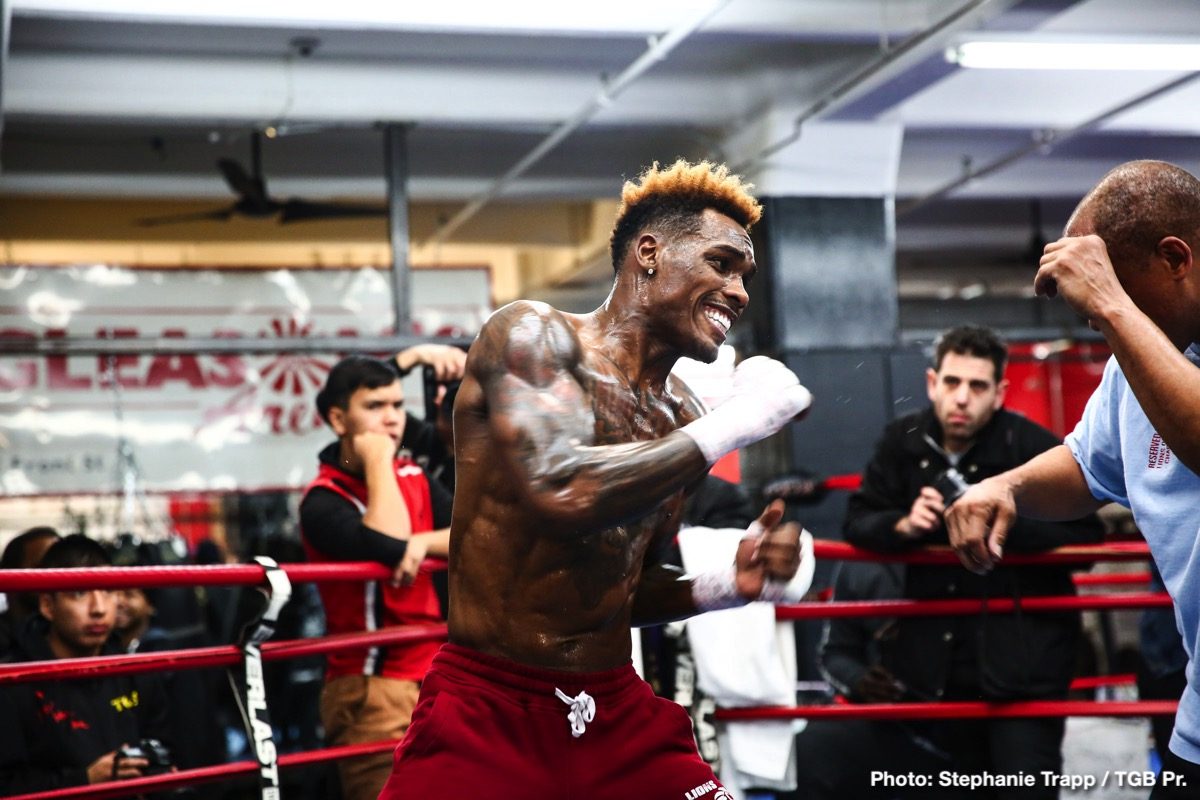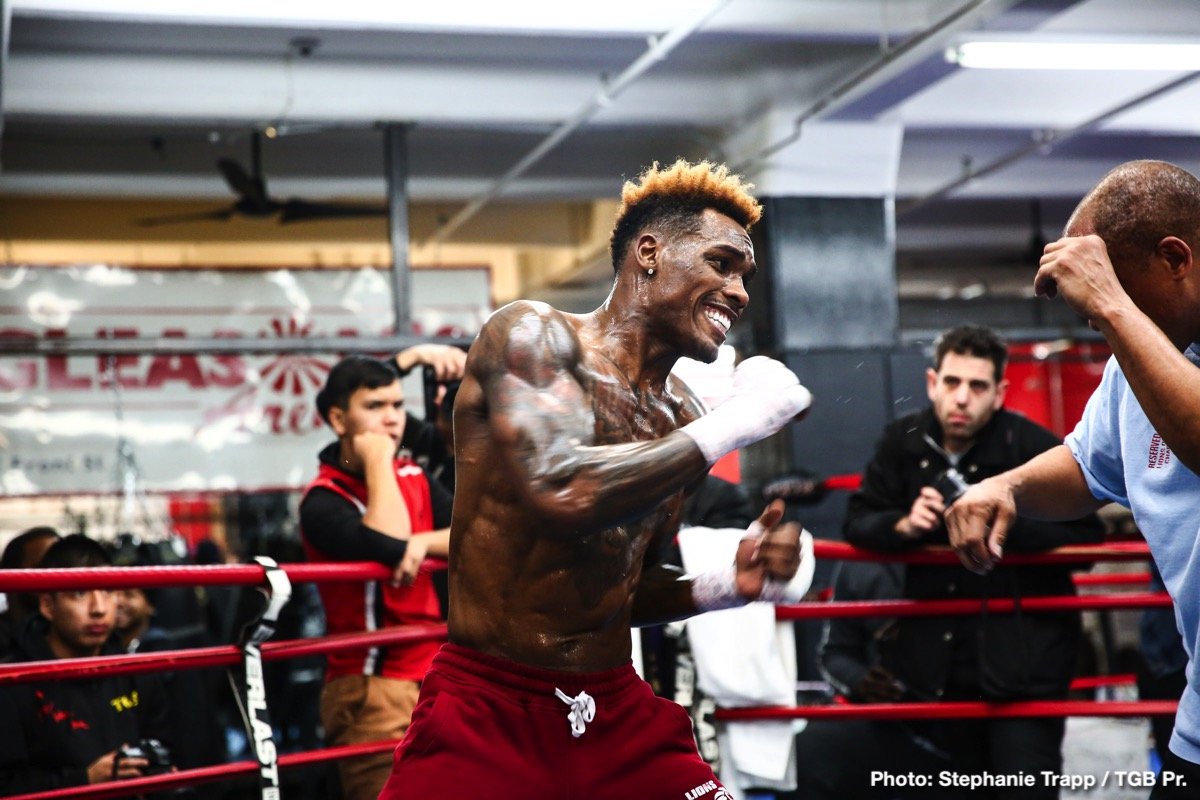 "But as we know, access to vaccination is not just for everyone. You can't just go get a vaccination because you want one. What do you think of Charlo's precondition to a fight?"
"I think it's just funny. I've never heard him put that type of condition on anybody," said Benavidez about Jermall insisting that he prove that he's been given the COVID 19 vaccine before he'll agree to fight him.
"I feel like if you take all the tests and all the precautions, I feel like you should be good, vaccination or no vaccination. So I think he's a little bit nervous now.
"But if he wants me to get vaccinated in order to fight him, I'll more than likely go get vaccinated. I want to make that fight happen.
"I still have a fight on March 13th [against Ronald Ellis]. I'm going to take care of my job on March 13th. If he wants me to go get vaccinated to fight Charlo, I'm willing to do it, said Benavidez.
If the promoters for Benavidez are able to search hard enough, they might be able to find a way to get him vaccinated. With the money that will be on the line for a fight between Benavidez and Charlo, they should be able to find a place where he can get vaccinated.
Of course, if Charlo's request for Benavidez to get vaccinated is just an excuse to get out of fighting him, he probably won't get the fight anyway.
Charlo might come up with another hoop for Benavidez to leap through before he gives him a shot.
Facing slick boxers doesn't worry Benavidez
"You're right about the style. You and Charlo are bombs away, and you both have boxing ability as well," said Kellerman of Benavidez and Jermall being a great style match-up.
"A lot of times when I hear aggressive fighters say that about boxer; in the division, Canelo has a fight against Billy Joe Saunders.
"He's a boxer, and Caleb Plant's a boxer. A lot of times when an aggressive fighter is saying that, it's almost like an excuse. When they lose, 'Well, he wouldn't stand and fight me.'
"You're going to have to fight some slick boxers in and around this weight class. Obviously, Charlo is a better style for you, but how do you beat the slick boxers that aren't showing up to go toe-to-toe?"
"You have to have more than one different style, and you have to apply a lot of pressure, do a lot of bodywork, and cut off the ring," said Benavidez in explaining how to beat slick boxers like Saunders and Plant.
"Obviously, if you're going to fight a boxer, he's not going to give you the time of day to stay in there and bang with you," said Benavidez.
"So you've got to do certain things to cut them off and make them run into shots. So I've worked with a lot of boxers and I've worked with a lot of brawlers.
"So whatever style is presented on fight night, I'm going to be ready for it. It's my job to adapt and be ready for anything," said Benavidez.
It's not a problem for Benavidez to have to worry about fighting slick boxers like Caleb Plant or Billy Joe Saunders right now because those guys aren't about to fight him.
By the time Benavidez does get a chance to fight either of those guys, their respective careers will likely be on skidrow, and they'll be needy.
The guys that Benavidez will be facing to become a star are punchers like Canelo and Jermall Charlo, and he'll do well against those types of fighters.
Edgar Berlanga a future opponent?
"Your talent is obvious and your star-power is obvious and the excitement that you bring too," Kellerman said.
"But you've not been tested against a who's who in and around your division.
"When I look at that, there's another guy that is knocking everybody out at [super] middleweight, and he's less proven than you are.
"What about Edgar Berlanga and David Benavidez? What's your thought about Edgar Berlanga?"
"I think Edgar Berlanga is an amazing fighter," said Benavidez. "He's a very strong fighter but I don't think he's proven yet.
"I feel like if he wants to get that fight going, I'm the same age. I'm all for that fight, and I think it would be a big fight for Mexico and Puerto Rico.
"I feel like I would beat Edgar Berlanga. So whenever he's ready to take that fight, I'm ready to take it whenever.
"So tell him to let me know when he wants that fight, and we'll make it happen," Benavidez added.
Top Rank probably won't let Edgar Berlanga (16-0, 16 KOs) fight David Benavidez right now because his opposition has been too poor to adequately prepare him for a fighter of this quality.
Really, Berlanga's promoters have done him no favors by matching him against such awful opposition without making any adjustments to increase the quality.
Berlanga, 23, is roughly the same age as Benavidez, but he's been treated like someone that his promoters don't trust to put in with better opposition.
If they don't trust Berlanga, they should cut him loose and let another promotional company take over to guide his career. Maybe he needs a new training team to help him improve.
One thing is clear, Berlanga isn't getting enough rounds for him to make improvements.
He's knocked out his first 16 opponents in the first round. How in the world is Berlanga going to learn anything from fights that last for less than around?
If Top Rank puts Berlanga in with Benavidez now, the inexperienced Puerto Rican fighter will likely fall apart after the first round when he fails to score a quick knockout.
Benavidez: I will beat Canelo Alvarez
"If you're at 168 pounds and you talk about big fights, the biggest of all is, of course, Canelo Alvarez," said Kellerman.
"That's the money-man in boxing, that's the guy everyone wants to fight because you get rich on the night you fight him.
"A lot of guys get beat up on the night they fight him. Why will you beat Canelo Alvarez?"
"I feel like I bring something different to the table than all these other guys that he's fought recently," said Benavidez on why he feels he beats Canelo.
"I'm 24-years-old, I'm younger than him, I'm faster, I'm stronger. It's that there's something in me. I want to show the world what I'm really made of.
"I know he's a great fighter. I take nothing away from him. I feel like he's one of the best fighters today.
"All I need is an opportunity. I feel like I'm the best. I just need an opportunity to show everybody, and I will beat Canelo once that time comes," Benavidez predicted.
Benavidez's size, power, work rate, and chin would give him an excellent chance of beating Canelo. Clearly, Benavidez is the best fighter at 168, and it was a joke recently when Canelo claimed that Callum Smith was the best.
Benavidez is a lot better than Smith, and it would be a potential nightmare for Canelo to fight him.
With Canelo's popularity is sky-high, for him to lose a fight, his opponent will need to outwork him and make it clear that he's been beaten.
The only fighter at 168 that has the ability to throw a lot of punches to wear Canelo down is Benavidez. Canelo likely knows that, which is why he's chosen to buy himself time by making it known that he wants to unify the 168-lb division in 2021.
That's arguably a dodge by Canelo to give him the excuse to spend the entire year fighting the weak champions that currently holding belts.
Callum Smith, Billy Joe Saunders, and Caleb Plant didn't beat the best for him them to win their world titles at 168.
They were cleverly matched and beat lesser opposition to win their belts, and now Canelo is taking advantage of these weak champions to become the undisputed champ at super middleweight.
Anyway, I see it as a dodge on Canelo's part. He can tell DAZN and the boxing world that he's working on his goal of unifying the 168-pound division. But what it's really about is giving Canelo a free pass not to have to fight the dangerous guys like Benavidez, Jermall Charlo, Demetrius Andrade, Dimitry Bivol, Artur Beterbiev, David Morrell, Joe Smith Jr, and Edgar Berlanga.
Those are the fighters that Canelo would be expected to face if he didn't choose to spend the entire 2021 trying to become the undisputed champion against the weak 168-pound champions.
No problems facing Dimitry Bivol
"If I was a fight manager and I had David Benavidez, I'm thinking, 'This kid is a star.' You've got star quality when you're inside the ring," Kellerman said.
"You fight with charisma, not just action. There's a certain quality that is hard to articulate and quantity that you bring to the ring.
"When I look at your weight division neighborhood because you're a big 168-pounders, there are two guys that aren't necessarily worth huge money, but if I had a contender like you or a champion like you, I'd probably wouldn't be so anxious to throw him in with.
"I'll give you the two names. The first is Dimitry Bivol. Bivol is a very slick boxer, he can fight at 68 and 75.
"He doesn't represent a huge payday, but he's just very, very good. What are your thoughts on Bivol, like you, a big super middleweight?"
"I like Dimitry Bivol, I've had the opportunity to work with him in sparring and in the gym out here in California," said Benavidez.
"He knows I have power and I know he has power. I feel like in order for me to be the best that I can be, I have to go through whoever.
"I can't turn down any fights right now My job is to be the best in the world, and whoever I got to face to prove to myself and the people I'm the best, I'll go through anybody right now.
"I'm really trying to be the best of my generation, and whoever I got to beat to be the best, that's who I'm going to go through," said Benavidez.
WBA light heavyweight champion Dimitry Bivol (17-0, 11 KOs) would be a bad style match-up for Benavidez if they were to fight right now.
Bivol has the boxing skills to give Benavidez problems, and he's got the power and work rate.
For Benavidez to have a chance of beating Bivol, the Russian would need to come down to 168, which might weaken him somewhat.
Benavidez would need to pressure Bivol and throw a lot of shots as he did in his rematch with Ronald Gavril in 2018.
Benavidez improved a lot from his first fight to his second fight against Gavril. Facing Plant first would give Benavidez the experience needed for him to have a chance of beating Bivol.
Unfortunately, getting a fight against a reluctant Plant could be near impossible, as he doesn't cotton to the idea of fighting Benavidez.
Benavidez interested in Beterbiev fight
"You're a big super middleweight, as I keep mentioning, but when I look at light heavy, Canelo went up to light heavy and beat the brakes off of [Sergey] Kovalev," said Kellerman.
"Kovalev has seen his best days. The monster at 175 pounds right now is Artur Beterbiev, and if anyone is going to fight there in the near future, the roads point to him if you want to prove that you're the best.
"What are your thoughts about Beterbiev?"
"I feel like Beterbiev is the best at 175 right now," said Benavidez. "I would definitely have to go through everybody else to get to him I feel like that's the pinnacle of 175 pounds.
"I feel like when my time is ready to go up against Beterbiev, I think I'll have an amazing fight with him.
"Stylistically, that would be an amazing fight. he's a strong fighter; I'm a young, strong, hungry fighter as well. That's an amazing fight for fight fans," said Benavidez.
IBF/WBC light heavyweight champion Artur Beterbiev (15-0, 15 KOs) might not be around by the time Benavidez gets around to wanting to fight him.
At 35, the powerful Russian Beterbiev might not have too much time left in his career before he hangs up his gloves. He hasn't fought in over a year due to illness and injuries.
With Benavidez talking about not making a move to 175 for two more years and then wanting to "go through everybody else" to get to Beterbiev, it's unlikely he'll still be fighting. It could take four to five years for Benavidez to get ready to fight Beterbiev.
That would put make Beterbiev around 40 by the time Benavidez is ready to fight him, and it doesn't seem realistic. That's a Canelo move in wanting to slowly work your way up to a fight against a guy that is already in his mid-30s.
The time for Benavidez to fight Beterbiev is right now because if he doesn't face him soon, it'll be too late. Beterbiev will have retired.
Benavidez's three-fight plan: Charlo, Plant & Canelo
"If you could map out your future, what would be your next three fights?" said Kellerman.
"The first one would be against Charlo, the second one against Caleb Plant, and the third fight ultimately would be against Canelo," Benavidez said.
"I feel like those fights in that order would be amazing for my career, and for the world of boxing a well.
This is the excitement that we need in the super middleweight division," said Benavidez.
If Benavidez is able to defeat Charlo, Plant, and Canelo, he'll be a star and his life will change.
With that said, it's not going to be easy for Benavidez to get fights against Plant and Canelo, as they've shown no interest in fighting Benavidez. Canelo doesn't even mention his name ever.
As for Plant, he makes it clear that Benavidez blew it when he failed to make weight for his title defense last August against Roamer Alexis Angulo, and he's not going to give him the opportunity to fight.
But it's not as if Plant (21-0, 12 KOs) was showing any interest in fighting Benavidez when he still held his WBC super middleweight title.
Plant's behavior indicates that he has no interest in fighting Benavidez, and that likely won't change unless his career hits rock bottom at some point.
Canelo's opponent selection style since his hard fight against Gennadiy Golovkin has leaned towards weaker opposition and flawed paper champions like Callum Smith and Sergey Kovalev.
Benavidez doesn't fit into the type of opposition that Canelo has been targeting, which means we probably won't see them fighting.