The former WBC super middleweight champion David Benavidez has put together his plan to force the reluctant superstar Canelo Alvarez into the ring so he can knock him out in front of the entire world.
Getting Canelo to agree to fight Benavidez will be very difficult because he's preoccupied with unifying the 168lb division against champions Billy Joe Saunders and Caleb Plant.
#1 WBC Benavidez says he fully expects Canelo to vacate his WBC title after capturing the last two belts from Saunders and Plant, which would free him up from the heavy burden of needing to defend against him.
Even if Canelo chooses to hold onto his titles, he can use his Franchise tag with the WBC to swerve Benavidez. Yeah, Canelo chose to defend against his WBC mandatory Avni Yildirim last month on February 27th, but you can argue the sole reason he did that was that it was an easy mark.
Although the World Boxing Council Yildirim their mandatory for Canelo, he was really more of a bottom-dweller-level fighter. Canelo got an easy mandatory, but he made himself look bad in the process because of how frightfully bad Yildirim looked.
By the way, Yildirim was Canelo's old sparring partner, so you can connect the dots in why he may have chosen to take the fight rather than use his Franchise status to leapfrog over the Turkish fighter.
Benavidez (23-0, 20 KOs) will be facing Ronald Ellis (18-1-2, 12 KOs) next Saturday night on Premier Boxing Champions on Showtime from the Mohegan Sun Casino in Uncasville, Connecticut.
If Benavidez, 24, can get past Ellis, his vision is for him to take on Jermall Charlo at 168, and then Caleb Plant followed by the Coup de Grace against Canelo (55-1-2, 37 KOs).
The tricky part in Benavidez's plans is to get Jermall and Plant to both agree to fight him. From the way those two have been talking lately, they appear t want no part of Benavidez now or forever.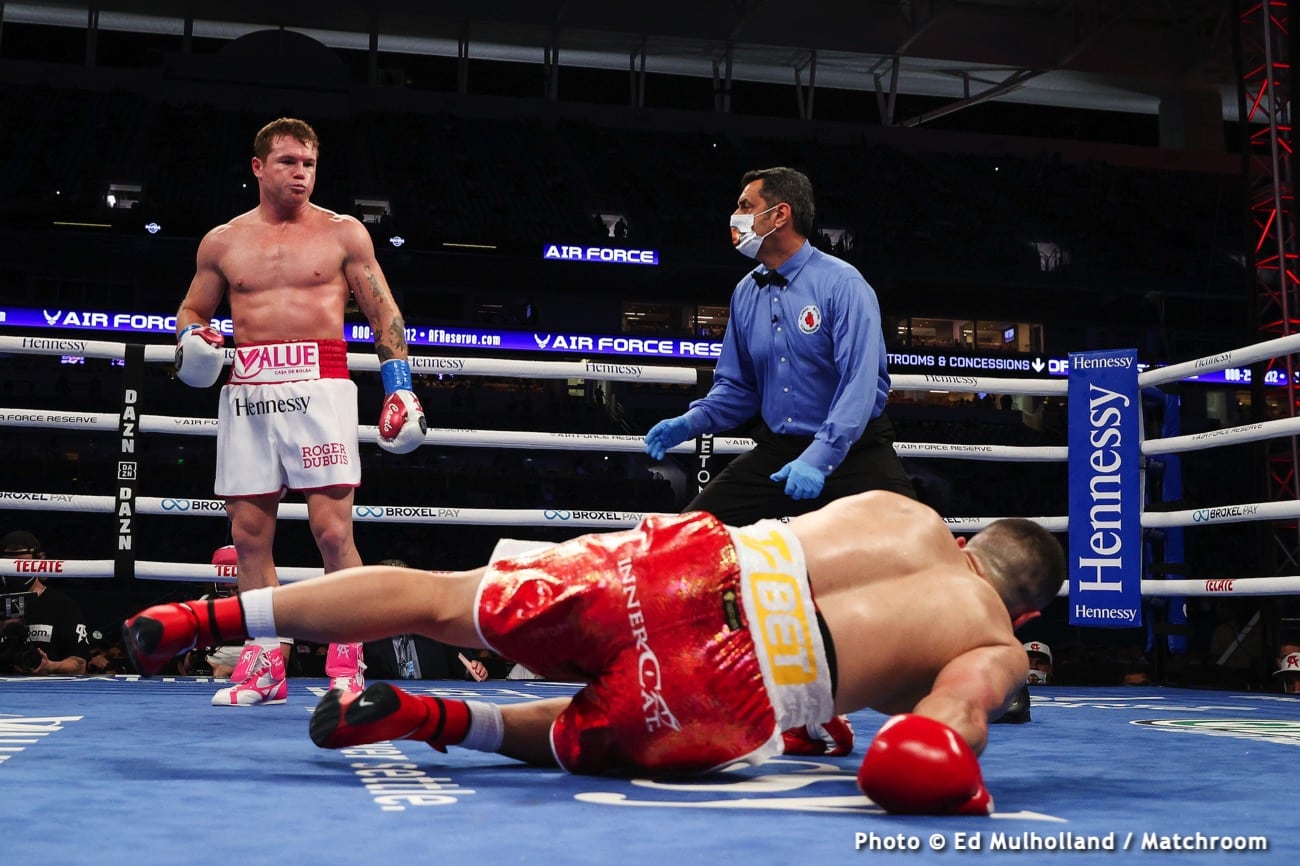 Jermall wants Benavidez to be vaccinated, and he also doesn't want to fight anyone younger than 25 for some reason. Benavidez is 24, so he'll have to wait a year.
It's quite possible that a year from now, Jermall will have another hurdle for Benavidez to jump over, and it doesn't look like he's serious about the fight.
"I'll knock [Canelo] out! I'll stop him," said Benavidez to TMZ. "The reason why I'm saying that is because I really fully, truly believe I'm the one that can beat and stop Canelo.

"The dream scenario is fight with [Jermall] Charlo right after and then Caleb Plant and then Canelo. That's the dream scenario but the reality of making that happen is very hard.
Well, if Canelo decides he never wants to fight Benavidez, it's going to be hard for him to knock out the superstar.
As we saw with Alvarez's mismatch against Yildirim, he has no qualms about taking on an easy mark, and he's given plenty of cover by the networks and boxing media.
With the network platforms being willing to stream Canelo's fights against lesser opposition like Yildirim, Saunders, and Plant, Benavidez could be waiting for a long, long time for a fight that will never happen.
What Benavidez isn't saying is that a more realistic thing that we'll see happening with his future is that he'll soon need to move up to 175 due to him outgrowing the 168-lb division. Benavidez is barely making the super middleweight limit as it is.
He failed to make weight for his last fight against Roamer Alexis Angulo last year in August, and it cost him his WBC 168lb title.
Once Benavidez moved up to 175, Canelo will have all the excuses that he needs to permanently avoid him because he'll no longer be in his division.
While Benavidez believes that Canelo will be worse off by waiting to fight him because he's someone he can't wait out like some boxing fans believe the Mexican star did with Gennady Golovkin to face him when old, he can wait him out.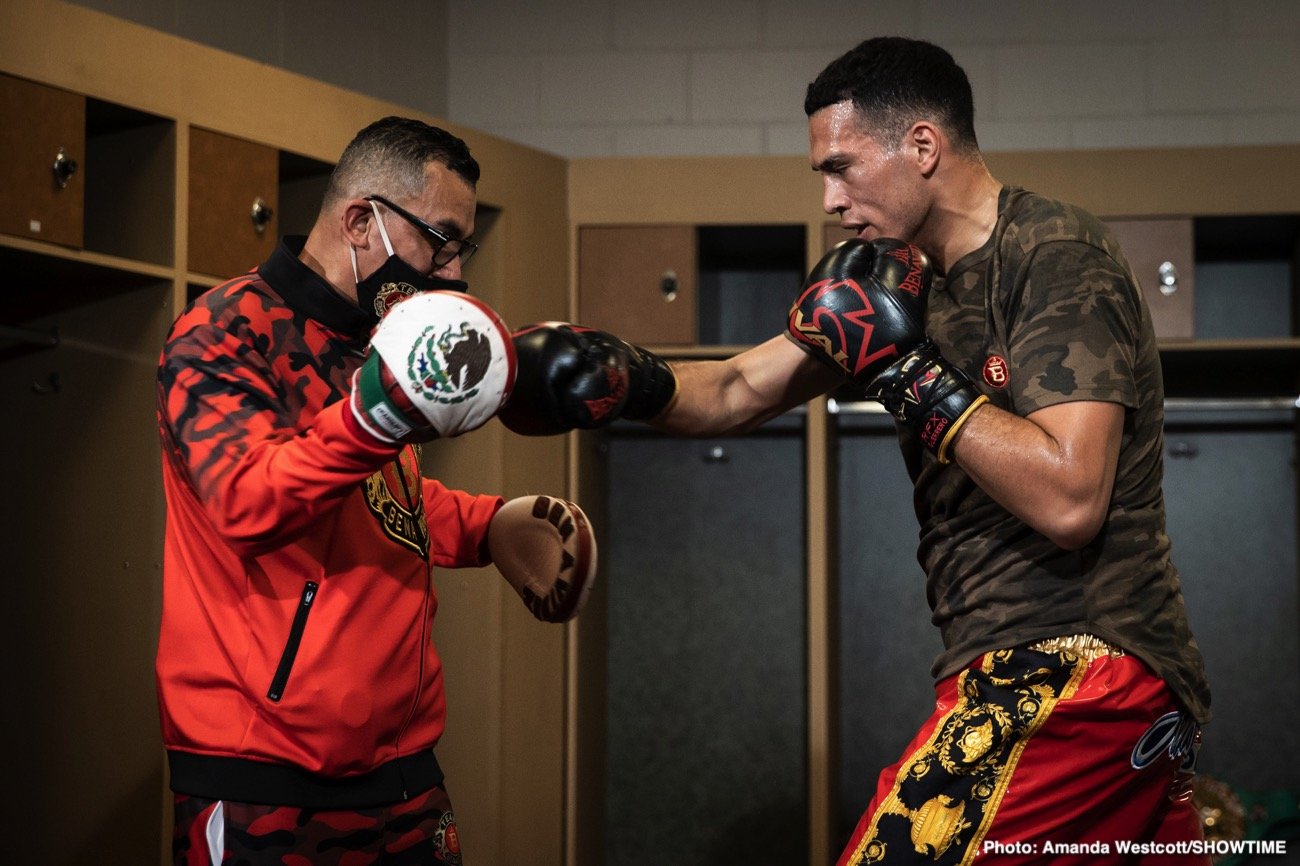 If Canelo waits until two or three years, Benavidez will have outgrown the 168lb division, and he won't have to fight him. Benavidez will likely need to make a move up to 175 in a year, maybe less, and at that point, he's going to be ignored by the boxing public if he continues to call out Canelo.
The fans aren't putting pressure on Canelo to return to the 175 lb division to take on champions Artur Beterbiev and Dimitry Bivol, even though he won a title in that weight class in 2019 against Sergey Kovalev.
"I feel like I'm a young, hungry lion," said Benavidez. "I need that fight because I want to show the fans how good I really am.
"He's [Canelo Alvarez] going to try to avoid me as long as possible, but I feel like this fight is going to be demanded. Not by just me, but by everybody," said Benavidez.
Well, if the WBC does the right thing by making Benavidez mandatory for Canelo, he'll at least be able to make him look like a ducker if he elects not to fight him.
The boxing world will wonder why Canelo chose to defend against Yildirim, a fighter who was coming off a defeat and a two-year layoff, and not Benavidez.
To avoid criticism from fans, Canelo will likely vacate his WBC title and possibly all four straps. At that point, Canelo can cherry-pick opponents without worry about being required to face someone dangerous like Benavidez or Edgar Berlanga.
"Everybody's going to want to see it because after he beats Billy Joe Saunders and Caleb Plant, who else is there left for him to fight besides David Benavidez?" said Benavidez.
In theory, Benavidez will be the last man standing for Canelo to fight at 168 if he's successful in becoming the undisputed champion in 2021 by beating Saunders and Plant.
If this was the 1930s and Henry Armstrong was the world champion, Benavidez would have no problems getting a fight against 'Homicide Hank.' But this is 2021, an era pampered, cherry-picking, prima donnas, and it's doubtful Benavidez will be able to pressure Canelo into fighting him.
Again, if this were a different era, Benavidez would have no problems getting a top fighter to face him, but not now. Boxing has changed a lot in the last 15 years, with fighters like Floyd Mayweather Jr and Canelo carefully selecting their opposition, and not facing always facing the best.
If boxing were run like the NFL or NBA, Canelo would be forced to fight Benavidez, but that's not how things are. That's why it's unlikely Benavidez will ever get a fight against Canelo, Jermall Charlo, or Caleb Plant.