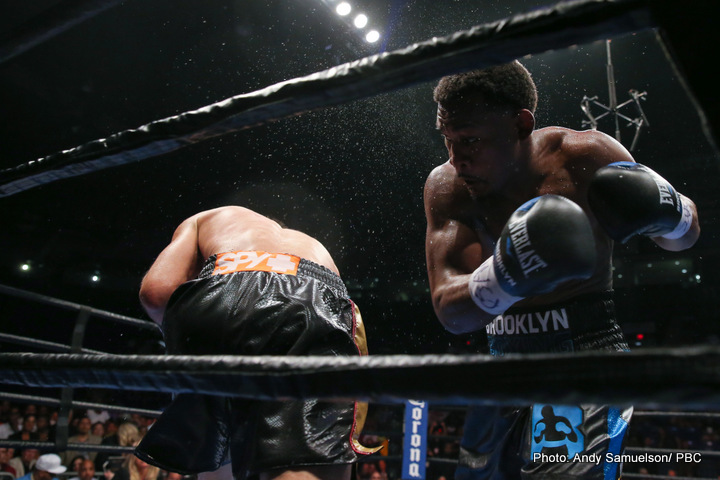 New York's "Miracle Man" Danny Jacobs left no doubt in his rematch with Sergio Mora last night. The first fight, one that saw both men hit the canvas before Mora's ankle turned badly, saw to it that the two middleweights met again. Five knock downs over 7-rounds later, "regular" WBA 160-pound champ Jacobs was both victorious and in a confident enough mood to call out world middleweight king Gennady Golovkin.
Jacobs will be a hugely interested observer of tonight's GGG-Kell Brook fight, and he said last night that as long as Triple-G does as most fans and experts feel he will and defeats reigning IBF welterweight champ Brook, he wants the 35-0(32) pound-for-pounder next.
"I want to prove to the world that I'm the best middleweight," Jacobs, 32-1(29) said. "If he gets the victory tomorrow night, that's who we want."
If Golovkin puts on a ruthless display and despatches Brook at The O2, and if WBO middleweight champ Billy Joe Saunders will not agree to terms, maybe there would be enough fan interest in a GGG-Jacobs match-up to make it happen. It would of course be a pretty big draw in New York, where Jacobs, a class act who has already overcome tremendous odds in battling cancer, is from and has a big fan base. Jacobs, beaten only by Dmitriy Pirog (way back in 2010; Pirog being the one fighter fans felt might be able to derail GGG, before Pirog severely injured his back) is probably at his peak now and who else, aside from Canelo Alvarez, do fans want to see in there with GGG?
At least Jacobs is now calling for the fight. It all depends on what happens tonight – and of course, Brook is full of intent when it comes to taking the middleweight belts from Golovkin – but maybe we could see a GGG-Jacobs clash next year some time.
Jacobs, 29, has said he does not fear Golovkin, nor does he want to avoid him. Jacobs wants to prove he is the best middleweight on the planet. A win over an undefeated Golovkin would certainly do it.