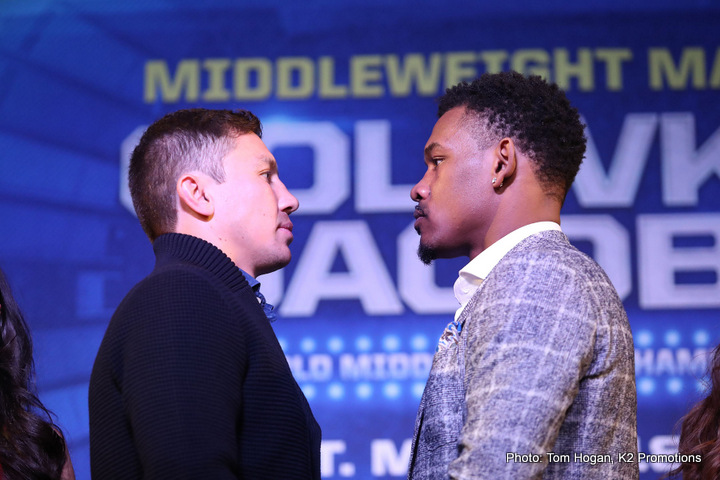 Has feared, unbeaten KO King and reigning middleweight champ Gennady Golovkin made the mistake of looking past his March 18 challenger Danny Jacobs? This is what "The Miracle Man" believes to be the case, as he explained to RingTV.com from his training camp. Jacobs has heard about the potential June 10 fight GGG is looking at having at home in Kazakhstan, against reigning WBO middleweight champ Billy Joe Saunders.
Saunders recently spoke about a massive fight being oh, so close for him later this year; one where he would "have to travel." Saunders, unbeaten, said he could not disclose the name quite yet but that we would all welcome the fight as a big one. So, is Golovkin already planning his next fight after Jacobs, and if so is he making the big mistake Jacobs says he is?
"For them to overlook me like that, there's no way that can be good for them," Jacobs told the website of "The Bible of Boxing." "No way whatsoever is that good for them mentally to already be prepping for another fight. That's overlooking me and that's one thing you can't do, especially with the way I'm preparing for this fight. This is the fight of my life, the fight of my career and for them to be prepping for another fight – man."
Jacobs is understandably feeling disrespected at being overlooked; or at least he thinks he's being overlooked. But would Team-GGG really make such a mistake? Looking ahead to a fight further down the road when you have pressing business at hand can prove disastrous in boxing (look at Mike Tyson, for one big example, who looked past Buster Douglas and looked ahead towards a much bigger fight with Evander Holyfield) and if GGG is "prepping" for BJS, it's both a foolish move and a disrespectful move.
But shouldn't Jacobs be happy about this, again, if it's true? If GGG is expecting an easy time of things on March 18, Jacobs could be able to capitalise and fight the fight of his career (he's already won the fight of his life by defying both cancer and the doctors who told him he would never fight again) and pull off the big upset.
Golovkin, though, surely knows Jacobs is a real threat, arguably the biggest of his 36 pro fight career, and he will be training accordingly – even if he has perhaps looked into a later fight with Saunders. GGG to take care of business in a great fight next month.