Former two-division world champion Danny Garcia returned with a vengeance, knocking out Brandon Rios in a WBC Welterweight Title Eliminator in the main event of SHOWTIME CHAMPIONSHIP BOXING Saturday on SHOWTIME from Mandalay Bay Events Center in Las Vegas.
(Photo credit: Stephanie Trapp/SHOWTIME)
Returning for the first time since dropping a close split-decision to Keith Thurman in a welterweight world championship unification fight in March of 2017, Garcia reminded fans of his position amongst boxing's elite at 147 pounds with an early candidate for 2018 Knockout of the Year. VIDEO: http://s.sho.com/2HpwG0N
Garcia (34-1, 20 KOs) did his best work in the center of the ring, where he was able to box at a distance and fend off Rios' furious pace. Rios, who returned in 2017 from a brief retirement, was most effective against the ropes where he gave Garcia trouble with his constant pressure and his favorite weapon – a wide overhand right.
In the ninth round with the fight where Garcia wanted it – in the center of the ring – the Philadelphia native landed a huge counter right to the chin that sent Rios flat on his back. Rios beat the count, but was clearly wobbly on his feet, forcing referee Kenny Bayless to halt the contest at 2:25 of the ninth.
"I felt the ring rust a little bit in the beginning," said Garcia, who recorded the 20th knockout of his career. "He's a good inside fighter and he was giving me some good uppercuts. I felt good, it was a good nine rounds. He came to fight. I came to box, I did that. I came to bang, and I gave the fans what they wanted – a knockout.
"I just noticed when I was getting my punches off he was standing right in front of me and I just let it go. As soon as I got the fight in the middle of the ring where I wanted I landed good shots. I was just letting my hands go and the punch landed."
After the fight, SHOWTIME Sports reporter Jim Gray asked Garcia how the loss to Thurman affected him.
"The loss was tough. I have the mindset of a winner," Garcia said. "I hate losing. I took it like a true champion and I bounced back like a true champion.
"I would love the rematch with Keith Thurman. It's on him. Whenever he's ready we'll fight."
WBA and WBC Champion Thurman isn't the only potential blockbuster on the horizon for Garcia. Former welterweight champion and the WBC's No. 1 ranked contender Shawn Porter looms for what would be a massive showdown between the former champions.
After the fight, Rios (34-4-1, 24 KOs) was frustrated with the stoppage and promised to return.
"I'm mad. I don't like going out like that," Rios said. "I'm a warrior, I got back up and I wanted to continue. I guess they stopped it but I'm mad. I'm mad because I got up.
"I was doing good. I got lazy with the jab and he came over with the right hand and he caught me. I'm a warrior. I'm still in the game. I didn't think he did much to hurt me. I think it was closer than what he thought it was. He just caught me with a lucky punch. I was ready to continue."
Boxing's youngest world champion, David Benavidez, left no questions in a rematch with Ronald Gavril, defending his WBC Super Middleweight World Championship with a dominating 12-round unanimous decision in Saturday's co-feature on SHOWTIME.
The 21-year-old Benavidez and Gavril had fought to a close split-decision in one of 2017's best fights that saw Benavidez drop to the canvas in the final minute of the 12th and final round. The Phoenix native had no trouble in the immediate rematch, utilizing a stiff jab and a steady diet of combo shots to win a near-shutout over the game Gavril.
Benavidez (20-0, 17 KOs) wore down Gavril with an intelligent body attack, pounding the midsection to open up power shots and jabs to the head. Benavidez had his best round in the fourth, connecting on a huge right uppercut that nearly floored Gavril – who appeared to be saved by the ropes – and then pounced with a series of damaging combo shots.
Benavidez appeared to hurt his right hand in the second half of the fight and stepped off the gas in the 10th, 11th and 12th. But Benavidez, who connected on 41 percent of his power shots, still landed the harder shots and utilized a stiff left jab to keep Gavril largely at bay.
"I knew he was going to come aggressive. He's a one-trick opponent," Benavidez said. "I knew I could jab and box him all day. When I saw the opening I took it. I didn't knock him out though – he's a tough son of a gun.
"Both my hands hurt but I have that warrior's mentality so I kept pushing.
"I want to be the best in division. So whoever they put in front of me that's what I want to do."
Gavril (18-3, 14 KOs) didn't make any excuses for dropping what was an action-packed affair that was scored 119-109 and 120-108 twice.
"He tried to box me on the outside," Gavril said. "It was good fight. He was the better man tonight. What can I say? I want to go back in the gym and come back stronger."
In the opening bout of SHOWTIME CHAMPIONSHIP BOXING, Yordenis Ugas scored the biggest win of his career, knocking out Ray Robinson in the seventh round of an IBF Welterweight Eliminator.
Ugas (21-3, 10 KOs) now holds the IBF's No. 2 position to undefeated champion Errol Spence Jr.
Ugas, a former amateur standout who is now 6-0 since moving up to the 147-pound class, set the tone with a knockdown in the closing minute of the opening round. Robinson (24-3, 12 KOs) survived and was later deducted a point for hitting after the bell as the fourth round came to a close. The illegal punch floored an unexpected Ugas, who rebounded and continued to dominate the subsequent rounds.
In the opening minute of the seventh, the 31-year-old Ugas landed a massive right that floored Robinson, who beat the count but was clearly hurt. Ugas unleashed an onslaught with a series of combos, forcing referee Robert Byrd to step in to halt the contest at 1:05 with Robinson defenseless against the ropes.
Ugas landed 51 percent of his power shots and was comfortably ahead on all three judges at the time of the stoppage.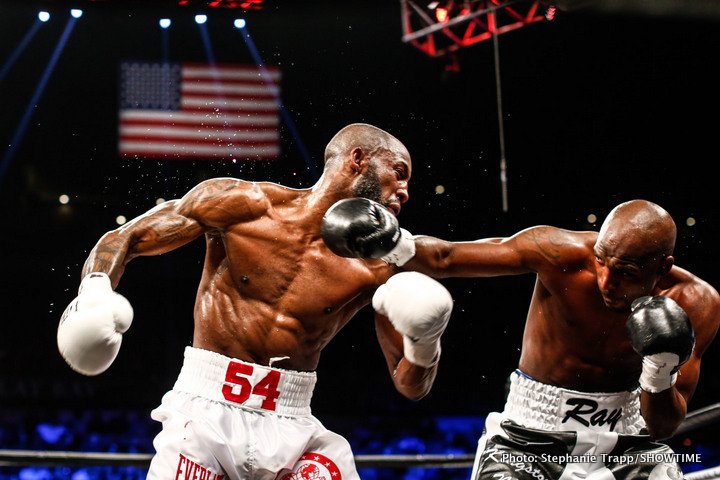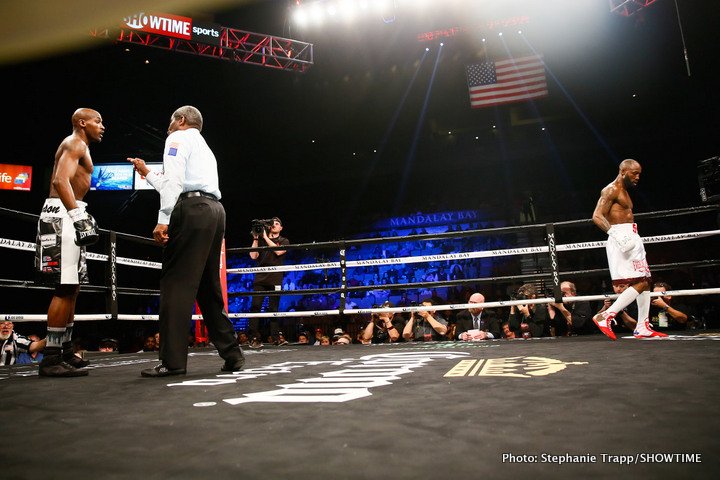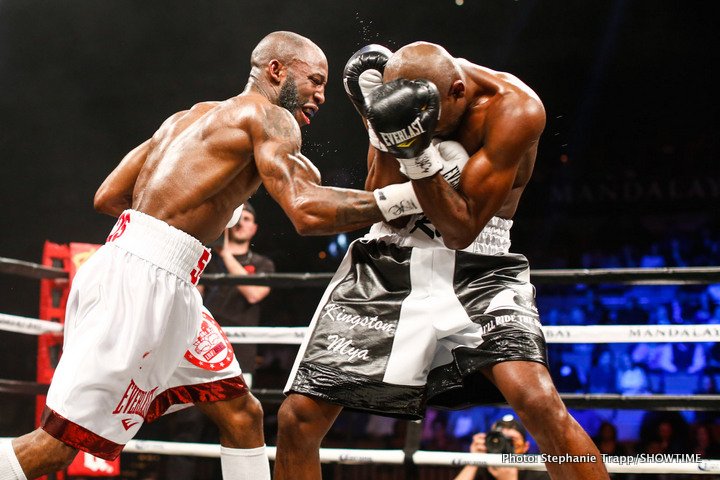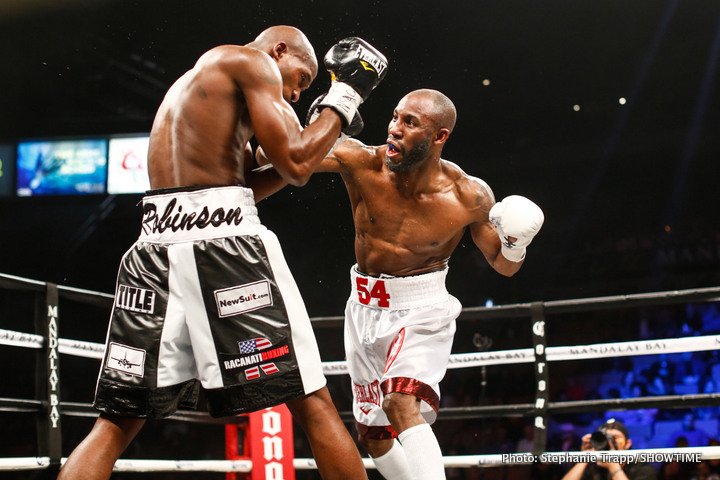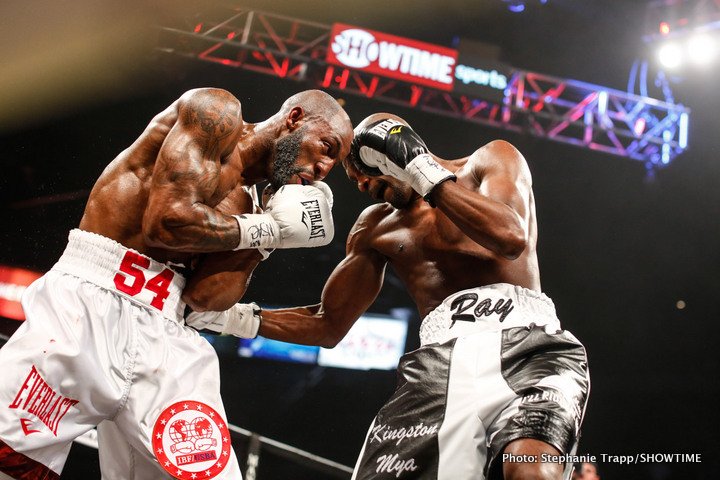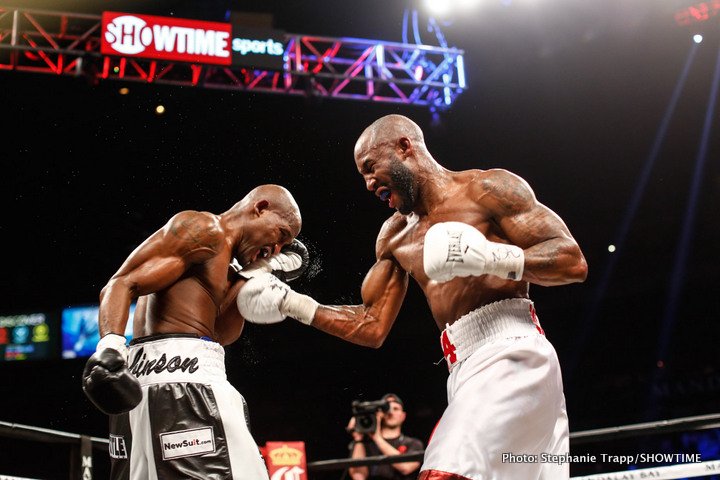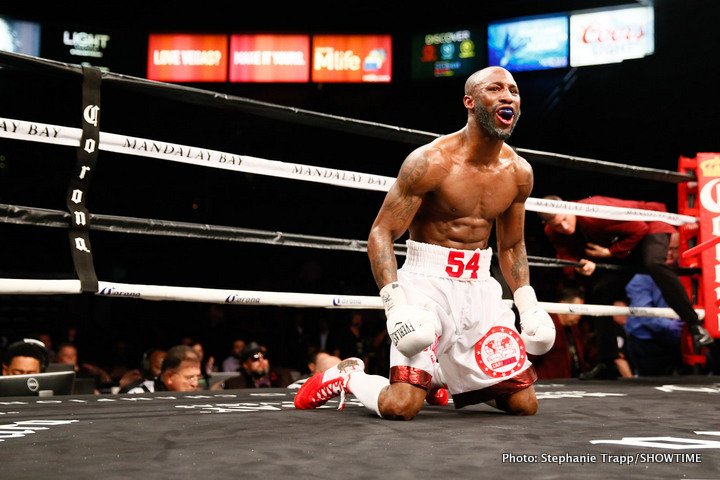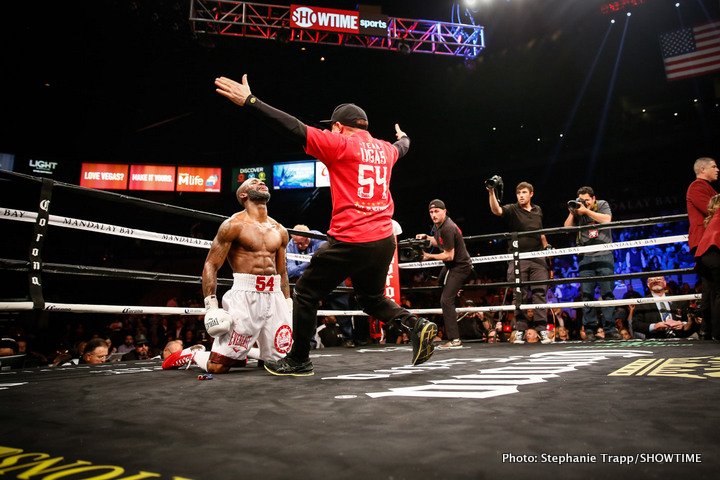 "I felt like I was the stronger fighter by far and he didn't hurt me. He lost a point for hitting me after the bell sounded, and knocked me down, but even that didn't hurt me. He was very awkward and his style threw off my timing.
"Luckily I was able to land body shots that I knew were hurting him. I was able to dictate the pace and we never in trouble.
"I want Errol Spence next. Everyone wants Errol."