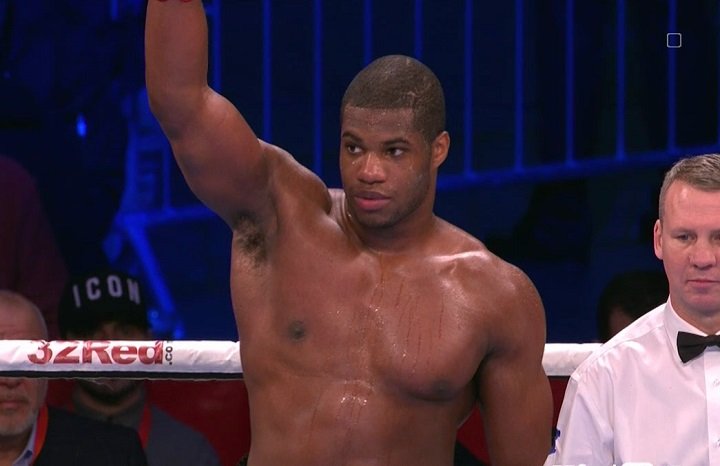 Just 6-0, with all six wins coming by KO inside a couple of rounds, towering London heavyweight Daniel Dubois is right now THE young heavyweight prospect to watch – in 2018 and beyond. Having caused some buzz already, the 6'5," 20 year old has some huge, huge expectations on his broad shoulders.
The softly spoken powerhouse who has reminded some fans of a young Sonny Liston has taken all the attention with a smile, thus far refusing to let it go to his head. His promoter Frank Warren has bigged Dubois up in a major way – saying, amongst other things, how he would put him in with reigning WBO heavyweight champ Joseph Parker "after five more fights."
Dubois is yet to fight for what could be referred to as a major title (he has won the BBB of C Southern Area title and the WBC Youth belt) but this looks sure to change next year. Dubois is scheduled to box again on February 10, once again in London, and there is talk his opponent could be Nathan Gorman, unbeaten at 11-0(9), and that the English heavyweight title could be on the line.
Will 21 year old Gorman be able to extend Dubois? Indeed, as sage observers have pointed out, it could well prove a tough job matching Dubois. On the one hand, he cannot be moved too fast, but on the other, Dubois needs quality guys who can test him, allow him to both learn and improve. But at age 20, too young to challenge for the British title, who could Dubois face in order to get himself rounds?
Already, Dubois has scored some chilling KO's; ones where, seconds after his final punch has landed, his felled opponent has needed either oxygen or a stretcher – or both. Already, prospective Dubois foes are asking for the sky in terms of payment, and can we really blame them?
It is of course too early to get too excited; we need to see Dubois handle a hard shot, either to the chin or to the body, and we need to see how his stamina holds up in a long fight (should any fighter be capable of giving him one). These same questions were asked of an up-and-coming Anthony Joshua (and to some extent still are) but already, Dubois is being called the heir apparent to the heavyweight throne.
It sure is going to be a whole lot of fun watching Dubois' progress over the coming 12 months……and beyond.