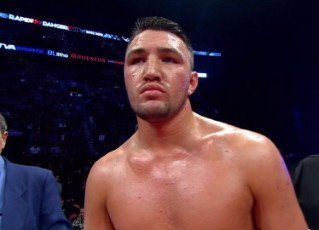 It would appear that the future is looking bright for British heavyweight prospect Hughie Fury (15-0, 8ko) – cousin of Tyson, if a series of late night tweets from his father and trainer Peter are anything to go by.
The young 20 year old heavyweight took a significant step up in class last time out, turning in a confident and mature performance against the more experienced Ukrainian Andriy Rudenko (24-2, 16ko) on the undercard of the Gennady Golovkin/Martin Murray fight in February.
Clearly looking for credible tests for his son, which is always a refreshing thing to hear regarding a young fighter, Peter tweeted the following with regards to the next outing;
"(Manuel)Charr, (Chris) Arreola, (Alexander) Eustinov now in line for @hughiefury. In July. (Mark) De Mori not got back to Hennessey Sports but that's on if he wants it."
The idea is that ostensibly the young Fury will box on Frank Warren's big Manchester show in July on the undercard of the Terry Flanagan v Jose Zepeda WBO 135lb title.
All the named represent a good test for Fury, but Charr boxes this coming Friday so would unlikely accept the fight. Peter acknowledged this is a follow up tweet that read;
"Charr can still fight in July after his fight Friday"
Veteran Russian Eustinov (30-1, 21ko) has certainly been around the block and is ranked #31 by Boxrec.
Croatia based Australian De Mori (29-1-2, 25ko) along with Arreola (36-4, 31ko) are also significant tests for the young Brit.
The American veteran has been on the verge of world class for years now – and while at 34 has seen better days – yes – but is still a solid pro who will surely be able to extend young Fury in ways nobody has yet. Relentless pressure and aggression etc. He is Boxrec #17.
Arguably the biggest test of all of them.
It's clear the direction that Hughie wants to go, with the British title route seemingly not an option for now. In response to a question probing that Peter wrote;
"No he's not going that route. No titles just world ranked fights."
These are good experience gaining fights for the 20 year old and sum up the Fury team attitude of win or lose – they will fight and go for it as they believe they will win. It's the same ethos that has led to Tyson Fury taking the far more difficult route to a title by opting to enforce his mandatory to Klitschko and challenge him rather than fight the more winnable fight against Deontay Wilder.
It's hard to knock fighters for wanting to test themselves against the best.
Peter Fury summed it up in a reply to a tweet saying they were tough options for his son;
"If you can fight & (are) going to do great things, then get on with it. Nowadays they're afraid to lose."
Thanks for reading
Twitter @Undilutedpoison