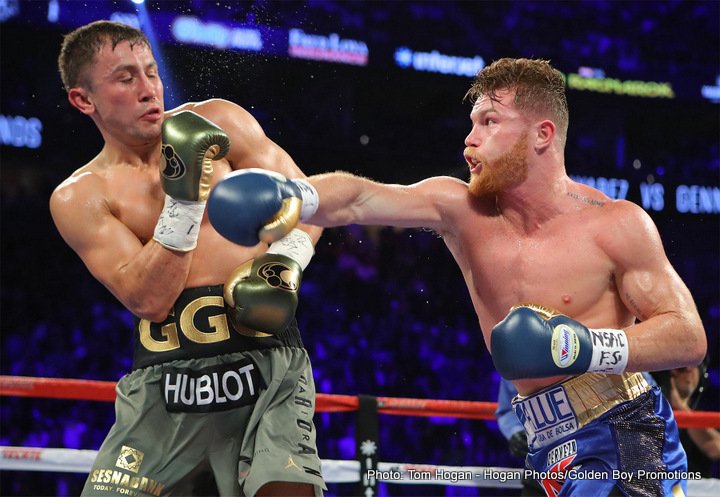 Tonight in Las Vegas, after fans witnessed an excellent, truly engrossing battle that went right down to the wire, middleweight king Gennady Golovkin retained his belts by way of a draw – a result that is sure to be viewed as THE most controversial of the year.
Scores were an insane 118-110 to Canelo, 115-113 for GGG and 114-114. Simply put, these two have to do it again. Golovkin is now 37-0-1(33). Canelo is now 49-1-2(34).
GGG put on relentless pressure all night, while Canelo retained his composure and scored with many eye-catching counter shots. The fight, and it's decision, comes down to what you liked: the hard work and the pressure from the defending champion or the classy, eye-catching punches from Canelo. The pace GGG set was as hot as can be and it did look, from the middle to late rounds, as though the older man was bossing things.
For the first nine rounds there was scarcely a clinch in sight and nobody could take their eyes off the action, so tense were things. Golovkin could have cut the ring off in a more educated manner, but Canelo cold have done more work. Fighting well off the ropes in spots, Canelo appeared to be trying to "steal" rounds. GGG had his legendary chin tested numerous times, Canelo's right uppercut and right hand to the head proving effective.
But throughout the hard, grueling fight, neither man ever appeared to be badly hurt or in trouble. Two tough men gave it their best tonight, even if critics will no doubt pick holes in the respective performances of both. Certainly, a drawn verdict will have pleased no-one.
GGG pulled away, he did more work, threw more leather – even if a fair amount of it missed, due in large part to the cute and clever defensive moves Canelo exhibited – and the defending champion simply wanted it more.
In the end though, a big fight, a very good fight, was spoilt, at least partially, by what can only be described as crazy scoring. That 118-110 score is destined to be vilified by all.