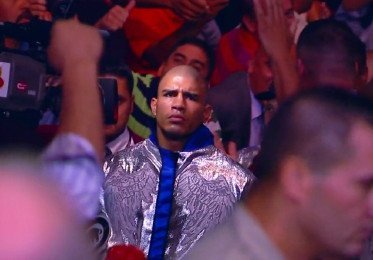 Miguel Cotto (31-4, 31 KO's) may have lost two out of his last three fights but that's not stopping Golden Boy Promotions from offering him huge money to fight their young star Saul "Canelo" Alvarez (42-1-1, 30 KO's). Golden Boy CEO Richard Schaefer met with Cotto this week at Golden Boy headquarters and offered Cotto more than $10 million for him to fight the 23-year-old Canelo. Schaefer also mentioned a possible fight for Cotto against Floyd Mayweather Jr. if he agrees to the Canelo fight.
Instead of readily agreeing to the deal, Cotto reportedly said he would think it over. He's interested in fighting WBC middleweight champion Sergio Martinez in order to try and capture a 4th division world title, and that would give Cotto the opportunity of realizing his dreams.
Schaefer said to ESPN "I met with Miguel and his team, and I made hi an offer in the eight figures, well over $10 million to fight Canelo in March…I know one other fight that Miguel is interested in, a potential rematch with Floyd Mayweather Jr. I haven't discussed it with Floyd, but I am sure Floyd would be up for that as well if Miguel beats Canelo."
You did notice where Schaefer said "if Miguel beats Canelo", didn't you? In other words, if Cotto agrees to fight Canelo and wins, Schaefer will try and match him against Mayweather. That's a brilliant hook by Schaefer to try and get Cotto to agree to fight Canelo. If Cotto thinks he's getting a rematch with Mayweather by agreeing to fight Canelo, then that makes it much more likely that Cotto will agree to fight Canelo.
Cotto's other option of fighting Sergio Martinez is much less appealing in comparison because it doesn't come with a potential Mayweather fight as part of a package deal. If Cotto beats the aging 39-year-old Sergio Martinez then all it will mean is that he beat a guy that is near the end of his career and is considered 2nd best in the division. Cotto would then be looked at as a paper champion at 160 with the real champion being WBA champ Gennady Golovkin. If Cotto is interested in winning a 4th world title then he needs to go after the real champion at 160 and that's Golovkin.
It's a waste o time now for Cotto to be targeting Sergio because he's slipped too much in the past year and isn't considered to be on the same level as Golovkin. Cotto will be walking away from a ton of money if he turns down the Canelo fight because that's a fight that will make a lot more money than a fight against Sergio. If Cotto takes on Sergio, he gets less money and still won't be considered the champion even if he beats him. Cotto will just be a belt holder at 160 and nothing more than that. If Cotto wants to win a title at 160 then he needs to go after Golovkin or no one.