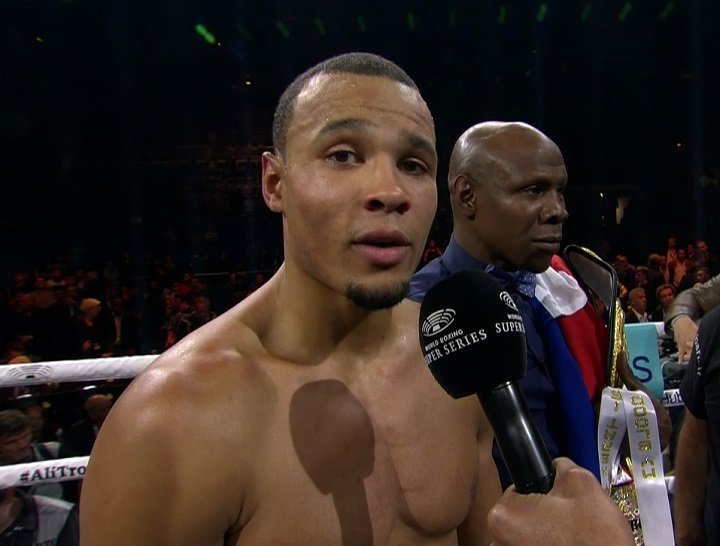 For years we've been waiting for the incredibly vocal, "I am the best" Chris Eubank Junior to deliver performances worthy of backing up his boasts. Last night in the former British middleweight champion's first appearance in the super-middleweight WBSS tournament, Eubank gave us such a performance.
No, Eubank, 26-1(20) did not face a killer, or even an established top-10 fighter in Turkey's unbeaten but largely untested Avni Yildrim, but he put on a most impressive display of power, explosiveness and aggression. Looking solid as a wall, Eubank was ruthless in his quest to not only win, but to send out a message: "I am here to dominate this tournament," the 28 year old declared shortly after dispatching Yildrim, 16-1(10) in the third-round in Stuttgart.
Eubank wants something else, something the British public also wants: a fight between he and George Groves. Eubank, staring right into the camera, said he will be back in the gym tomorrow (Sunday) and that, "Groves, I'm coming for you."
We don't yet know if Eubank will get Groves, as the reigning WBA 168 pound champ first must get past dangerous and unbeaten Jamie Cox, 24-0(13) in his own WBSS debut set for October 14 at Wembley. But whoever wins in London, the winner will face Eubank in what promises to be a thrilling all-British semi-final. Eubank, though, wants Groves.
"I think it's going to be exactly the same as what we saw tonight," Eubank said of a potential fight between he and Groves. "I'm not playing any more."
So has Eubank been playing, or winning fights without having to show his best stuff up until now? Maybe, and if so, it could be bad news for Groves/Cox and the rest of the super-middleweights out there today. The loss to Billy Joe Saunders at middleweight aside (a long time ago now, and a fight that Eubank admittedly lost due to inexperience, starting off way too slow and failing to close the gap points-wise) "The New Generation" Eubank won his subsequent fights in commanding fashion; even if he sometimes failed to overly impress.
But his last two fights have seen Eubank deliver – his near shutout over Arthur Abraham and the drilling of Yildrim convincing many, if not all, he is indeed the real deal. A quick KO win over the experienced Groves, 26-3(19) would surely silence any remaining doubters.