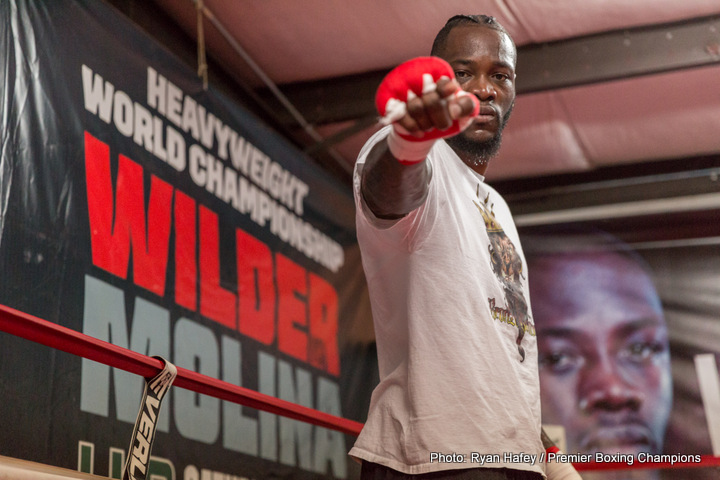 Should the guaranteed heavyweight explosion that is Deontay Wilder, WBC king Vs. Anthony Joshua, WBA/IBF champ, take place in the U.S, the U.K, or some place else? Without doubt THE biggest possible fight that can be made in the glamour division of the sport today, Wilder-Joshua HAS to happen and, all being well for we fight fans, it will happen.
But where?
Wilder, in speaking with Sky Sports, insists that Joshua, though he is a superstar in his home country (where AJ is indeed a household name, one capable of selling out 80, 90,000 seat arenas again and again) has to fight in America if he wants to become "global."
Wilder wants to fight Joshua and he wants him in the U.S.
"To be global, you've got to make your name in America and Joshua is not as big as people think he is over here," Wilder, 38-0(37) said. "The UK is about the size of Texas. One state in my country, where people don't know who Joshua is for real. It will be a great fight, but he's not that popular over here. If he wants to be global, he needs to come to America to fight me, but to be honest, I don't care where it happens."
Promoter Eddie Hearn, who is making big moves towards establishing himself and his Matchroom stable in the U.S, has plans for AJ to box in America – after the 19-0(19) star in the making comes through against Kubrat Pulev on October 28. And there would be something special about a Wilder-Joshua unification showdown taking place in either Las Vegas or New York, with the fight perhaps bringing back the heavyweight glory days of the 1990s or even before.
Then again, why would Joshua, and Hearn, give up another guaranteed 90,000 sell-out at Wembley? This fight would certainly attract that many fans, as even the far lass anticipated Joshua-Pulev fight has sold close to those numbers at the live gate in Cardiff. Wilder has never fought before such a monstrous crowd and if he wants a colossal payday then maybe it is he who must travel, to Joshua's home country.
Who is the bigger star right now globally, Wilder or Joshua? One thing is certain: Joshua has shifted many more tickets and he has earned far more money than Wilder has picked up during his career so far. Who calls the shots in this one?
But as Wilder said in signing off, he doesn't really care where he fights Joshua. Neither do we, just so long as it does happen and soon.