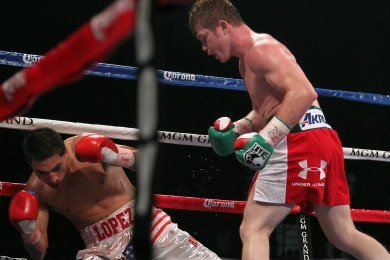 (Photos: Tom Casino/SHOWTIME) By Rob Smith: In a positively sick mismatch that should have never been made in the first place, WBC junior middleweight champion Saul "Canelo" Alvarez (41-0-1, 30 KO's) absolutely annihilated welterweight Josesito Lopez (30-5, 18 KO's) by a 5th round TKO on Saturday night in one of Alvarez's easier title defenses at the MGM Grand in Las Vegas, Nevada.
Alvarez knocked Lopez down three times, once in the 2nd, 3rd and 4th rounds from body and head shots. Lopez, who looked soft in the midsection, had problems with Alvarez's body shots. Alvarez obviously spotted the the coat of fat that Lopez had put on around his waist in moving up from welterweight in three months.
In the 5th, Alvarez finished off the hapless Lopez and referee Joe Cortez stepped in to halt the slaughter at 2:55 of the round.
Why Alvarez couldn't have fought an actual junior middleweight instead of Lopez is the big question, because it was just sad to see how badly over-matched Lopez was in this fight. And the ting of it was, Lopez never considered to be a live opponent anyway because he's fought his entire career at 140 and only recently moved up to 147 in his last fight. I just wonder who Golden Boy will dig up for Alvarez in his next fight. He already beat a welterweight to capture the WBC title in defeating Matthew Hatton, then defeated another welterweight in Alfonso Gomez and now Lopez, who you can't even call a welterweight because he's fought virtually his entire career at light welterweight.
Pooling the light welterweight and welterweight divisions for opposition for Alvarez just makes it seem like he's being protected. If Alvarez can't fight guys from his own division then he should give up his title already. This fight should have been Alvarez vs. Erislandy Lara or Vanes Martirosyan. At least those guys are legit junior middleweight contenders.
***
32-year-old Daniel Ponce De Leon (44-4, 35 KO's) did a great job of going after WBC featherweight champion Jhonny Gonzalez (52-8, 45 KO's) and getting an eighth round technical decision after Gonzalez was cut over the right eye from a head-butt in the 8th round. De Leon put Gonzalez down on the canvas in the 6th. De Leon picked up momentum from there and was able to land some punishing shots in the 7th. The final judges' scores were 77-74, 79-72 and 79-72. De Leon was smart to go after Gonzalez's midsection because that's been a weakness for Gonzalez in the past, and De Leon was able to take advantage of it tonight.
***
Marcos Maidana (32-4, 29 KO's) stopped 2nd tier junior middleweight Jesus Soto-Karass (26-7-3, 17 KO's) in the 8th round in a fight that was a little too competitive than it perhaps should have been. Referee Kenny Bayless seemed to include himself into the fight a bit too much by taking two points away from Maidana for hitting on the break in the 4th and the 7th, and also taking a point away from Soto-Karass for hitting on the break in the 4th. I personally don't like to see referees insert themselves into a fight as much as Bayless did tonight, and I thought he really took away from what was a good fight by being too involved in terms of taking points away and interrupting the action of the fight. As a fan of the sport, you don't like to see a referee getting in the way of the action the way that Bayless was tonight. Maidana looked like he was tiring in rounds five and six, and I appeared that Soto-Karass was starting to take control over the fight. However, Maidana then sprang to life after losing a point in the 7th and knocked Soto-Karass down with a hard right hand near the end of the round. Soto-Karass didn't have enough time to fully recover in between rounds and was quickly finished off by Maidana in the 8th.
***
IBF bantamweight champion Leo Santa Cruz (21-0-1, 12 KO's) stopped 36-year-old Eric Morel (46-4, 23 KO's) after he failed to come out for the 6th round. Santa Cruz was nailing #14 Morel with heavy shots in the 5th and it looked bad for Morel as he went back to his corner. Morel has now lost his last two fights. I hope Santa Cruz fights someone better than this in his next fight, preferably someone that didn't last fight like Morel. It's not interesting to have champions fighting guys that just beaten like Morel.
Other boxing results:
Sergio Thompson TKO 2 Carlos Claudio
Eddie Gomez TKO 3 Quinton Whitaker
Francisco Vargas UD 4 Victor Sanchez
Andres Gutierrez UD 6 Carlos Valcarcel