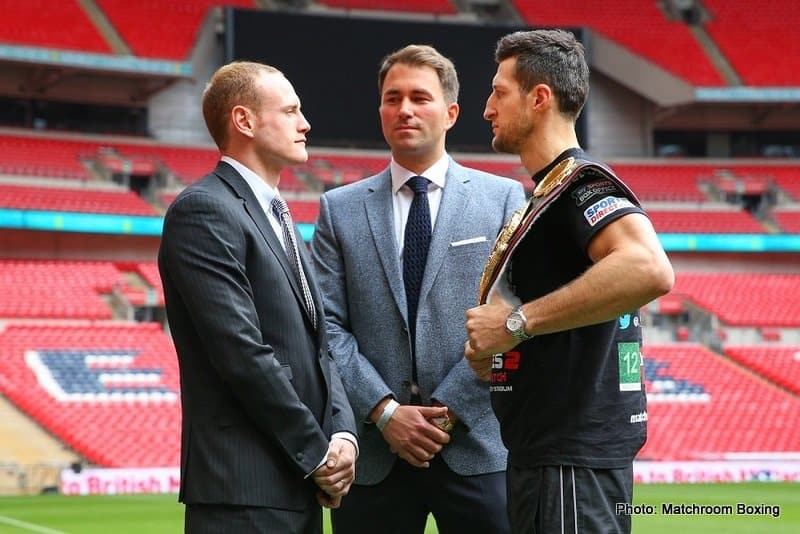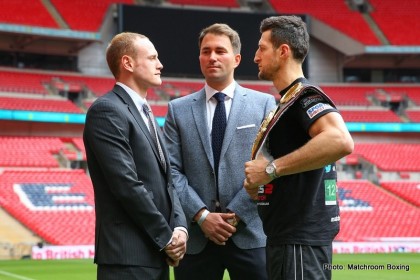 The most anticipated fight in British boxing in decades is upon us. On Saturday at Wembley Stadium in London, Carl Froch and George Groves will climb into the ring in front of 80,000 spectators, with millions watching on television not only in Britain but around the world.
Not since the Eubank v Benn rematch at Old Trafford in 1993 has a domestic boxing rivalry generated this much excitement. Frank Bruno's heavyweight clash with Lennox Lewis at Cardiff Arms Park, again in 1993, is also up there, but in terms of scale and magnitude, Carl Froch v George Groves exceeds both.
As fight night approaches, the elements are in place for a classic. The first fight at a sold out Manchester Arena in November last year ended in controversy and the bad blood between both men has, if anything, increased rather than diminished since. This has been evident in a build up that has made for riveting viewing on its own, as both boxers engage in the psychological battle that goes a long way to gaining or losing that vital mental edge going into the ring on fight night.
In the lead up to the first fight, Groves won this battle hands down. Every time both fighters appeared to promote the fight at press conferences, on television, and in joint interviews, the Londoner succeeded in getting under Froch's skin, refusing to give him the respect that you might think the two belt world champion's undoubted achievements in the ring demand. Froch was rattled by it, which combined with his belief that the challenger had yet to prove that he belonged at his level, revealed hubris – a fatal condition for any fighter to succumb to.
Groves made his way to the ring in Manchester accompanied by a chorus of boos. Nine rounds later, after one of the most exciting fights in many a year, he left the ring to cheers – and deservedly so. His performance was audacious, brave, and sensational on the night, during which he had Froch down in the first round and thereafter proceeded to dominate the world champion over six rounds.
Groves has consistently maintained that Froch's only success in the fight came in the ninth round and that if referee, Howard Foster, had not stepped in to stop it prematurely, he would have recovered and gone on to wrest the belts away from the Nottingham based world champion. Yet watching the fight again it's clear that Froch's success began in the seventh round, when Groves began to tire, his punches started to lose their effect, and the world champion began to move through the gears, putting Groves under more and more pressure.
Carl Froch is unique for a world champion in that technically he does so much wrong. He is flat footed, moves ponderously and often goes square, possesses average handspeed, carries his left hand low, and has the head movement of your average scarecrow. Yet when it comes to the attributes of the warrior – fitness, determination, grit, and resilience – he is without compare. His ability to soak up punishment is extraordinary, lending truth to the axiom that in life it is not those who can inflict punishment but those who can take punishment and remain standing who will prevail in the end.
In the lead up to the rematch, Froch has been a different animal than he was last time. He has remained cool, calm, and measured in the face of the constant goading from Groves, who unlike before has come over as trying too hard at times. The confidence the Londoner received after his superb showing in Manchester has appeared in danger of lapsing into arrogance, as he seeks to convince all and sundry that this time round he will knock Froch out.
Yet, despite the confident pronouncements of George Groves, it is hard to escape the feeling that Carl Froch could not fight any worse than he did in their first fight, yet still managing to come away with the win, while Groves could not fight any better and yet still lost. The key question is does Carl Froch, at the age of 36 and with a litany of wars on the clock over his 12 years as a pro, still have enough left in the tank to win the most important fight of his entire career? Pride will never allow him to forget the way the crowd in Manchester turned against him after the first fight, leading to a sense that despite coming away with the victory, he has most to prove going into the rematch.
For George Groves, he has to replicate his performance in the last fight, while adding more to the gameplan. If he and his trainer, Paddy Fitzpatrick, believe after the first fight that they can go in and blow Froch away with a similar all out assault, they are taking a huge gamble. Groves failed to go into the first fight with an approach beyond using his undoubted speed and power to try and close the show early. It wasn't enough then and it is unlikely to be enough on Saturday, given Froch's chin and proven ability to walk through hell if need be when in the trenches.
Groves has proved that he can fight on either the front foot or back foot. He will have to be prepared to switch between both if he's to have a chance of winning the rematch. Froch, meanwhile, can't afford to stand in front of the younger and faster man and fail to let his hands go, as he did last time, fearing the counter. He has to force the pace and not give Groves a chance to breath, much less think, denying him the space to unload from the opening bell.
I went with Groves last time. This time I'm picking Froch to win by stoppage in the mid to late rounds. I just can't see the world champion performing as poorly as he did in the previous fight. Nor can I see George Groves performing any better. That said, I'm prepared to be proved wrong. The contrast in styles and the hunger to win that is evident in both men guarantees that nothing is guaranteed in this fight.
No matter the result, this is boxing at its best.