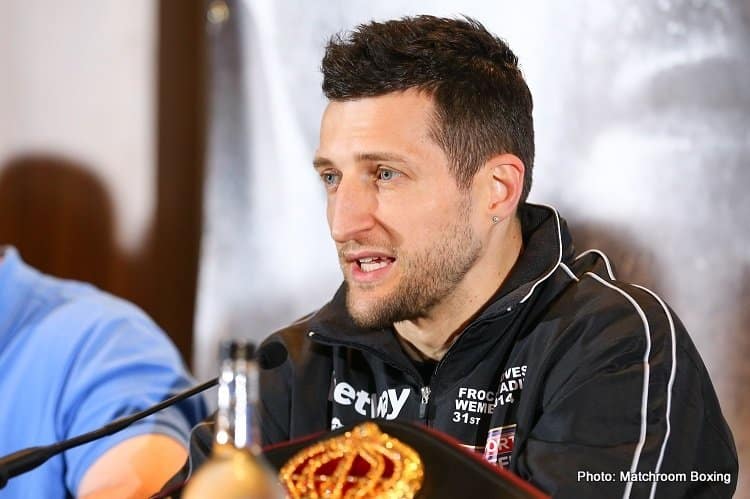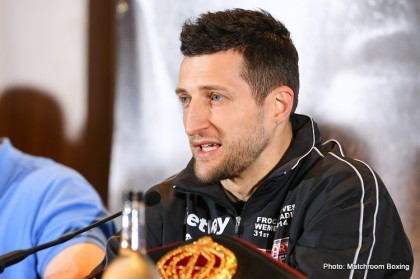 … insists he was not outclassed, says he would have stopped Ward had the fight been a 15-rounder
Like the rest of us, former super-middleweight king Carl Froch is interested to see what happens in Saturday's big rematch between Andre Ward and Sergey Kovalev. Froch, these days content in retirement from the ring and working as a pundit for Sky Sports, of course faced Ward, down at super-middleweight, in the "Super-Six" final.
Froch lost a 12-round decision that was close on two of the three cards – just 115-113 twice – yet plenty of boxing experts felt "The Cobra" had been well beaten, outclassed even. Yet all these years later when looking back on the only loss he never avenged, Froch insists he was not outclassed. Furthermore, Froch says Ward was so fatigued in the later rounds, he would have "got him out of there" had the fight been scheduled for 15 rounds.
"I think he fades late on but maybe it was because he struggled to make super-middleweight [against me]. He was starting to run away from me in the last couple of rounds, but maybe he knew he'd won it on points and was just killing the clock and staying out of trouble," Froch said to Sky Sports when looking back on the fight. "But if the fight went 15 rounds, I honestly think I could've got him out of there. He didn't really hit me, I didn't hit him and I lost 115-113 on two cards but people were saying I was outclassed. I was one round behind a draw, so how can they think that?"
In some ways, though the fight was no classic, far from it, a rematch would have been very interesting. Ward was carrying a hand injury in the fight and was, as he said later, not at his best. Froch admits Ward's sheer strength surprised him, and he also praises Ward's great defensive skills – "After the fifth or sixth round I said to my trainer, 'I can't hit him!'," Froch said to Sky Sports. But was Froch outclassed?
It was a dull fight, as are many of Ward's fight according to his critics, but his fans continue to argue that, yes, Ward did outclass Froch. As to who wins on Saturday, Froch said that in his opinion Ward is "pretty much unbeatable." It's up to Kovalev to prove otherwise.