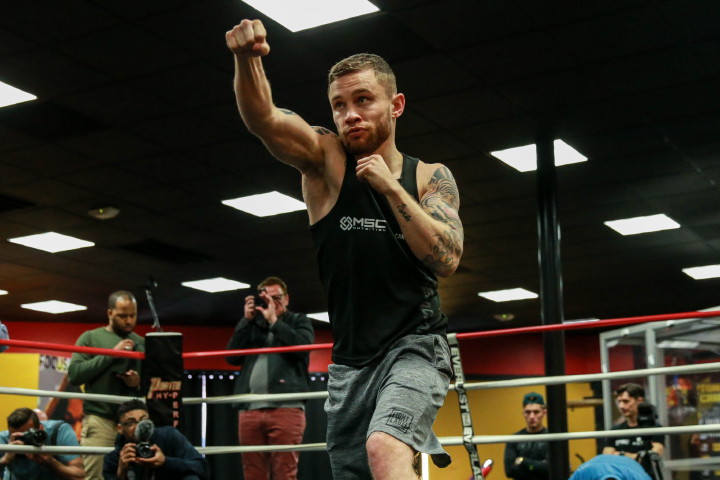 Carl Frampton is just days away from a second war with Leo Santa Cruz, but the WBA featherweight king is already eyeing up his next fight. Frampton, who defeated Santa Cruz to take the featherweight belt in a classic fight last summer, believes he will triumph again in the return in Las Vegas on Saturday.
Frampton, who picked up the prestigious Fighter of The Year award from Ring Magazine for his 2016 achievements, believes he may even KO the tough Mexican warrior this time. And on the under-card on Saturday at The MGM, IBF featherweight ruler Lee Selby faces his mandatory challenger Jonathan Barrios, with a potentially massive unification fight between the two a strong possibility for later this year – assuming they both win of course.
Skilled boxer Selby, given the nickname "The Welsh Mayweather" due to his slick approach, has wanted a fight with Frampton for a while now, and "The Jackal" says it would be an agreeably big fight for him. Frampton says he is only interested in big, big fights from now on.
"I want three fights this year and a fight with Selby at Windsor [Park, in Belfast] would be perfect," Frampton told The Belfast Telegraph. "He's a fighter that I've always respected and I think it would be a huge fight – two world champions from the UK unifying the belts. I'm 30 next month so from now to the end of my career I want to be in really big fights and Selby is a big fight."
Boxing is thriving in the UK right now, and a Frampton-Selby unification clash would add to the big stadium fights currently set for 2017 (the biggest being the Anthony Joshua-Wladimir Klitschko heavyweight title showdown set for Wembley). But for it to happen, both Frampton, 23-0, and Selby, 23-1, must prevail under the bright lights of Las Vegas.
Santa Cruz, 32-1-1 is convinced he had a bad night in July and can get revenge. While Barros, 41-4-1 is arguably the toughest test yet for Selby. Maybe we will get two great fights on Saturday night.