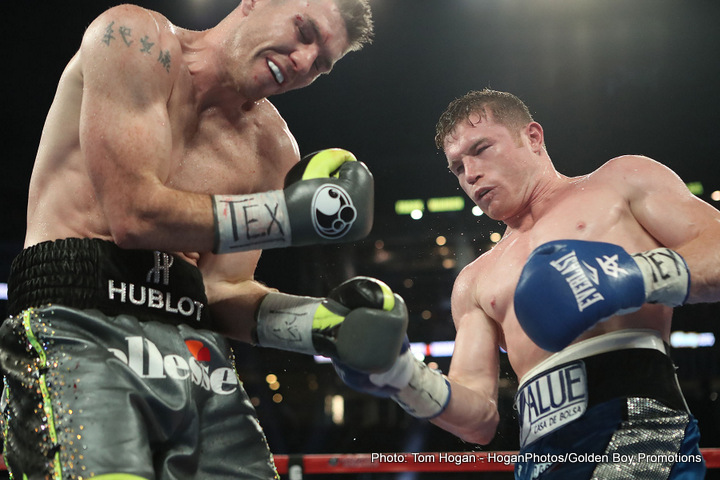 Saul "Canelo" Alvarez (48-1-1, 34 KOs) was too big, too strong, and far too talented for WBO 154lb belt holder Liam "Beefy" Smith (23-1-1, 13 KOs) in defeating him by a 9th round knockout on Saturday night on HBO pay-per-view in front of 51,000 fans at the AT&T Stadium in Arlington, Texas. Canelo dropped Smith three separate times in the bout in putting him down in the 7th, 8th and 9th. Smith couldn't get up after the knockdown in the 9th, and the fight was stopped.
The time of the stoppage was at 2:28 of the round. The fight was seen by many boxing fans as a mismatch going in, and unfortunately that's what it turned out to be. It was not a good fight if you like competitive matches. If you like mismatches, then this was a great fight. Canelo had no problems beating the brakes off of Smith.
After the fight, Canelo said he's ready to fight middleweight champion Gennady GGG Golovkin. However, we've heard Canelo talk in bold terms before after a victory last May against Amir Khan in saying he was ready to fight Golovkin. The fight never happened, Instead, we saw tonight;'s mismatch against Liam Smith, who many boxing fans saw as the weakest of the junior middleweight champions. In looking at Smith tonight, I would have to agree with that. But I think Smith is weaker than a lot of the contenders in the division as well. It was good match-making by Golden Boy to put Canelo in with Smith rather than a good champion or contender, because it made Canelo look good. In other words, it was a showcase fight.
"We made the offer and now it's on him, the ball is in his court. The weight is no issue anymore," said Canelo via Fight News about an offer supposedly made to Golovkin's promoters for a fight at some point. "Yes, that's not an issue anymore. I don't fear no man. We made the offer now it's on him, let's wait for the response," said Canelo about him willing to fight Golovkin at 160 now.
The offer is said to be twice as much as Golovkin has ever received before for a fight. It's unclear if that's a good deal or not. My guess is probably no. If the most that Golovkin has ever made in a fight before is $2 million, then $4 million for a fight against Canelo would seem like chickenfeed if Canelo is going to wind up with a tremendous payday from the pay-per-view. Golovkin should be looking to get at least a 55-45 split of the revenue for a fight against Canelo. If Canelo is going to be getting over a massive payday in comparison to Golovkin for the fight, then it's not a good deal. You can't take the offer seriously.
—
Willie Monroe Jr UD 12 Gabriel Rosado
Joseph "Jojo" Diaz, Jr. TKO 9 Andrew "El Chango" Cancio
Sadam Ali TKO 4 Saul Corral
Vergil Ortiz KO 1 Ernesto Hernandez
Hector Tanajara Jr. UD 4 Roy Garcia
Joshua Franco TKO 3 Brian Bazan
Zachary Ochoa Ud 8 Daniel Montoya
Alexis Salazar UD 6 Larry "SloMo" Smith
Anthony Yarde TKO 1 Rafer Johnson