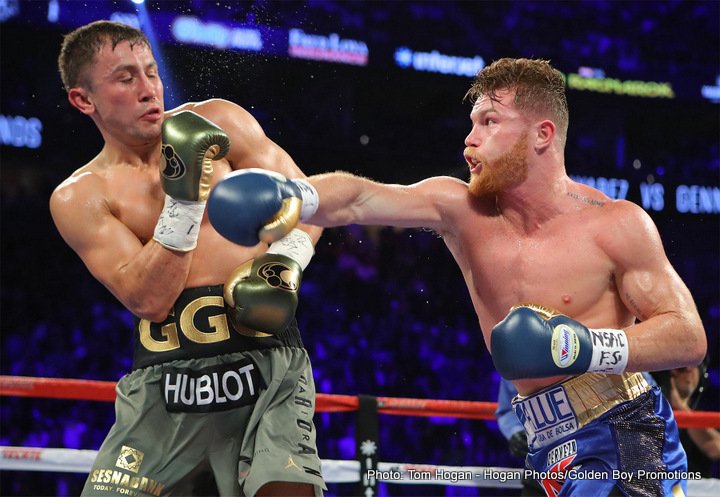 Rematch negotiations between Saul "Canelo" Alvarez and Gennady "GGG" Golovkin are going very slow according to Golden Boy Promotions CEO Oscar De La Hoya. Golovkin is still the main target for Canelo's next fight on May 5th, but he's not the only one in that is being considered.
Golden Boy Promotions are waiting on the outcome of the David Lemieux vs. Billy Joe Saunders fight from next month. With an impressive performance against Saunders, Lemieux has a chance of taking the fight with Canelo on May 5th. Golovkin won't have to wait for long though, since Canelo will be fighting in September as well on the Mexican Independence Day holiday weekend, and he's going to need a popular opponent for him to face.
If Golovkin doesn't get the fight in May, it just means he has to wait another 4 months. That's only a short period of time compared to the 2 years GGG waited to get the fight with Canelo on September 16th of this year.
"[Negotiations] are ongoing, they're slow, nothing in concrete," said De La Hoya to Fighthub. "We haven't really discussed any details. Obviously that fight wants to be made — it has to be made. You know, Triple G wants it, Canelo wants it, we want it, but I think we're going to enjoy the holidays. After December, hopefully, we'll sit down and seriously discuss when and where it'll take place."
Golovkin's promoter Tom Loeffler has gone on record to say if they don't hear anything by December for the Canelo fight, he's going to look to match GGG against someone for February or March. Loeffler doesn't want to lose out on a fight date on HBO while waiting to find out if Golovkin will get the Canelo fight in May. Canelo will have a meeting with Golden Boy in the next 2 weeks, and he's going to be letting them know what his wishes are for his next fight. Loeffler will get the information from Golden Boy shortly after that, and he can move on stay put and wait until May.
It's risky for Canelo to take on Lemieux before he faces Golovkin. Lemieux is more willing to let his hands go than Golovkin at this point, and he's arguably got better size and punching power than the Kazakhstan fighter. Golovkin has a reputation for being a big puncher, but he's more of a pressure fighter with good but not great power. Lemieux is in another league when it comes to punching power. Golovkin's jab is superior to Lemieux's.
If Canelo gets hit on the button by Lemieux, he could have problems. Lemieux punches just as well to the body. It might be better for Canelo to take the Golovkin fight for the sure thing payday, and then look to fight Lemieux afterwards if he gets past WBO middleweight champion Billy Joe Saunders in their fight on December 16.
"Well I'm not mandating it but there are some serious fights coming up that interest me," said De La Hoya. "So you never know! But obviously, look, whatever the fans want is what we're going to try to make and I know as a promoter that the best fights have to be made and that's the reason we've already reserved Cinco De Mayo for Canelo, and we've reserved September for Canelo. So, look, whatever Canelo wants, we're going to sit down in the next couple of weeks, face to face, and discuss future plans."