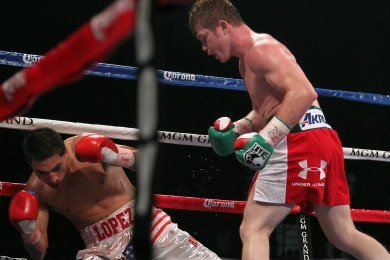 by Paul Strauss: Despite the impressive win by WBA light middleweight champion Austin "No Doubt" Trout 26 (KO14)-0-0 over Miguel Angel "Junito" Cotto 37 (KO 30)-4-0 this past Saturday at Madison Square Garden, fans of WBC light middleweight champion Saul "Canelo" Alvarez' 41(KO 30)-0-1, who was ringside, are confident their red headed warrior will remove all doubt when he meets Trout. It's likely this matchup will be made, because both fighters eagerly want to unify the title and become the universally recognized light (junior) middleweight champion of the world.
Austin has taken the nickname "No Doubt", because having doubt implies fear. He trains and conditions his body, his mind and his spirit to remove all doubt. It comes as no surprise that Canelo fans also feel there is no cause for fear on their part, because they see Cinnamon as a fighter who has the needed tools to beat the slick boxing Trout.
The southpaw "No Doubt" beat Cotto by employing a steady, but not necessarily damaging, right jab. It was a jab that gave Cotto fits. He was forced to spend time and effort trying to avoid and work around it. It was a disruption, a gnat in the eye, an irritant, a distraction. It enabled Trout to sneak through with straight lefts to the body and head. It also disrupted Cotto's rhythm and ability to get off with his shots.
Trout was successful in managing distance and space to his advantage. There was no need for enforcing large spaces or big distances. Rather, the science came with controlling short distances and employing precise angles. Often times fans think boxers need to keep the fight at long distance, out of harm's way. The truth is proper management of distance is a much more subtle technique. Mastery involves the slick boxer's ability to move in and out just enough, or slide over just a bit, and at the right time, so that it causes their opponent's shots to either fall short, or pass over or behind their head.
This skill is part of the real "sweet science" and is often overlooked. Much too often, fighters are mistakenly taught by their trainers to over-compensate or over react. The fighter moves too far, slip shots too wide and not in, ducks too low and not down and around, and snaps away so far he cannot counter. This is a big part of the reason true skill goes unnoticed. Despite being a brutal sport, real skill involves a delicate process, a balance of making just the right move, at the right time, and at the right distance. Great fighters practice it over and over and over, not only in the ring and while shadowing boxing, but also in their mind's eye. Their muscle memory takes over and it becomes almost like a reflex action, but better. That's because reflex actions caused by fear and involving the instinct for flight can be exploited and used against a fighter.
Remember the televised 24/7 episodes shown before the Mayweather, Jr. vs. Hatton fight? HBO Cameras filmed Floyd working the punch mitts with his Uncle Roger. Hatton's camp made fun of the delicate choreographed touch and light tapping of the punches and counters with the mitts. They missed the point and real value or purpose of what was going on. The point of the drill or routine was not to beat the hell out of the mitts and make a lot of noise. Rather, it was to work on those subtle moves, in and out, side to side, and sliding in at angles to create angles. All of these drills are necessary to make the prospective opponent miss and to get him turned into a counter punch. Banging away and swinging hard doesn't get it done.
Trout used this kind of subtlety in his battle against Cotto; although at times he did get overly excited when seeing openings, and instead of shooting through with straight shots, he would swing wild and miss his target. If he had stayed calm, he could have made it an even easier fight.
Why then are Canelo fans so confident their man will be able to overcome Trout's boxing skills? Well, they feel there are several reasons. First of all, fans see a young and strong fighter, in his prime, getting better with each fight. Cotto has been through many ring wars and is always giving away height and reach advantages to his opponents. They understand Cotto is primarily a left hooker. He has a good jab, and decent right hand as well, but his bread and butter is the left hook, both to the body and head. Even though it is a formidable weapon, it can be dealt with and made less effective, as demonstrated by Trout. As previously mentioned, Trout also used his repetitive jab, right hook, straight left, and more importantly his subtle movements in and out and under. Cotto was visibly frustrated with not being able to land the punishing shots, while at the same time getting banged up and bruised around the face.
The insinuation is this will not happen with Canelo. Instead, he will be coming with more weapons. He will be hitting harder, and more often with both hands. His fans see him as having an explosive type of speed that is difficult to gauge and predict. It will be harder for Trout to exercise precise movements at the right time. Canelo fans also feel their man is a very good combination puncher, whereas Cotto only did so occasionally against Trout. Give Trout credit, because much of the time, he would break up Cotto's ability to do so. However, Canelo fans are convinced their man is a true combination puncher. In addition, they feel it will be more difficult for Trout to avoid both straight shots and hooks. With Cotto, he was dealing primarily with one punch angle or trajectory, but that won't be the case with Canelo.
A less subtle advantage is Canelo's strength. Trout was able to tie up Cotto and move him back when needed. Canelo fans feel Trout will find that much more difficult with their youthful, charged up, bull like fighter.
Finally, Canelo fans believe he is heavy handed, and will hurt and wear down Trout with shots to his arms, shoulders, and hips, getting him softened up for the telling shots that will follow and end things. They feel the opposite is true of Trout. They feel that although he is a decent puncher, he is not heavy handed like Canelo. Red's fans think If Trout is forced to engage in all out exchanges, it will be their man who will have the distinct advantage.
Maybe Canelo fans should exercise some concern, though. They need to remind themselves that Trout has been successful and is undefeated. It's important to understand the value of Trout's win over Cotto in Cotto's backyard at MSG. Canelo fans shouldn't dismiss the fact that Trout is also a type of road warrior. He is a very intelligent and supremely confident fighter. He has had big fights in Panama and in Mexico, and now Madison Square Garden, so fans need to understand he will be able to handle the "big show". Unlike his fans, you can bet Canelo's camp is concerned about whether "No Doubt" can formulate a winning fight plan. They really don't know if "No Doubt" has the strong mental toughness of a true champion. You can bet they remember Andre Ward wasn't considered a favorite going into the Super Six Tournament, and he wasn't and still isn't considered a big banger. But, that didn't stop him from beating everyone, with bigger punches than him, and with widely varying styles. It's become apparent Andre S.O.G. has a pretty good mastery of the sweet science. If and when Trout and Canelo meet, It will be yet another "toughest fight" for both men. The winner will be able to go on and try to unify the title? Doubts or no doubts, It promises to be a helluva matchup.