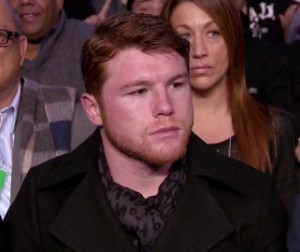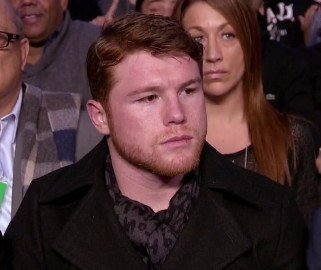 By Kevin Chittenden: Floyd Mayweather Jr's May 4th card could take a big hit if WBC junior middleweight champion Saul "Canelo" Alvarez (41-0-1, 30 KO's) chooses to pull out of the card and fight on another date. Canelo was supposed to be the co-main event in a fight against WBA junior middleweight champion Austin Trout, but Canelo reportedly wants a guarantee from Mayweather that he'll fight him on September 14th.
Canelo won't sign for the May 4th fight date unless he receives that guarantee, and it doesn't look like Mayweather is going to go that. It was thought that Mayweather would fight Canelo in September, but maybe he has other ideas or possibly he doesn't like the idea of Canelo trying to force the fight instead of letting Mayweather select him.
If Canelo doesn't fight on May 4th, his team is reportedly looking at April 20th and May 11th as possible dates for his next fight. Trout would be out of the picture for Canelo. It would be someone else in the junior middleweight division that Canelo will be facing on one of those dates.
If Canelo pulls out, WBC lightweight champion Adrien Broner is thought to be the fighter that will be inserted into the co-main event position. Mayweather already mentioned wanting Broner on the card, but until now it was difficult to find a place for him. Broner in the co main event would be a good replacement for Canelo.
Having Canelo on the undercard Mayweather's fight against Robert Guerrero on May 4th would definitely help the card bring in big numbers on pay-per-view, and Canelo understands what he would bring to the card. That's why he's trying to get a guarantee to fight Mayweather in September because he realizes the bargaining power he has. However, Canelo is only 22, and it's a bit early to be trying to pressure a fight against Mayweather when Canelo still hasn't prove that he's the best fighter at 154.
It's something you could understand Canelo doing if he had faced the best at 154, but he's not done that since he picked up the WBC junior middleweight title against welterweight fringe contender Matthew Hatton in 2011. Canelo has faced the following fighters since picking up the 154 lb title: Shane Mosley, Kermit Cintron, Ryan Rhodes, Alfonso Gomez and Josesito Lopez. Missing from that lists are the best fighters in the division in Austin Trout, Erislandy Lara, Vanes Martirosyan, Miguel Cotto, and Cornelius Bundrage.
Some boxing fans believe that Canelo pulling out of the May 4th fight card is a way for him to avoid facing Trout because he's seen as someone that can beat him. It's interesting that Trout's name isn't being mentioned for Canelo if he chooses to fight on April 20th or May 11th. It makes you wonder if Canelo's team ever really wanted that fight.