Canelo Alvarez (55-1-2, 37 KOs) battered and stopped the timid-looking WBC mandatory Avni Yildirim (21-3, 12 KOs) in stopping him in the third round in a fight that was so one-sided that it reflected badly on the Mexican star on Saturday night at the Hard Rock Stadium in Miami, Florida.
In round three, Canelo landed a straight right through Yildirim's guard to knock him flat. Yildirim got back up and was able to make it out of the round but he looked shaky. I
n between rounds, Yildirim's trainer Joel Diaz threatened to halt the fight if he didn't let his hands go. Unfortunately, the fight was stopped without Yildlrim not getting up off his stool.
With the win, Canelo retained his WBA/WBC super middlweight titles in beating Yildirim.
This was a fight that Canelo wanted, and now it's understandable why he was so eager to face Yildirim.
This was about as sporting as watching someone hit a heavy bag. Yildirim refused to throw power shots, and he made it easy on Canelo to hit him at will with shots.
Canelo will now face WBO super middleweight champion Billy Joe Saunders next on May 8th in a unification fight. Saunders can't punch, so we'll likely see a similar outcome as tonight.
The guys that will give Canelo issues are Jermall Charlo, Gennadiy Golovkin, Demetrius Andrade, David Benavidez, Edgar Berlanga, Dimitry Bivol, and Artur Beterbiev.
Undercard action:
In a devastating display of offensive skills and pressure-fighting, McWilliams Arroyo (21-4, 16 KOs) methodically took apart substitute Abraham Rodriguez (27-3, 13 KOs) in stopping him in the fifth round to win the interim WBC flyweight title.
In the fifth, Arroyo was teeing off on his smaller opponent Rodriguez, which led to the fight being halted by his corner. The official time of the stoppage was 1:41 of the fifth.
In the fourth round, Arroyo knocked Rodriguez down with a body shot. You got to give Rodriguez credit for lasting as long as he did because he was taking a horrendous beating from the opening round from Arroyo.
Initially, Arroyo was supposed to challenge WBC flyweight champion Julio Cesar Rodriguez (17-1, 13 KOs), but he was injured this week and he pulled out of the fight.
Now that Arroyo has the interim WBC 112-lb title, Matchroom Boxing will negotiate a fight between him and Martinez for likely the summer.
In a thrilling fight, unbeaten heavyweight contender Zhilei "Big Bang" Zhang (22-0-1, 17 KOs) battled to a 10-round majority draw against the highly motivated Jerry Forrest (26-4-1, 20 KOs).
Early on, it looked like the two-time Chinese Olympian Zhang was on his way to an early knockout victory, as he dropped Forrest three times in knocking him down in each of the first three rounds.
Zhang had nothing left after the fourth, and he was soaking up punishment from the heavy-handed Forrest and doing a lot of holding.
Despite the referee warning Zhang repeatedly about holding and leaning on Forrest, he continued to use this tactic all throughout the fight. The referee finally penalized Zhang in the ninth in taking away a point.
In the 10th, Forrest came out on fire and badly hurt the 37-year-old Zhang with a huge right and to the head. At the last three seconds,
Zhang turned his back on Forrest while being pelted with shots. The referee chose not to stop the fight, but he could have. The final scores were 95-93 Forrest, 93-93, 93-93
It's unclear what Matchroom Boxing will do with Zhang after this performance. They almost have to set up a rematch with Forrest because this is the type of fight where it's going to be difficult for Zhang to walk away from it.
Super middleweight Diego Pacheco (11-0, 8 KOs) labored to an eight-round unanimous decision over Rodolfo Gomez Jr (14-5-1, 10 KOs).
The scores were 79-73 x 3. It was unusual to see Pacheco failing to knock out one of his opponents early, but he had a hard time with the smothering style that the 6'3″ Gomez used.
It was a good game plan by Gomez Jr, but he didn't have enough power to get the victory.
Undefeated super middleweight Alexis Espino (6-0, 4 KOs) blew away journeyman Ashton Sykes (5-4, 1 KO) by a fifth-round TKO.
The talented super featherweight prospect Marc Castro (2-0, 2 KOs) obliterated replacement opponent John Moraga (1-3, 1 KO) by a second-round knockout.
Castro dropped Moraga three times in the fight knocking him down once in the first and two more times in the second. The official time of the stoppage was at 2:29 of round two.
Preview:
The location of the Canelo vs. Yildirim fight is at the Hard Rock Stadium in Miami, Florida.
Canelo Alvarez is facing challenger Avni Yildirim tonight in a title defense scheduled for 12 rounds in what he hopes will be an exciting one on the DAZN platform beginning at 7:00 pm ET.
For Canelo (54-1-2, 36 KOs), this is a fast turnaround from his last outing in December against WBA super middleweight champion Callum Smith.
Canelo vs. Yildrim preview
On paper, Yildirim (21-2, 12 KOs) has very little chance of winning tonight, but he's got the power, the size, and style that could give Alvarez problems.
It's been a while since Canelo fought anyone that took the fight to him from start, and Yildirim is someone that is going to be putting a lot of pressure on him the way that Gennadiy Golovkin did in their two fights.
Canelo's opposition in his last four fights since the second GGG match have fought like they were afraid of him. That made it easy for Canelo to jump out to a fast start to breeze through the fights.
Yildirim and his trainer Joel Diaz don't plan on waving the white flag of surrender from the get-go, and they're going to make it interesting for as long as the fight lasts.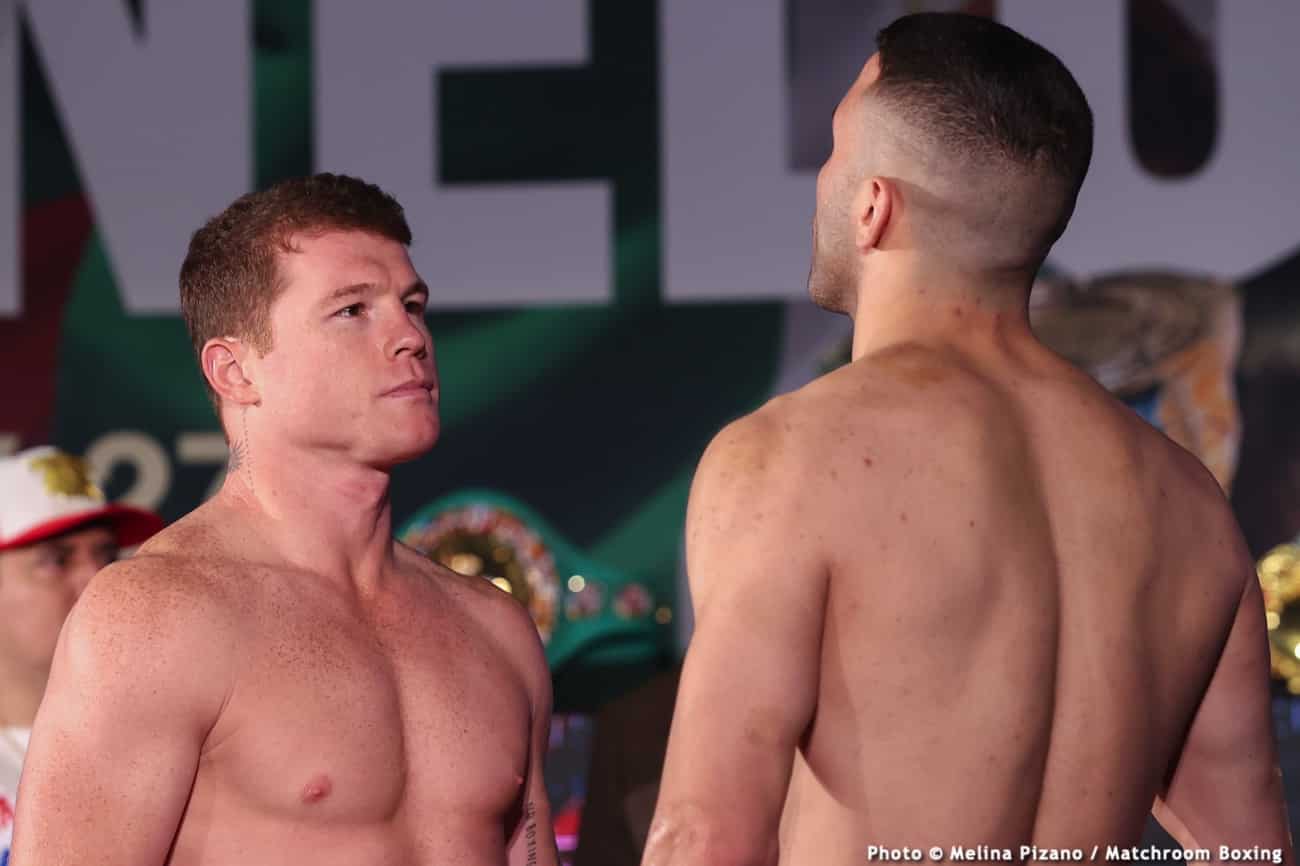 Boxing 247 will be giving live updates of the results for the Canelo vs. Yildirim fight. These are tonight's undercard fights:
Mcwilliams Arroyo (20-4, 15 KOs) vs. Abraham Rodriguez (27-2, 13 KOs) battling for the interim WBC flyweight title. The 2008 Olympian McWilliams had been scheduled to challenge for the title against WBC 112-lb champion Julio Cesar Martinez (17-1, 13 KOs), but he suffered a right-hand injury this week and had to pull out of the fight. As a result, the World Boxing Council did the right thing by putting the interim WBC World flyweight title on the line for Arroyo and Rodriguez to fight for. The winner of this contest will face WBC champion Julio Cesar Martinez when he's healthy enough to return to the ring. Tonight's fight between Arroyo and Rodriguez should be an action-packed contest from start to finish.
Zhilei Zhang (22-0, 17 KOs) will be facing the powerful Jerry Forrest (26-4, 20 KOs) in a 10-round bout. The two-time Olympian Zhang is looking to pick up a win and continue his world title chase. Zhang, 37, lost a narrow decision to Anthony Joshua in the 2012 Olympics in London, and he'd like to face the Brit in a rematch in the professional ranks. The 6'6″ Zhang has excellent size, power, and hand speed. It's going to make it interesting to watch him and Forrest battle it out tonight in a rock 'em sock 'em type of battle from start to finish.