Canelo Alvarez and Avni Yildirim met on Monday in Miami, Florida to have photos taken for their fight Saturday at the Hard Rock Stadium. Canelo (54-1-2, 36 KOs) will have his WBA/WBC super middleweight titles on the line when he meets up with his one-time sparring partner Yildirim (21-2, 12 KOs). DAZN will be streaming the card.
(Photo credit: Ed Mulholland/Matchroom)
When the two stood for a face-off on Monday at the Hard Rock Stadium, Canelo, 5'8″, looked a lot smaller than the 5'11 1/2″ Yildirim, but he's still expected to win the fight with relative ease. While Yildirim is the WBC mandatory, he's coming off a loss to Anthony Dirrell, and he hasn't fought in two years.
It's a little unusual to see a mandatory challenger coming off a loss, but that's what we'll be seeing on Saturday when Yildirim takes on Canelo, who hopes to become the undisputed 168lb champion this year.
"It is an honor for me fighting in such an important stadium," Canelo said. "Without question, it is great motivation. In our last fight, 12,000 were allowed, and it sounded as if the stadium was full."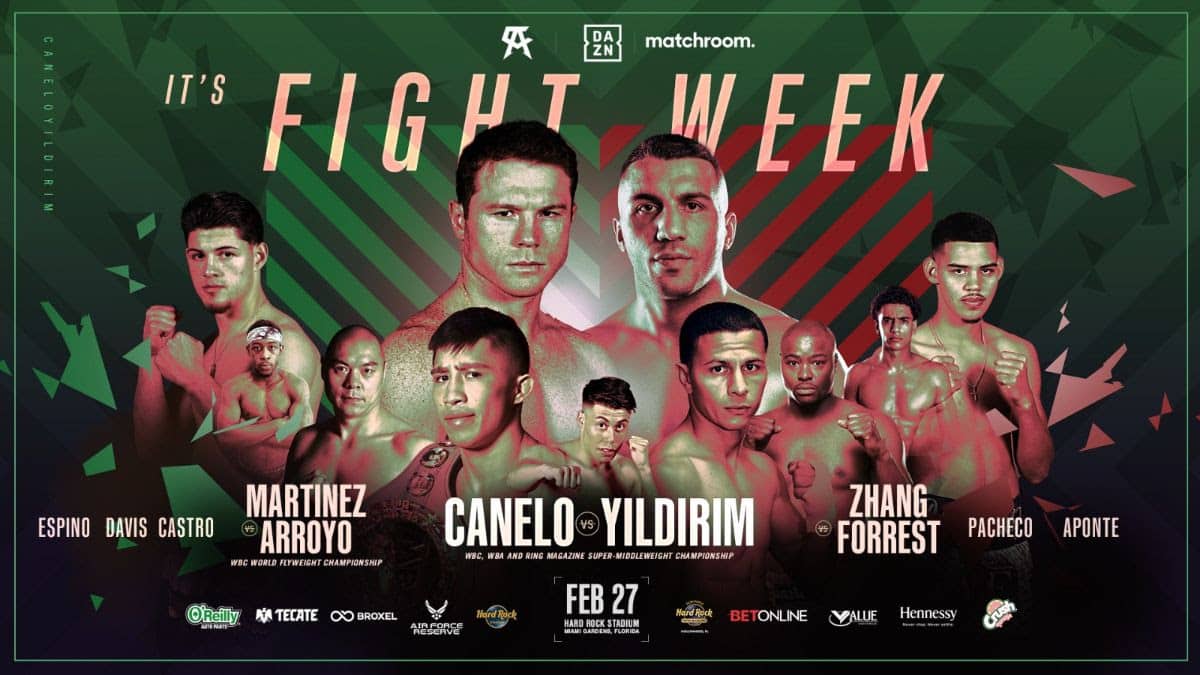 There's expected to be a large crowd of 15,000 to watch the Canelo-Yildirim fight live on Saturday. That's a good number for a ho-hum fight like this. Canelo is a huge superstar, and the fans that will be watching it in person at the Hard Rock Stadium will likely be coming just to see him rather than being interested in his fight.
If it weren't for the pandemic, Canelo would bring in a lot more than 15,000 fans t see him in action, but it would take a better opponent. He's not going to be able to sell out the 65,000-seat Hard Rock Stadium with him facing gimme opponents like Yildirim.
Fans want to see Canelo fight guys like Gennadiy Golovkin, Jermall Charlo, and David Benavidez. Those are fighters that would have a chance of beating Canelo, and there's a lot of interest from people in seeing him step up.
Unfortunately, Yildirim isn't seen as someone with much of a shot at beating Alvarez, but you never know. He may get lucky and land a big shot.
In Canelo's last fight, he came off a long layoff to defeat WBA super middleweight champion Callum Smith by a 12 round unanimous decision last December. Canelo hadn't fought in over a year when they met up with the hard-punching Smith at the Alamodome in San Antonio, Texas.
Before that fight, Canelo had gone up to light heavyweight and defeated WBO champion Sergy Kovalev by an 11th round knockout in November 2019.
Many boxing fans wanted to see Canelo stick around the division and face arguably the two best fighters in the weight class in Artur Beterbiev and Dimitry Bivol. Instead, Canelo vacated the WBO 175lb title and returned to the 168lb division.
"Yildirim is a strong fighter, always pressing and ready for battle," said Canelo. "Obviously, we all know I have better boxing skills, but one never knows. One punch can change and ruin everything. But we are ready."
If Canelo wins this fight, his next fight will be against WBO super middleweight champion Billy Joe Saunders in May on the Cinco de Mayo holiday.
Saunders will be at ringside on Saturday night, and he'll be entering the ring afterward so that he can Canelo can announce their next fight.
With many casual boxing fans in the U.S totally unfamiliar with Saunders, who comes from England, they must get a chance to see him inside the ring.
If Canelo and Saunders are going to bring in fans both at a stadium on DAZN, they need to start marketing the fight right away as soon as Saturday's match with Yildirim is over.