Canelo Alvarez (54-1-2, 36 KOs) came in at a shredded 167.6 lbs on Friday for the title defense of his WBA/WBC super middleweight belts against Avni Yildirim (21-2, 12 KOs) on Saturday night live on DAZN. Yildirim also weighed in at 167.6 lbs for their battle at the Hard Rock Stadium in Miami, Florida.
Canelo-Yildirim isn't a major match for the Mexican star, but it's one that he must deal with for him to hold onto his WBC title. If everything goes as planned, Alvarez will be fighting four times in 2021, which gives him an excuse for taking this low-level fight against Yildirim.
If Canelo wins on Saturday night, his next step will be a unification fight against WBO 168lb champion Billy Joe Saunders on May 8th, and then IBF champion Caleb Plant in September.
The Coup de Grace for Canelo in 2021 is a possible trilogy match against Gennadiy Golovkin in December. Obviously, Canelo will need to get through both of his two championship unification fights against Saunders and Plant unscathed for him to take on GGG in December.
It's hard to imagine Canelo taking the fight with Golovkin this year if he's nicked up from a hard battle against Plant in September. Golovkin (41-1-1, 36 KOs) is too powerful for Canelo to be facing if he's war-torn from back-to-back hard fights against Billy Joe and Plant.
We can't assume anything about Saturday's fight because Yildirim is a diamond in the rough when it comes to his power, size, and warrior mindset. If Canelo wins, he's going to know he was in a fight.
Editor note: The chief support bout between WBC flyweight champion Julio Cesar Martinez vs. McWilliams Arroyo has been canceled. Martinez injured his right hand in training and needed to pull out from the card.
Undercard weights:
Zhilei Zhang 256.2 vs. Jerry Forrest 236
Diego Pacheco 168 vs. Rodolfo Gomez 167
Alexis Espino 167.8 vs. Ashton Sykes 164.2
Aaron Aponte 139.8 vs. Harry Gigliotti 139.2
Keyshawn Davis 136.6 vs. Lester Brown 134.6
Canelo not overconfident
"There's a lot of stuff that can happen in boxing; the fight isn't easy," said Canelo's trainer Eddy Reynoso to Fighthub on Saturday's bout with the 29-year-old Avni. "At this level, any fighter deserves respect. It's going to be a forceful fight.
"In the first round, we [Canelo] won't be overconfident. We worked really hard in camp preparing for this fight. Yes, but first we got to get this done," Reynoso said when asked about Canelo's unification fights against Billy Joe Saunders in May and Caleb Plant in September.
It's good that Canelo isn't overconfident for this fight with Yildirim because this could prove to be a difficult hurdle for him, especially if he's focused on wanting to meet Saunders in May.
Canelo's last opponent Callum Smith fought so poorly by coming to survive; he may have spoiled the Mexican star.
If Canelo believes that Yildirim will fight in the same passive way by perching himself against the ropes like a big bird, he's going to in for a shock.
Yildirim will be looking to shock the world on Saturday night because he knows this is his big chance to make massive money and impress his many fans back home in Turkey.
Saunders fight looming
"We got to win this fight first on Saturday, be well afterward, and then think of Saunders. It's step by step. I think that's one of the keys to maintaining someone of the magnitude of Canelo. Keeping him in the gym and giving him short-term, medium, and long-term goals.
"Imagine if he was told that it's going to take him 15 years to become a legit star. I probably would have quit, but we've gone step by step and achieved our goals. We wanted to be a three-time champion, then a four-time champion, and then Fighter of The Year," said Reynoso.
It's nice that Canelo has goals, but hopefully, this isn't something that is a distraction for him.
When a fighter sets a far-off goal like the one that Canelo has set about wanting to become the undisputed champion at 168, there's the potential that he won't be focused on the task at hand on Saturday night of having to win against Yildirim.
The advantage that Yildirim has is he's not looking into the distance about some crazy goal of trying to impress boxing fans by becoming the undisputed champion at super middleweight.
The only goal that Yildirim has is beating Canelo and possibly getting a rematch. In that respect, Yildirim is in a better position mentally going into this fight because he's fully focused on Canelo rather than two fights down the road that needs to be won.
Alvarez hoping to fight 4 times in 2021
"Well, look at the last pound-for-pound fighter that did four fights in one year was Jake LaMotta, who did three in the 30s. I don't remember, but it was him. We're going to do it, bro. We gotta win this on Saturday, step by step. If there's a chance to fight in December, which may sound crazy, we will keep him working and keep him active in the gym.
"Yeah, playing golf has helped him chill out a lot," said Reynoso about Canelo being calmer for this fight than in the past. "You don't see the face of a military-style camp anymore. He trains and leaves and goes and plays golf.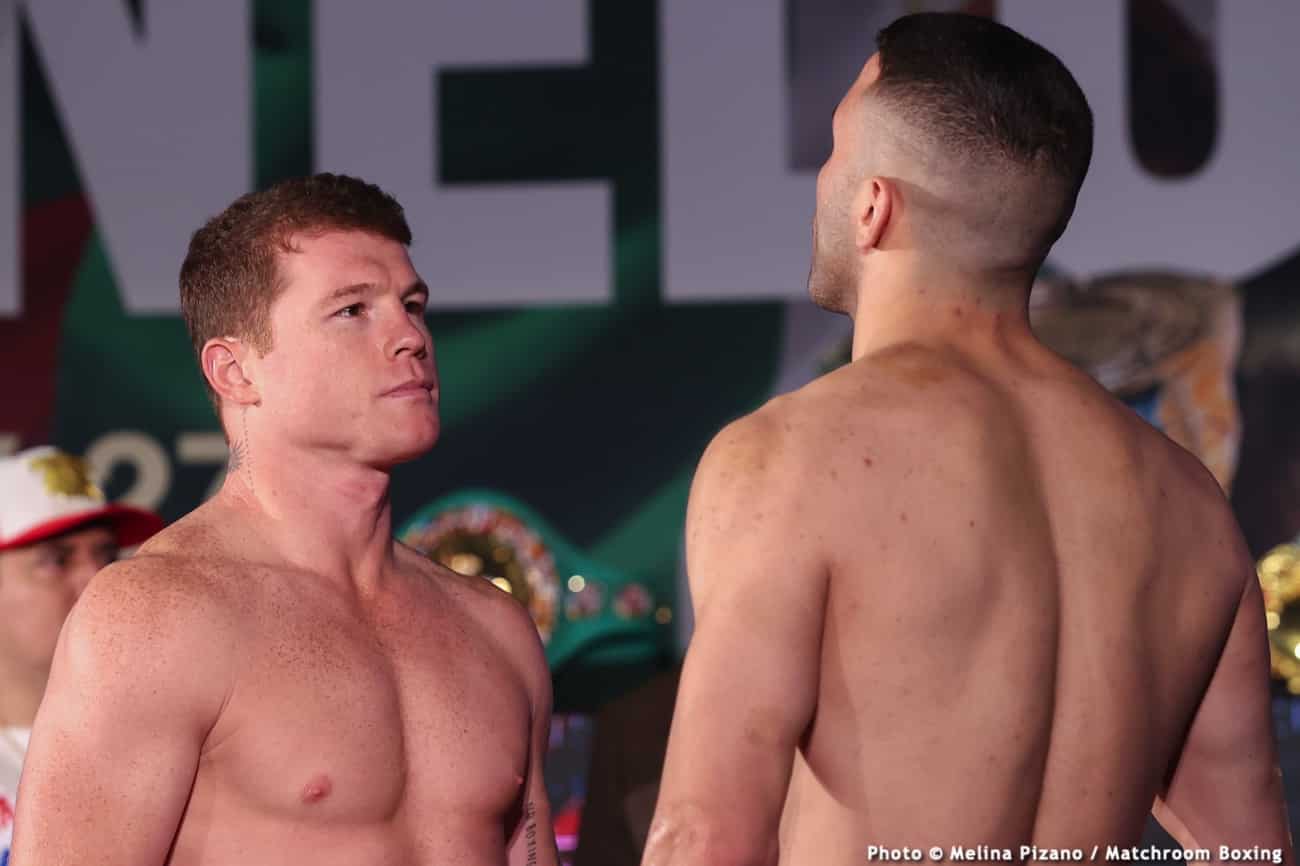 "We sometimes change the hours at the gym because he sometimes plays with people. He adapted to all that well, and I think that's really helped him be more relaxed and enjoy boxing more.
"Yeah, hid mindset has changed a lot. He's more mature and grown now. He's conscious of what he does and what he has to do in life.
"The best of Saul is yet to come, and this is the second stage of his career. We hope that when he retires, he'll be the greatest Mexican fighter ever," said Reynoso.
Fighting four times this year is going to be a massive accomplishment if Canelo can pull it off. Of course, Canelo's job is a little easier in that his first three fights won't be against dangerous punchers like David Benavidez, Golovkin, or Edr Berlanga.