Ryan Garcia says his fight with Manny Pacquiao fell through because of "certain things" on the Filpino star's side that he doesn't want to reveal.
Ryan (21-0, 18 KOs) says he saw the contract, and the two were planning on fighting at a 144-lb catchweight in a real fight, not an exhibition.
Ryan, 22, isn't bitter about the fight with the 42-year-old superstar Pacquiao failing to happen.
King Ryan says he's still interested in facing the former eight-division world champion Pacquiao (62-7-2, 39 KOs) if he's given an opportunity.
As for what direction Ryan is going in, he says fans will know about his next opponent in a "month or two."
He still wants to fight Gervonta Tank' Davis, but that match-up is not on the table. Tank says he's looking at another fight right now, and Ryan will have to wait.
WBC lightweight champion Devin Haney's promoter Eddie Hearn ran into Ryan on Thursday, and he suggested that the two fight. However, Ryan let Hearn know that he's just not interested in facing the unbeaten Haney (25-0, 15 KOs), even though he's technically his mandatory challenger after beating Luke Campbell on January 2nd.
Ryan Garcia Says the Pacquiao fight was close
"It got as close as it could get, honestly," said Ryan Garcia said to Boxing Social on his fight negotiations with Manny Pacquiao.
"My people were telling me, I mean, I seen contracts in front of me, I seen it. So the numbers were there.
Everything fell through because of certain things on Manny's end that I don't talk about, that I don't care to talk about.
All I know is he's a legend; I respect him for whatever he does; it's one him. I have respect for him no matter what he does and if we ever get it on, let's go. 1000%, yes.
That's why I said, 'Let's go,'" said Ryan Garcia about him wanting to face Pacquiao. "I dropped even talking about Gervonta, and I didn't even care about what people thought.
"'Oh, you ducked him.' I don't care. Ducking is when you fight someone that is not as good.
"If I ducked somebody [Tank], I went to fight someone that is better. You can't really call that a duck.," said Ryan Garcia.
In hindsight, it would have been a better look on Ryan's side for him not to bail on the Tank fight. That move made Ryan look flighty and unstable.
If you're trying to build trust with boxing fans, you got to remain steadfast when you decide you want to fight someone. The way that Ryan bailed on the Tank fight in favor of Pacquiao made him look scattered.
"Probably 144 catchweight," Ryan said when asked what weight he would have fought Pacquiao at if the match had taken place.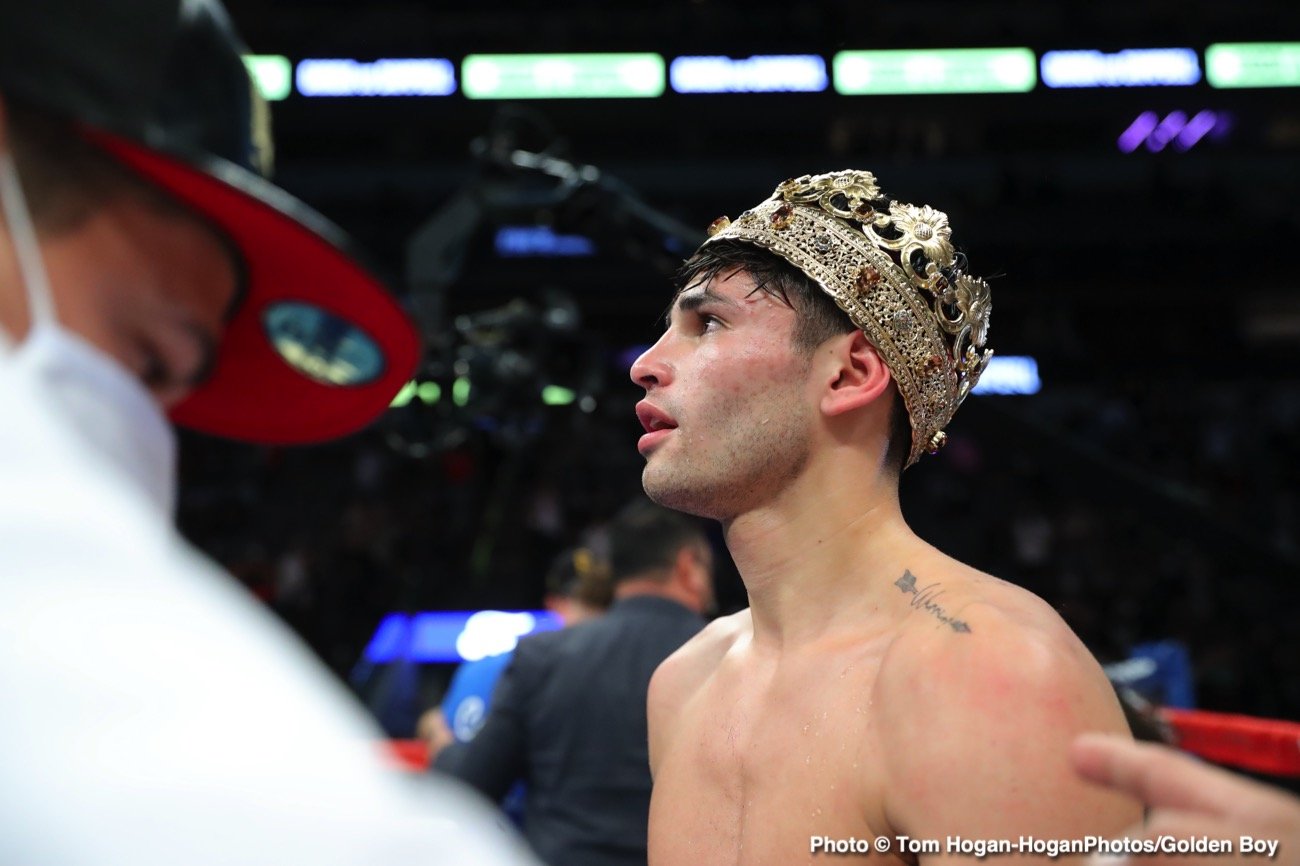 "Originally, this wasn't even my fight, so they [Team Pacquiao] were going to do an exhibition with somebody else.
"But when I came into the picture, I said, 'No way am I doing an exhibition.' All fight. I'm going to be here to knock you out, so honestly, let's just call it a real fight," said Ryan.
"In the coming month or two, you'll see who I'm fighting," said Ryan Garcia on his next fight.
It would probably be a good idea for Ryan to stop talking about the Pacquiao fight and focus on a real fight that can happen.
Javier Fortuna has been mentioned as a possibility for Ryan's next fight. That's a respectable fight for Ryan and a similar one to his last match against Luke Campbell.
Ryan needs more experience before he faces someone like Teofimo Lopez. There's too much size difference between the two of them right now, and it would likely end badly for Ryan.