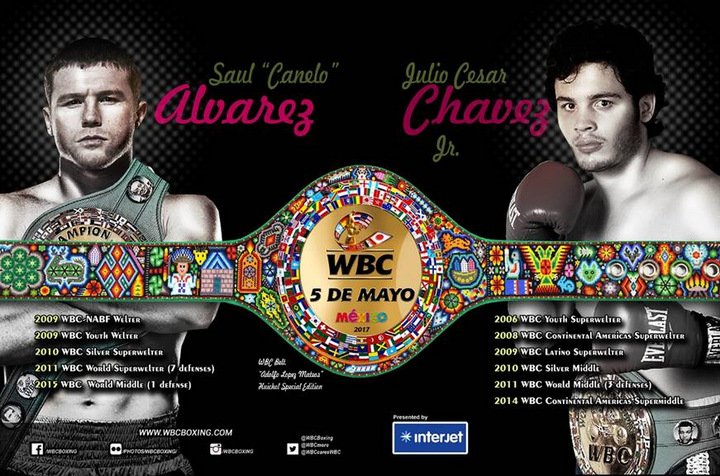 By Mauricio Sulaiman – The highly-anticipated fight between Saul "Canelo" Alvarez and Julio Cesar Chavez Jr. has caught the world's attention and will certainly be a great success. T-Mobile Arena was sold out immediately, the pay-per-view is expected to be over 1 million homes, and both major TV Networks in Mexico – Televisa and Azteca – will air the fight, which will break all existing records of TV audience in the history of Mexico. So, in essence, it is a monumental success.
The WBC is extremely proud of both fighters, two Mexican warriors who have taunted each other for six years and now will have the opportunity to claim to be Mexico's representative to the world.
Mexico has two major national celebrations – Cinco de Mayo on May 5th and Independence Day on September 16th. It has become a tradition to celebrate these two holidays with boxing events, especially in Las Vegas.
The WBC was founded in Mexico by its President, Adolfo Lopez Mateos, in 1963. Lopez Mateos was a boxer in his youth, and even as acting President was regularly seen at boxing events, which is why he is regarded as one of the greatest supporters of boxing in Mexico.
Mexico is a major force in boxing. Boxing is Mexico's sport of success, and with all of these facts in mind, the WBC decided to establish an honorary championship belt to commemorate those winners of the fights held on or around the Cinco de Mayo and 16th of September celebrations.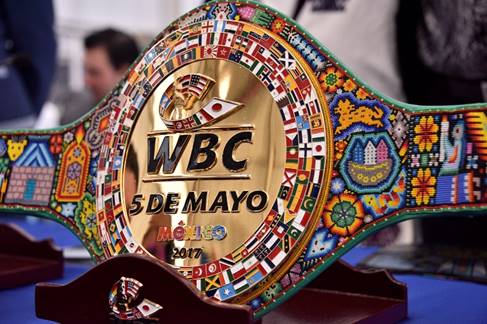 The Adolfo Lopez Mateos belt will be awarded to the winner of Alvarez vs. Chavez Jr.
This unique piece was designed and produced by "Luis," a Huichol community native and artist. The Huichol culture is known as one of the oldest cultures in the country, and their day to day lives include pre-Columbian practices from their ancestors. Huichol has become an art and is highly appreciated world-wide.
300 hours of work and 40,000 micro crystal chakiras went into the WBC green belt.
During the traditional Cinco de Mayo events, many great champions have competed over the years, including Lennox Lewis, Julian Jackson, Azumah Nelson, and of course, the Mexican legends Julio Cesar Chavez, Oscar De La Hoya, Erik Morales, Ricardo Lopez, Jorge Arce, and many others. Floyd Mayweather Jr. took over this tradition in the later years, and holds the most Cinco de Mayo events by any one fighter.
The great fights which have happened around Cinco de Mayo include: Chavez vs. Randall / Corrales vs. Castillo / Mayweather vs. De La Hoya / Mayweather vs. Pacquiao / Mayweather vs. Cotto / Canelo vs. Mosley / Canelo vs. Khan / De La Hoya vs. Mayorga.
This time it is all about Mexico. This fight is MADE IN MEXICO. The WBC is very proud of both fighters and wishes them the best of luck. The winner will certainly carry on as one of the best in the world, and the loser will have to face his family, fans, and team. However, if on May 6th, both give their best efforts and fight with their lion hearts, they will both certainly win, regardless of the end result. This fight is for HONOR, it is for PRIDE.
Both have enjoyed a sensational career within the WBC structure. Canelo is a two-division WBC world champion, and Chavez was the WBC middleweight world champion. Now they meet in a special event without any championship at stake, but the eyes of the world and of all Mexico will be watching to see who emerges as Mexico's glory, and who takes home the unique Adolfo Lopez Mateos Huichol belt .
New Commercial For Canelo Alvarez Vs. Julio Cesar Chavez, Jr
Before Canelo Alvarez (48-1-1, 34 KOs) meets Julio Cesar Chavez, Jr. (50-2-1, 32 KOs) for perhaps the biggest boxing event in history featuring two Mexican fighters, fight fans can get ready for all of the guaranteed action in this newly released commercial available here. As the fighters prepare for the mega battle, the teaser video paints both Mexican countrymen as larger than life figures ready to go to war in the ring.
The advertisement, which will start on Saturday, April 15, opens with Canelo and Chavez, Jr. in historic Mexican locales. From there, the two most popular fighters in Mexico begin charging through a Mexican desert before breaking through a seemingly impenetrable wall. Their run ends in Las Vegas, where the fight will take place on the Saturday of Cinco De Mayo weekend.
"The message of this ad is simple – not every Mexican is what President Trump has labeled them," said Oscar De La Hoya, the former 10-time world champion in six weight classes and Chairman and CEO of Golden Boy Promotions, the company putting on the fight. "Not only are a huge majority of Mexicans hard workers, this fight between Canelo and Chavez Jr. will directly benefit American business and employees. From the Las Vegas hotels and restaurants that will be full because of this fight, American industry will have a very successful Cinco de Mayo weekend."
The 45-second spot was produced by Leigh Simons Productions and will run through May 6th.
Canelo vs. Chavez, Jr. is a 12-round fight presented by Golden Boy Promotions and sponsored by Tecate, BORN BOLD, O'Reilly Auto Parts, Adriana's Insurance and Interjet. Lemieux vs. Reyes is presented by Golden Boy Promotions in association with Eye of the Tiger Management, Matthysse vs. Taylor is a 10-round fight presented by Golden Boy Promotions in association with Arano Boxing and Star Boxing. Diaz, Jr. vs. Avila is presented by Golden Boy Promotions. The event will take place on Saturday, May 6 at T-Mobile Arena and will be produced and distributed live by HBO Pay-Per-View® beginning at 9:00 p.m. ET/6:00 p.m. PT.
Tickets for the closed circuit telecast of Canelo vs. Chavez, Jr. are priced at $75, not including applicable fees. All seats are general admission and additional tickets are on sale now at any MGM Resorts International box office or concierge desk. Tickets also can be purchased by phone with a major credit card at 800-745-3000.
HBO Sports presents a unique perspective and in-depth look at the highly anticipated May 6th pay-per-view showdown when CANELO/CHAVEZ JR.: A FIGHTING TRADITION debuts MONDAY, April 24 at 10:00 p.m. (ET/PT) on HBO.