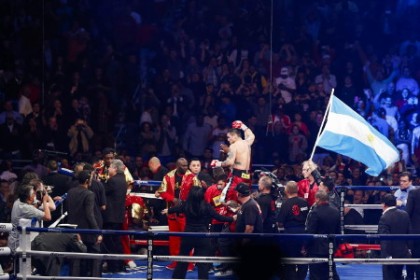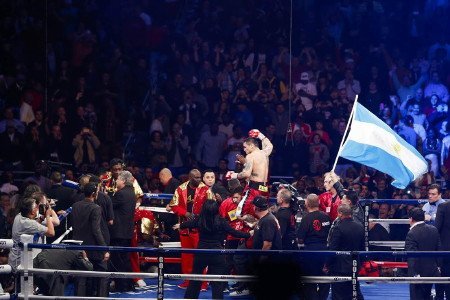 (Photo credit: Tom Casino/Showtime) Marcos Maidana (35-3, 31 KO's) battered and bruised WBA welterweight champion Adrien Broner (27-1, 22 KO's) in beating him by a 12 round unanimous decision tonight to capture his WBA title at the Alamodome in San Antonio, Texas. Maidana put Broner on the canvas twice with scorching left hooks to the head in the 2nd and 8th rounds. The judges scored the fight 115-110, 116-109, 117-109.
Broner took a real bad beating in this fight and he may have suffered a jaw injury. He was quickly ushered out of the ring immediately after the fight.
In the 2nd round, Maidana connected with a hard left to the head that put Broner down on the canvas. Instead of staying down to clear his head, Broner jumped back up to his feet and was staggering slightly. Maidana then worked Broner over with power shots for the remainder of the round as Broner tried to hold to make it out of the round.
Maidana continued to dominate the action in rounds 3 and 4, as Broner was rarely throwing anything at all. Broner looked paralyzed in the first 4 rounds and unable or unwilling to let his hands go. When Broner did throw shots, they weren't nearly as powerful as Maidana's and they had little affect in slowing him down or hurting him.
Broner came a little in the 5th, but he still was eating big, big shots for the most part. If you gave Broner any of the rounds from 5-7, you had to ignore the much bigger shots that Maidana was landing.
In the 8th round, Broner backed Maidana up against the ropes but was then caught by a big left hook from Maidana and put on the canvas. Shortly after that the referee Lawrence Cole took a point off from Maidana for a head-butt. It was a petty call by Cole simply because Broner played it up to the hilt. Cole probably could have taken off 3-4 points from Broner for his shoving and for hitting after the bell in the 11th, but he didn't.
The loss is obviously a crushing one for Broner. He fancies himself as another Floyd Mayweather Jr., but this defeat is going to hurt Broner in a big way in terms of slowing him down towards his dream of being a pay-per-view fighter.
It might be a good idea for Broner to move back down to the lightweight division, because he just doesn't look strong enough to be fighting in the welterweight division. Broner might find some luck at 140, but even at that weight he'd be in trouble against the likes of Lucas Matthysse and Danny Garcia. The better move would be for Broner to go back down to 135 and continue to dominate at that weight. There's no shame in Broner fighting at lightweight, because he simply doesn't have the power to be a good welterweight and he's not blinding fast like Mayweather.
***
Keith Thurman (22-0, 20 KO's) retained his interim WBA welterweight title by beating a game but limited Jesus Soto Karass (28-9-3, 18 KO's) by an 9th round stoppage. Thurman put Soto Karass down in the 5th round with a left hook to the head. In the 9th, Thurman dropped Soto Karass with a hard combination.
The fight was then halted at 2:21 of the round. However, Thurman was out on his feet in the 1st round from a right hand by Soto Karass, but he was able to survive the round when Soto Karass let him off the hook by no going for the knockout.
Thurman was on his bike for the full 9 rounds with him hitting and running. It was a style that worked against the incredibly slow Soto Karass, but we're talking a really slow fighter.
The thing that was hard to miss about this fight was that Thurman didn't seem to be able to just stand and trade against Soto Karass. One got the sense that if Thurman had stopped running and just stood and traded then he would have been knocked out. He almost had to run until catching a tired Soto Karass in the 9th round with a big shot to stop him.
With this win we could be seeing Thurman as a candidate for Maidana's next fight if he can't get a bigger name to fight him. It'll be a lot tougher for Thurman to succeed against Maidana using his running style because Maidana's much better at cutting off the ring, and he's much more of a puncher than Soto Karass. If Thurman was hurt by Soto Karass, then you'd hate to think what Maidana would do to him.
***
In a very close fight, WBC super bantamweight champion Leo Santa Cruz (26-0-1, 15 KO's) won a 12 round unanimous deision over Cesar Seda (25-2, 17 KO's). Santa Cruz put Seda down on the canvas with an unexpected right hand in the 5th. Santa Cruz pursued Seda round after round in some competitive rounds. Santa Cruz was always the busier guy, but Seda's and his ability to fire back made things close. What ultimately won the fight by Santa Cruz was his aggressiveness. He was the guy constantly trying to land the shots, whereas Seda spent too much time focusing on his defense instead of his offense.
***
In a mismatch, WBA light heavyweight Super World champion Beibut Shumenov (14-1, 9 KO's) defeated fringe contender Tomas Kovacs (23-1, 14 KO's) by a 3rd round TKO in what was a predictable result given the quality of his opponent. Shumenov, who has still yet to fight an opponent that you can call a good fighter in his three years as the WBA champion, knocked Kovacs down three times in the fight with a knockdown occurring in each round. The end came from a right hand to the head in the 3rd that put Kovacs down. Shumenov lined Kovacs up on the ropes and threw a badly telegraphed right hand that put Kovacs down. The referee then stopped the fight at 2:55 despite fact that Kovacs looked like he could still fight.
During the fight, Bernard Hopkins appeared to be letting fans know that he wants to fight Shumenov next by holding up his picture. After the fight, Hopkins came into the ring and let it be known that he'd be happy to fight Shumenov next. Given that there are arguably much better champions then Shumenov in the division in Adonis Stevenson and Sergey Kovalev, Hopkins' saying he's interested in fighting Shumenov seems like a case of Hopkins looking for the easier fight. Both Shumenov and Hopkins would likely be easy knockout victims for both Kovalev and Stevenson. Those guys are the real champions in my view. I see Hopkins and Shumenov as paper champion 1A and paper champion 1B. Hopkins was a great fighter in his day, but he's definitely not in the same class as Kovalev and Stevenson, and I don't rate Shumenov at all as a champion.
***
Other boxing action on tonight's card from the Alamodome:
Ricardo "Dinamita" Alvarez MD 10 Rod Salka
Rau'shee Warren UD 8 Jose Silveira
Jermain Taylor TKO 7 J.C. Candelo