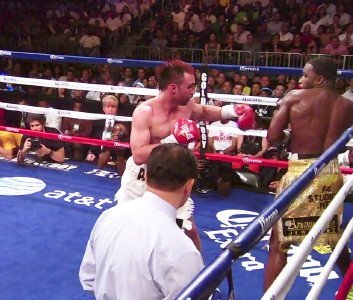 It's been thought that WBA welterweight champion Adrien Broner (27-0, 22 KO's) will give up his newly won World Boxing Association 147 lb. title without defending it rather than facing the likes of Marcos Maidana and Keith Thurman. Broner, however, is now saying he wants to fight Maidana and then Lucas Matthysse after that. There's no word from Broner about whether he'll bother defending his title against WBA interim welterweight champion Keith Thurman, who has already said he wants to fight Broner next.
Broner said this about Maidana and Matthysse on Thursday on his social media site: You a damn fool if you think Chino Maidana can beat me. LOL! And when I'm done with this b**ch Chino Maidana, I'm go f*** Matthysse up. Easy money."
I like how Broner throws in one of Floyd Mayweather Jr's "easy money" comments, because that's something that Mayweather Jr. says all the time.
If Broner is serious about wanting to face Maidana and Matthysse in back to back fights, he may not be the WBA champion for long.
Those guys can really punch, and they won't be held back by Broner's shoulder roll defense or by his one at a time pot shots. Broner will have to revamp his entire offense in order to beat those guys, because he's not a big enough puncher at 147 for him to beat them by throwing one shot at a time.
Broner was able to beat super featherweights and lightweights with that kind of fighting style, but we saw pretty clearly in his fight with Paulie Malignaggi last June that Broner lacks the power needed to run over welterweights with single punches.
Maidana said this on his twitter on Friday:
I was 2 days away from TW & @AdrienBroner already opened his big mouth again? Shut up and fight me my friend!

— Marcos René Maidana (@ChinoMaidana) August 1, 2013
The question is can Broner increase his work rate to beat big punchers like Maidana, Matthysse and Thurman? I don't think he can. Broner needs to take rest breaks, and he's more of a counter puncher than a fighter that goes after his opponents.
If Broner can beat Maidana and Matthysse, he'll have increased his popularity in the sport in a huge way. And if can top that off by beating Thurman, then Broner will be ready for the big time. I don't think Broner can beat any of those guys.
I expect Broner to be beaten by Maidana, and sent packing to the lightweight division. If Maidana beats him bad enough, I doubt Broner will bother moving down one division to light welterweight. I see him moving down two divisions to go back to 135, where it's a lot safer for him.