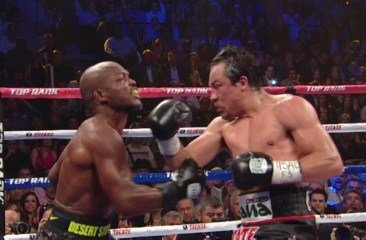 WBO welterweight champion Tim Bradley (31-0, 12 KO's) won an incredibly dull 12 round split decision on Saturday night over 40-year-old Juan Manuel Marquez (55-7-1, 40 KO's) by the scores of 115-113 Marquez, 116-112, 115-113 Bradley at the Thomas & Mack Center, in Las Vegas, Nevada, USA.
Bradley did a great job of staying on the outside to keep Marquez from landing his power shots, but unfortunately it kept Bradley from landing punches as well. Bradley ended up moving too much and that really took away the excitement in the fight. The only round where Bradley actually exchanged was the 12th, and he clearly lost that round.
There was some grumbling about the judge that gave the fight to Marquez, but in fairness to the judge, Bradley pretty much gave away the last half of the fight by fighting like he had the fight in the bag. He didn't show any urgency the way that Marquez did, and for that reason I had Marquez winning 5 of the last 6 rounds of the fight, including 3 of the first 6. Bradley really stunk out the joint tonight with his running, and I thought he did a disservice to all the fans that paid to see this incredibly boring fight.
Every round was basically the same with Bradley running around the outside, throwing jabs and trying not to get hit. He fought basically like every round was the 12th with him trying to stall out on a big lead. All the running that he did made it difficult for Marquez and himself to get any real offense going.
With this victory, Bradley will likely face the winner of the November 23rd Manny Pacquiao vs. Brandon Rios fight. That's about all Bradley can hope for. He's not going to get Floyd Mayweather Jr. because Bradley fights for Top Rank and that rules out a fight between him and Mayweather fighting. However, it wouldn't be a good fight because Bradley would likely run around on the outside forcing Mayweather to pot shot him for 12 rounds. It would be ugly fight not worth watching.
***
Orlando Salido (40-12-2, 28 KO's) wore down Orlando Cruz (20-3-1, 10 KO's) in stopping him in the 7th round to capture the vacant WBO featherweight title. Salido nailed Cruz with a huge left-right combination to the head in the 7th round to put him down on the canvas. Cruz was too hurt to get back up and the fight was halted at 1:05 of the round. Salido dominate the first five rounds with his hard body shots and big punches to the head.
Cruz circled the ring constantly in trying not to get hit but only rarely throwing punches. In the 6th, Cruz came on and landed some nice shots to get the better of Salido. However, in the 7th, Salido upped the pace and really tore into Cruz with nearly nonstop punches causing Cruz to hit the canvas.
***
Two-time Olympic gold medalist Vasyl Lomachenko (1-0, 1 KO's) got his pro debut off to a good start with 4th round TKO victory over Jose Ramirez (25-3, 15 KO's). Lomachenko knocked Ramirez down in the 4th round with a hard left to the body to get the stoppage. The fight was stopped at 2:59 of the round. Lomachenko also knocked Ramirez down in the 1st round with a left to the body.
After the fight, Lomachenko said that he wants to fight WBA/WBO super bantamweight champion Guillermo Rigondeaux in a "Couple of more fights."
As good as Lomachenko looked tonight, he doesn't appear ready to fight Rigondeaux, and it might be better off if he waits a lot longer before he faces him. The way Lomachenko looked, I don't think he would even beat Orlando Salido. That would be a very tough fight for him. Lomachenko's problem is he doesn't throw a lot of punches and he could find himself getting outworked by Salido and needing a knockout to win.
Other boxing action on the card:
Mikael Zewski RTD 5 Alberto Herrera
Brad Solomon UD 8 Kenny Abril
Trevor McCumby UD 6 Eric Watkins
http://www.youtube.com/watch?v=gJGyPBY_Gwo&feature=share