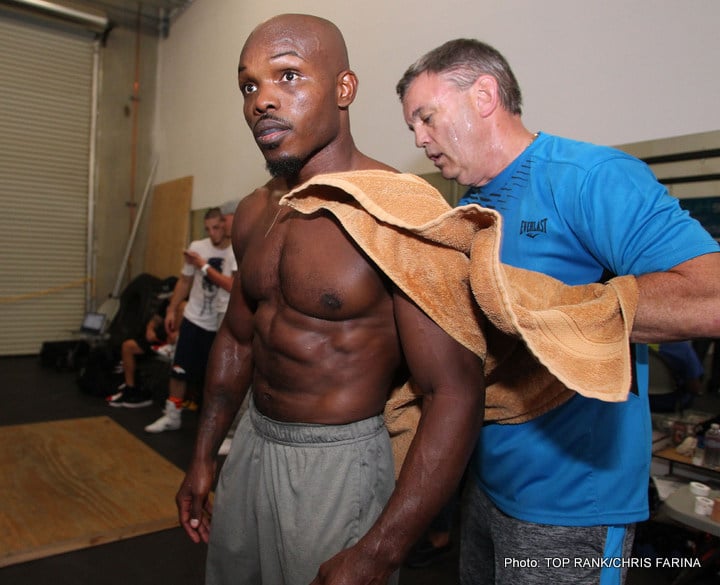 WBO welterweight champion Timothy Bradley (32-1-1, 12ko) is confident that the corner switch to Teddy Atlas from long-time former trainer Joel Diaz, has been the right one ahead of next month's defence against Brandon Rios in Las Vegas.
Bradley claims he is looking to box a smart fight against Rios, who has himself claimed he will box in his trademark, aggressive style and draw 'Desert Storm' into a toe-to-toe war – a notion the champion rejects, despite famously getting drawn in when not needed in the past.
Bradley says time spent with Atlas after his win over Jessie Vargas in July, studying film of his previous fights, convinced him the switch from Diaz was the right thing to do, and is placing his faith in the veteran trainer/broadcaster to put together the right game-plan for him to execute against the arguably one-dimensional, Robert Garcia trained Rios.
"I feel as a man, when you make a decision, you gotta stick by it and it's paying off, it's showing," Bradley told fighthub.tv about the switch from Diaz and the tactical changes he's employing under Atlas.
"Teddy's a great mentor, a great trainer. There's not a lot of teachers in this game……. But we gonna show you, Nov. 7, what we been working on and we got the perfect game plan for Brandon Rios.
"[Teddy] knows boxing, 45 years in the game, there's nothing that this guy doesn't miss, nothing. At all. "
"6 weeks in [to the partnership] everything has been fantastic. Sparring has been fantastic, I'm getting hit less, I'm looking really sharp, I'm lean as can be, the diet's under control. Everything is under control, we have it all planned," he added.
Will 6 weeks really be enough to teach this old dog some new, defensive tricks and strategies? In 9 days we shall find out…
Bradley/Rios will be broadcast on HBO (US) / Boxnation (UK)
Twitter @undilutedpoison