Carlos Adames held onto his Interim WBC Middleweight Title after a ninth-round knockout of the courageous ex-unified world champion Julian "J-Rock" Williams.
From the get-go, the match was a display of thrilling back-and-forth action. In the second round, Adames (23-1, 18 KOs) seemingly destabilized Williams (28-4-1, 16 KOs), leading Williams to hang on for the remainder of the round.
In the subsequent round, Adames inflicted a cut under Williams' right eye. In response, Williams demonstrated his championship mettle, countering with several potent shots, largely dominating the round.
The tables turned yet again in the fourth round. Adames' series of power shots had Williams backed against the ropes, attempting to hold Adames off. "I really don't know how he survived the fourth round," Adames reflected, "but he's a veteran. He's got skills and that's what got him through that round."
Adames, hailing from the Dominican Republic, made a breakthrough once more in the ninth round. He upped his attack, staggering Williams with a barrage of power shots. Williams displayed his ring savvy and determination, doing everything within his power to prevent Adames from delivering the final blow. Nevertheless, at 2:45 into the ninth round, referee Mark Nelson intervened, declaring the end of the fight.
– In a good bounce-back win, Erickson "Hammer" Lubin (25-2, 18 KOs) defeated Luis Arias (20-4-1, 9 KOs) by a fifth round knockout.
Lubin dropped Arias in the fifth. Arias failed to beat the count, and the bout was halted. The time of the stoppage was at 2:11 of round five. Lubin dominated the entire fight with his heavy shots, nailing Arias with hard punches to the head and body.
Lubin lost his last fight 14 months ago to Sebastian Fundora and took a bad beating. The time out of the ring seemed to do Lubin good.
– IBF super flyweight champion Fernando Martinez (16-0, 9 KOs) retained his title with an eleventh-round knockout win over Jade Bornea (18-1, 12 KOs). The referee stepped in and halted the contest in the eleventh at 0:29 of round eleven.
Bornea was surprisingly good, but Martinez took over the fight after thee eighth round and punished Bornea with beautiful combinations, showing the kind of talent that he'd exhibited with his two wins last year against Jerwin Ancajas.
– In super bantamweight action, former IBF superfly champion Jerwin Ancajas (34-3-2, 23 KOs) looked like his old self, stopping Wilner Soto (22-13, 12 KOs) in the fifth with a right hand body shot.
In the fourth round, Ancajas knocked Soto down with a left hook to the head. After the round ended, referee Charlie Fitch had a word with Soto's corner, perhaps letting them know he was going to stop the contest if he didn't start doing something to make the fight competitive.
Ancajas had been targeting the body of the 32-year-old Colombian Soto the entire fight. It looked like Ancajas purposefully kept Soto around until the fifth, which is when he poured it on to get the stoppage.
In Ancajas' two previous fights, he'd lost to Fernando Martinez of Argentinian last year and looked every bit as overmatched as his opponent Soto had tonight. Martinez was on another level than Ancajas in their two contests.
– Super middleweight Burley Brooks (7-2-1, 5 KOs) made 39-year-old former IBF super middleweight champion Caleb Truax (31-6-2, 19 KOs) look his age tonight, beating him by a ten round unanimous decision.
Truax looked slow & tired throughout, getting outworked the entire ten round contest by the much younger 27-year-old Brooks and not being able to match his work rate. It wasn't that Brooks was great. It was more of a case of him being a lot younger, faster, and throwing more than Truax.
The judges' scores were 98-91, 96-93, and 96-93.
– Light welterweights Mickel Spencer (3-0, 2 KOs) and Lyle McFarlane (2-1, 1 KO) saw their bout end in the third round and ruled a no-decision after the two clashed heads.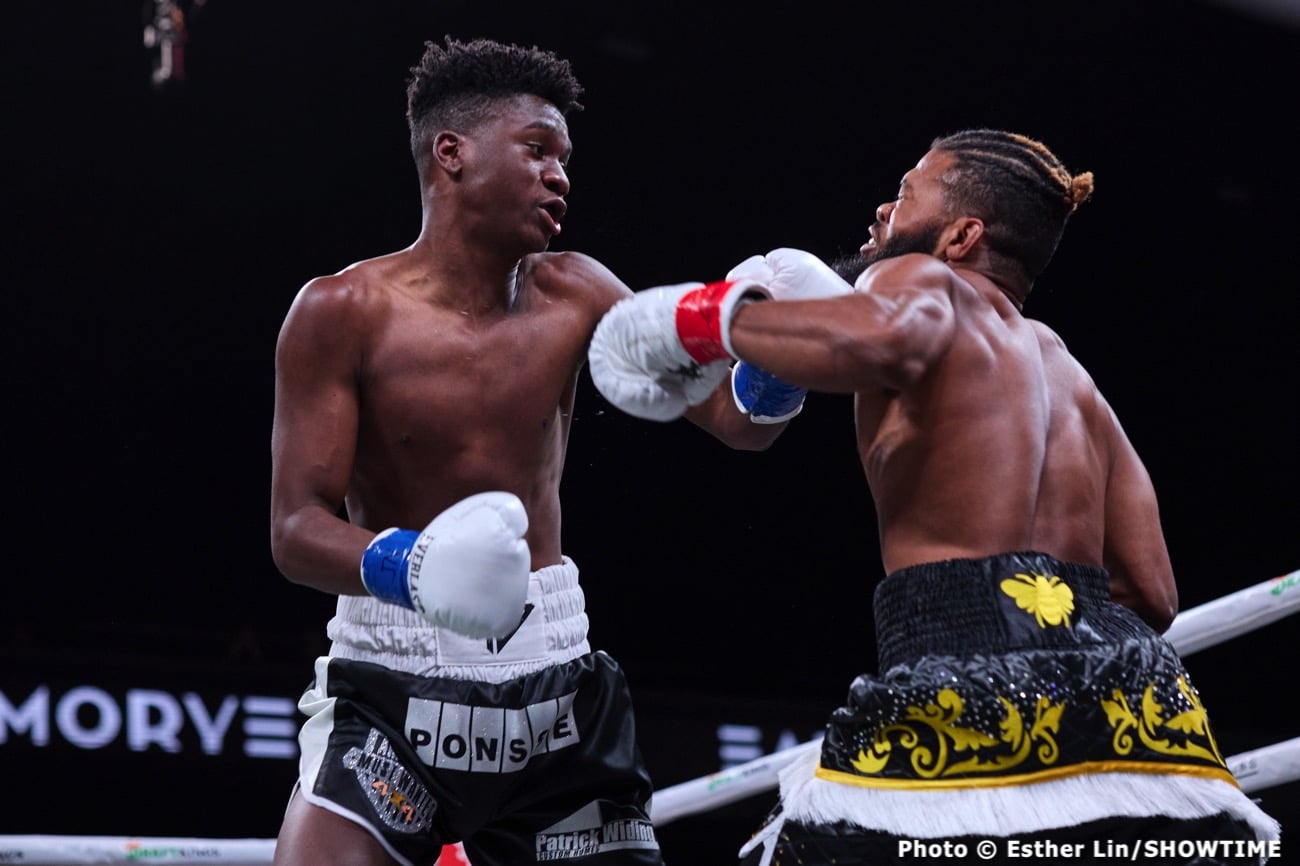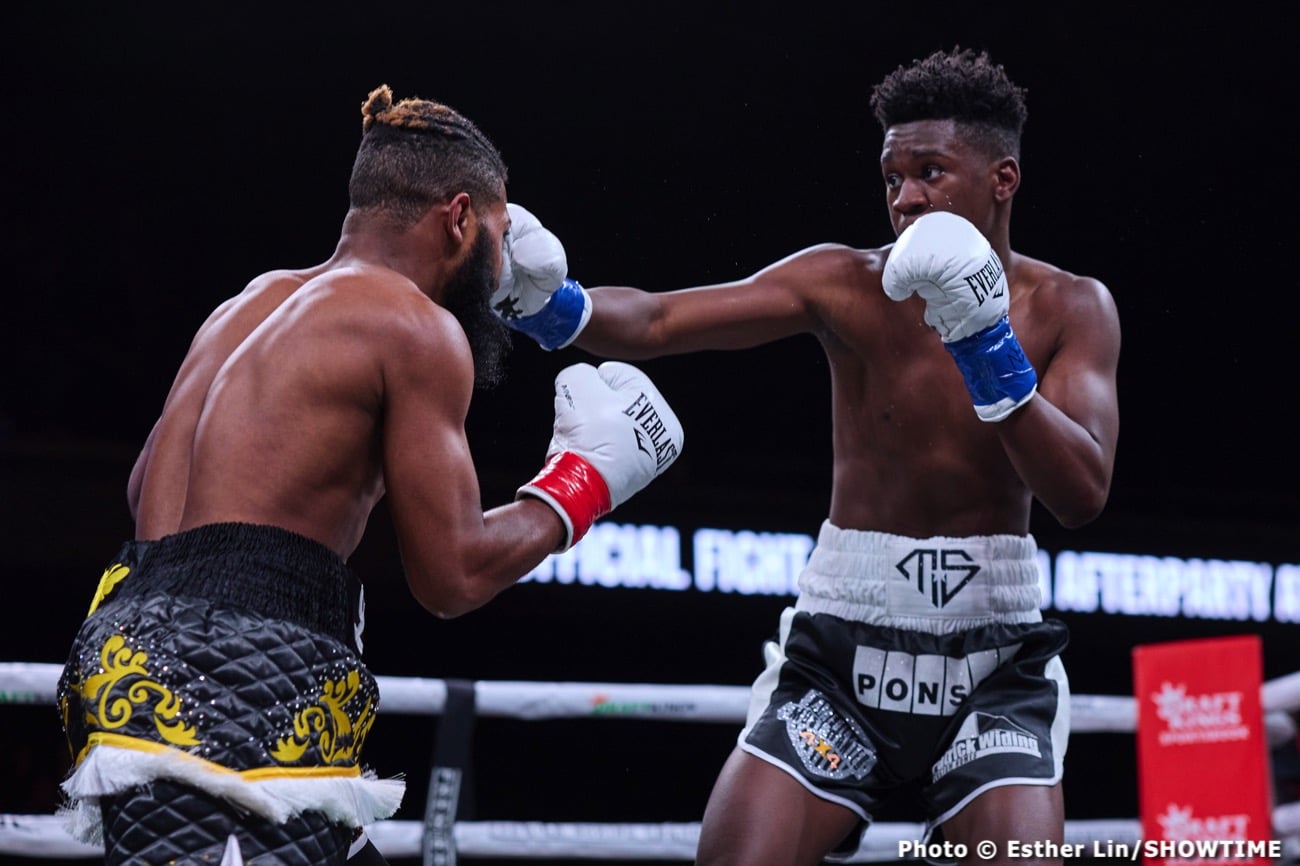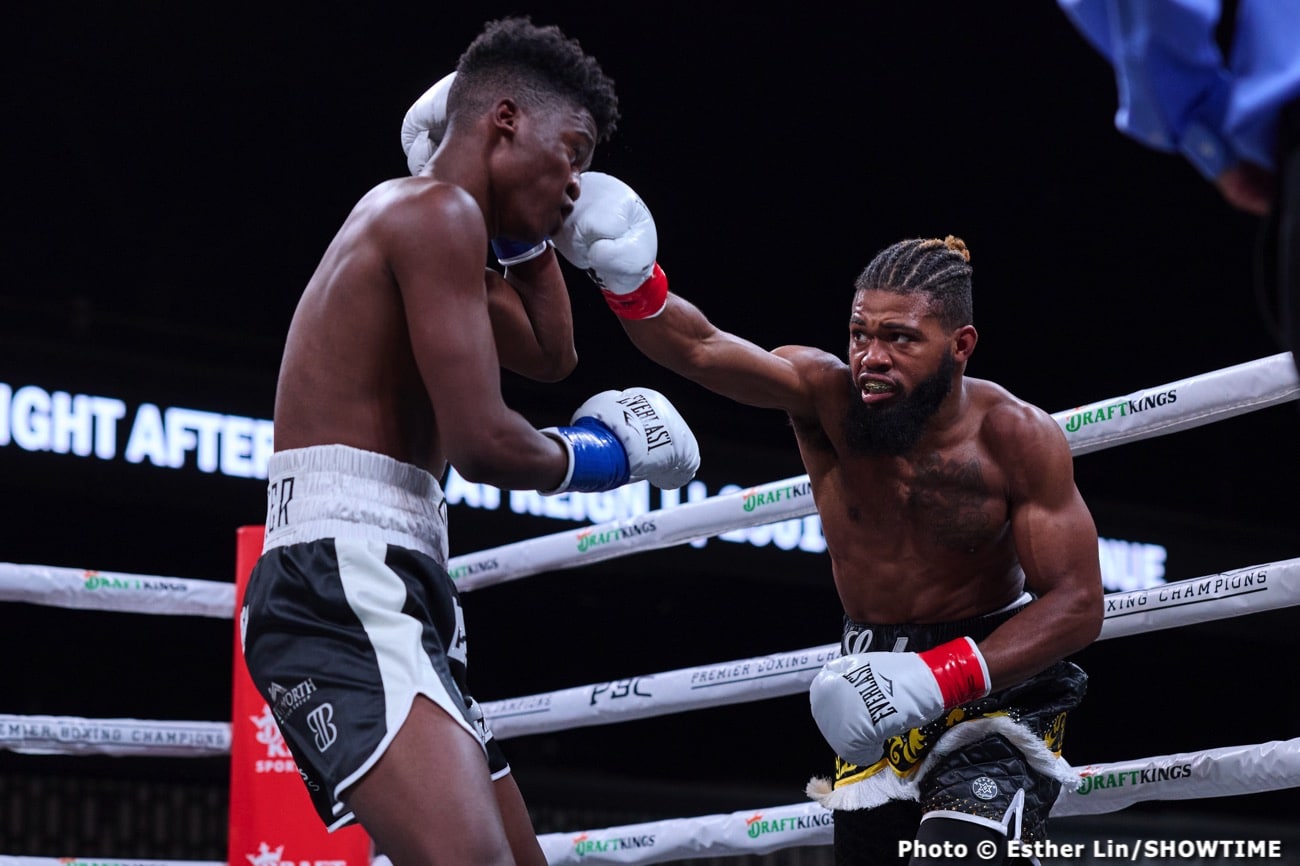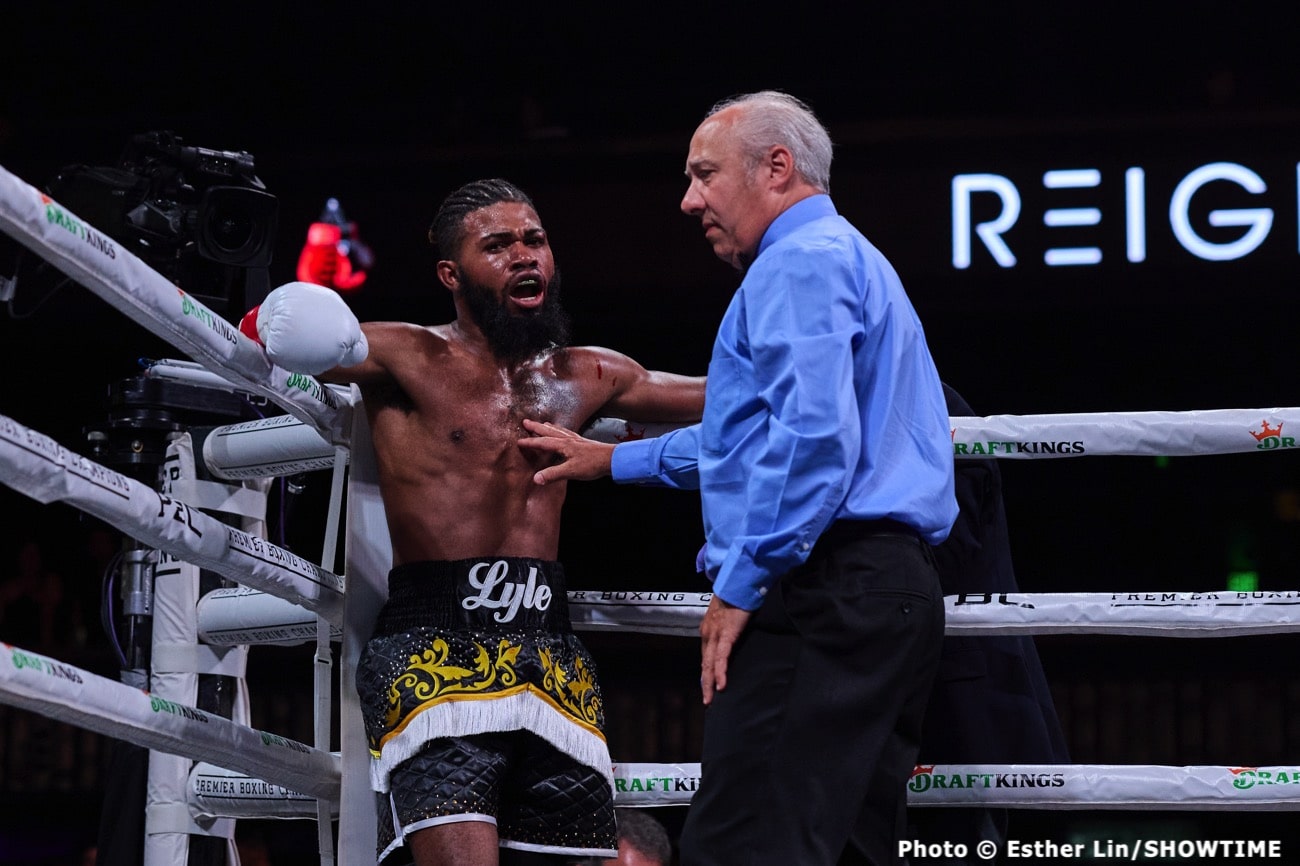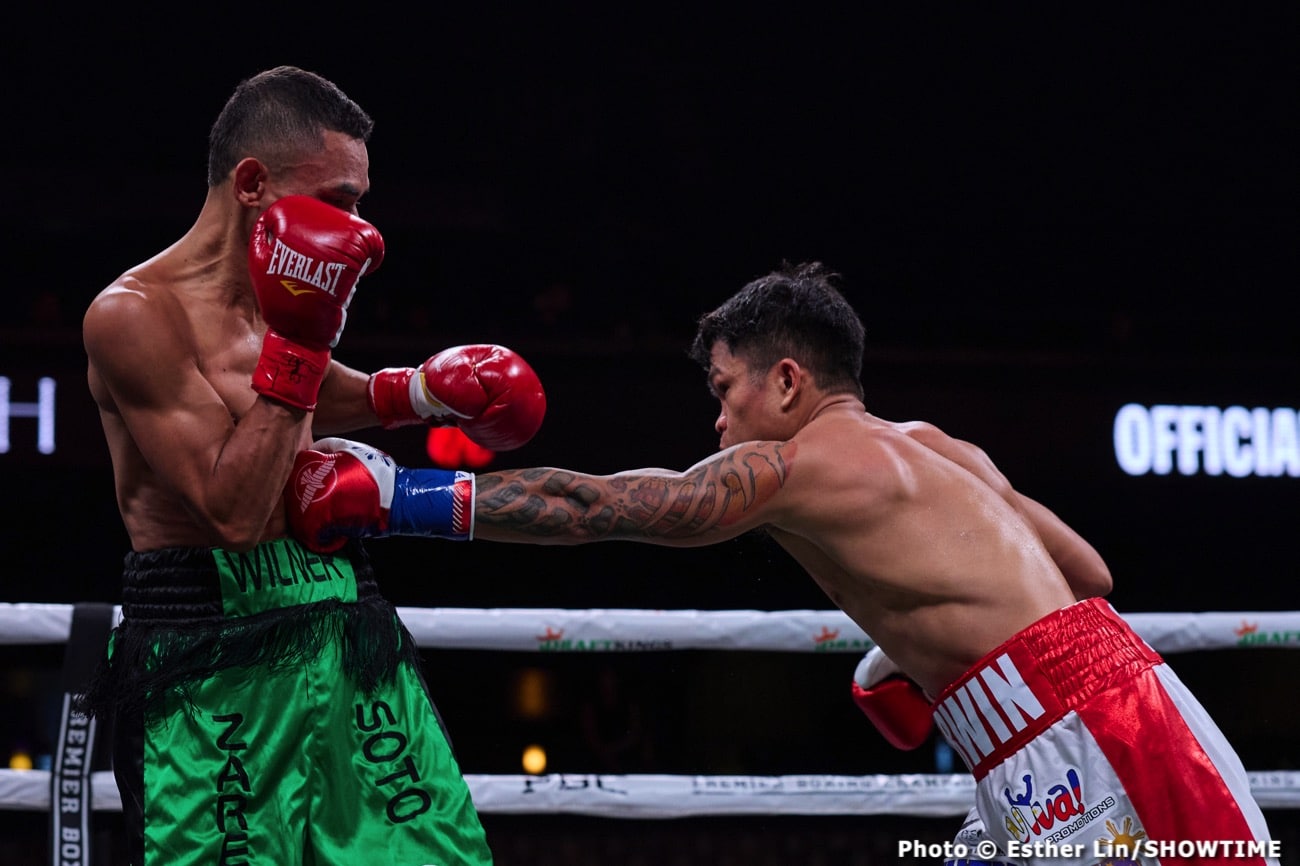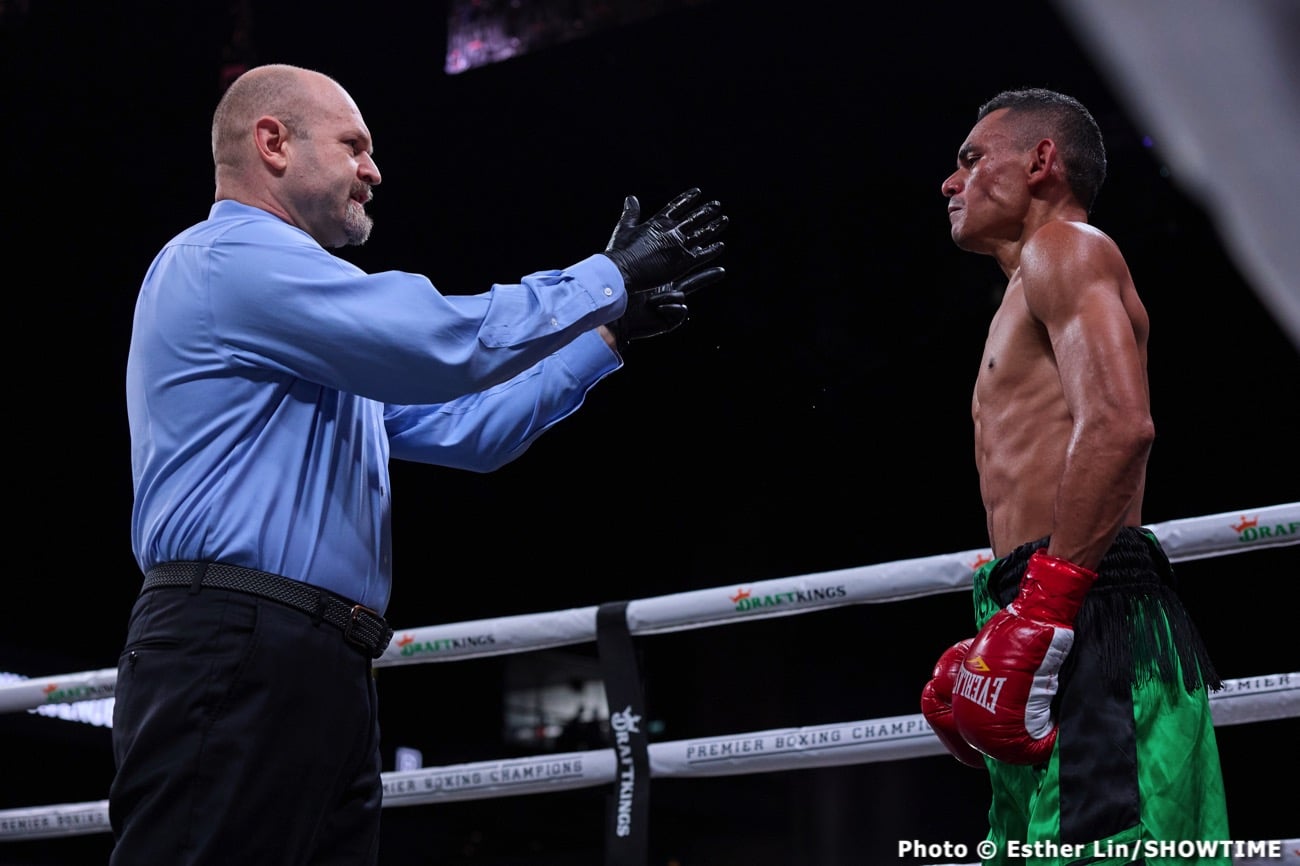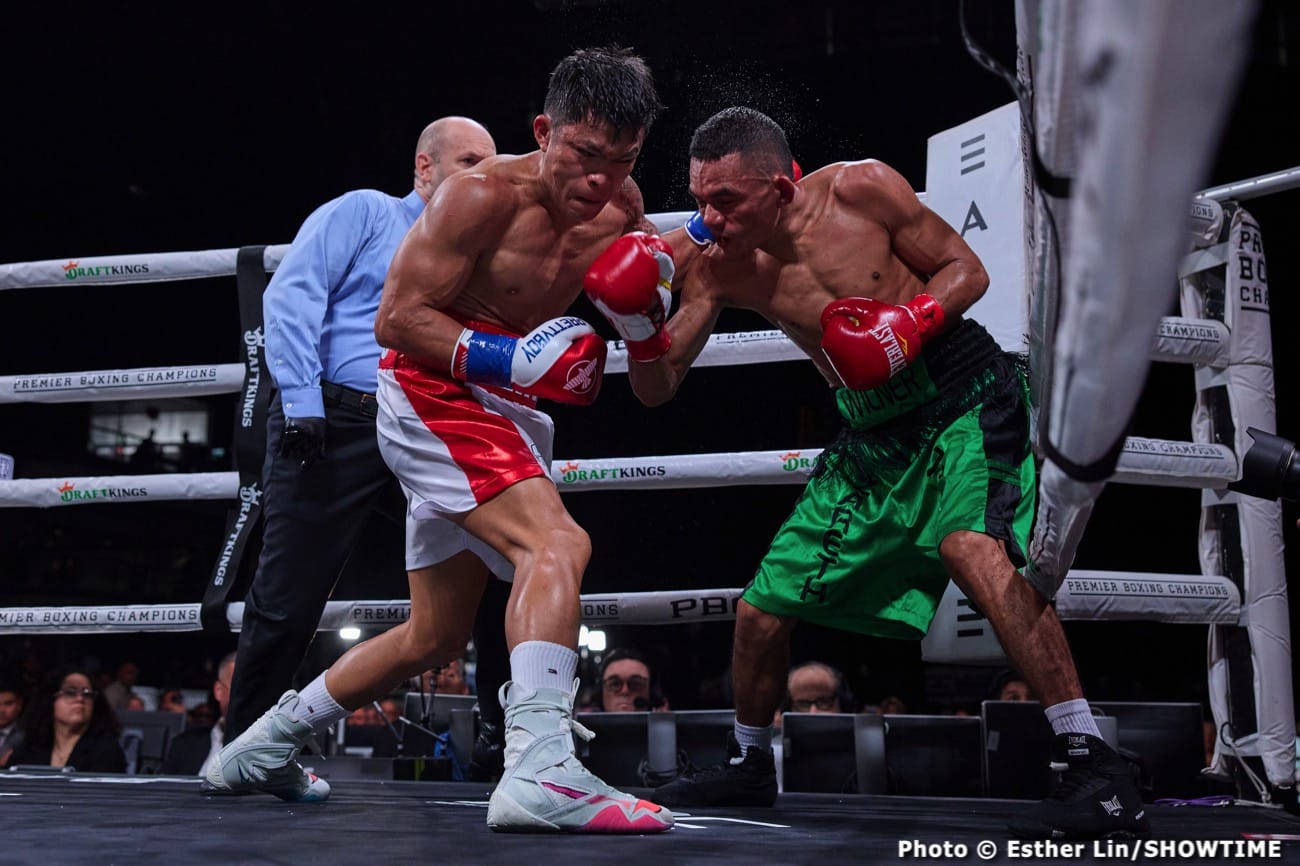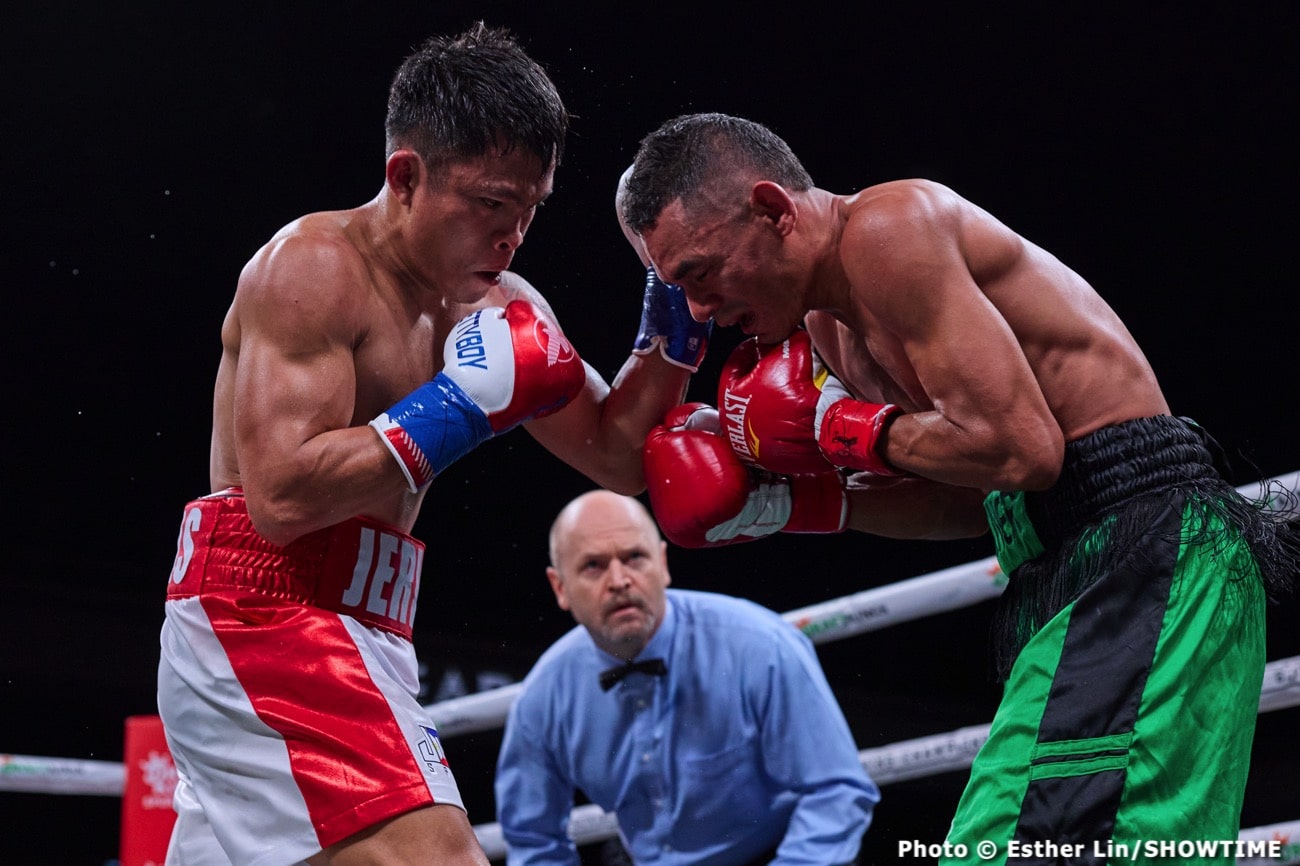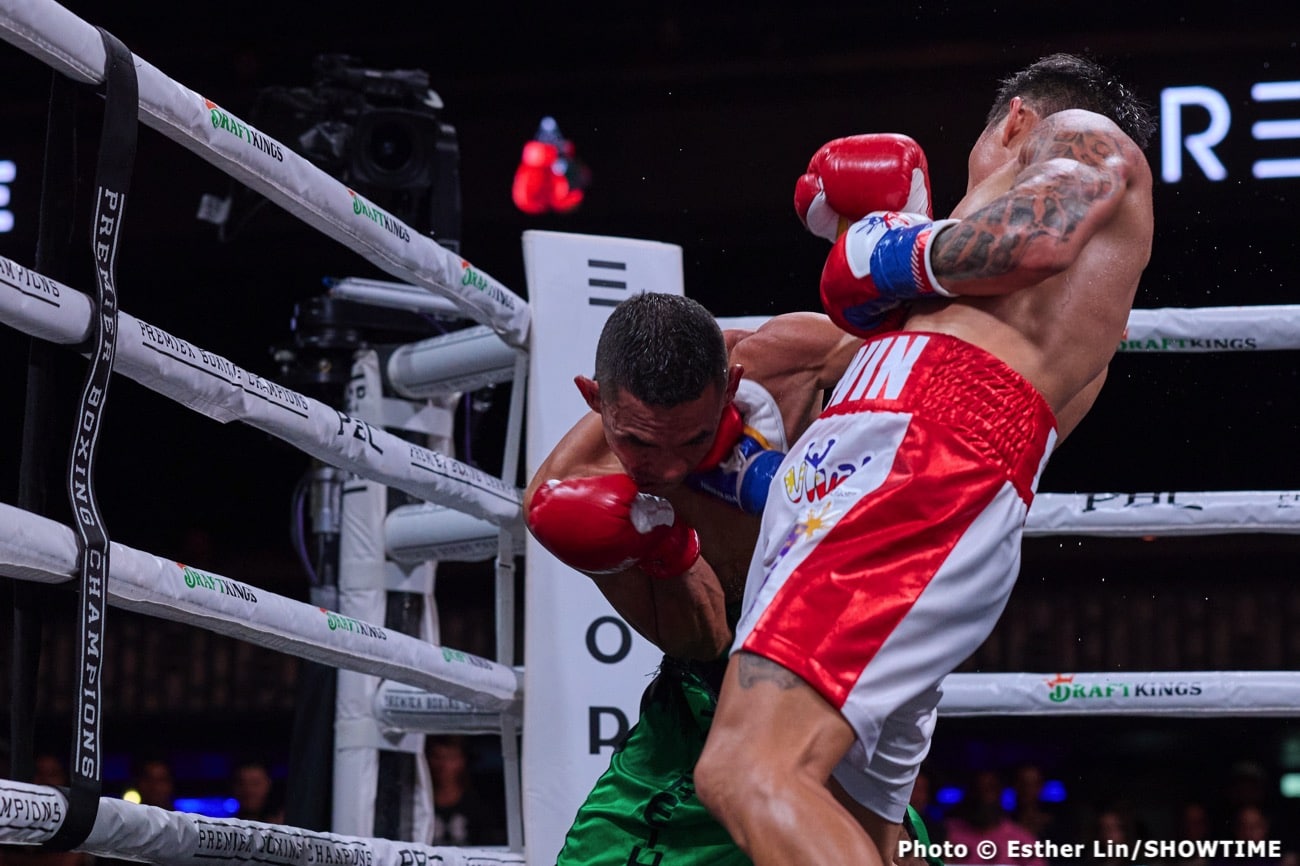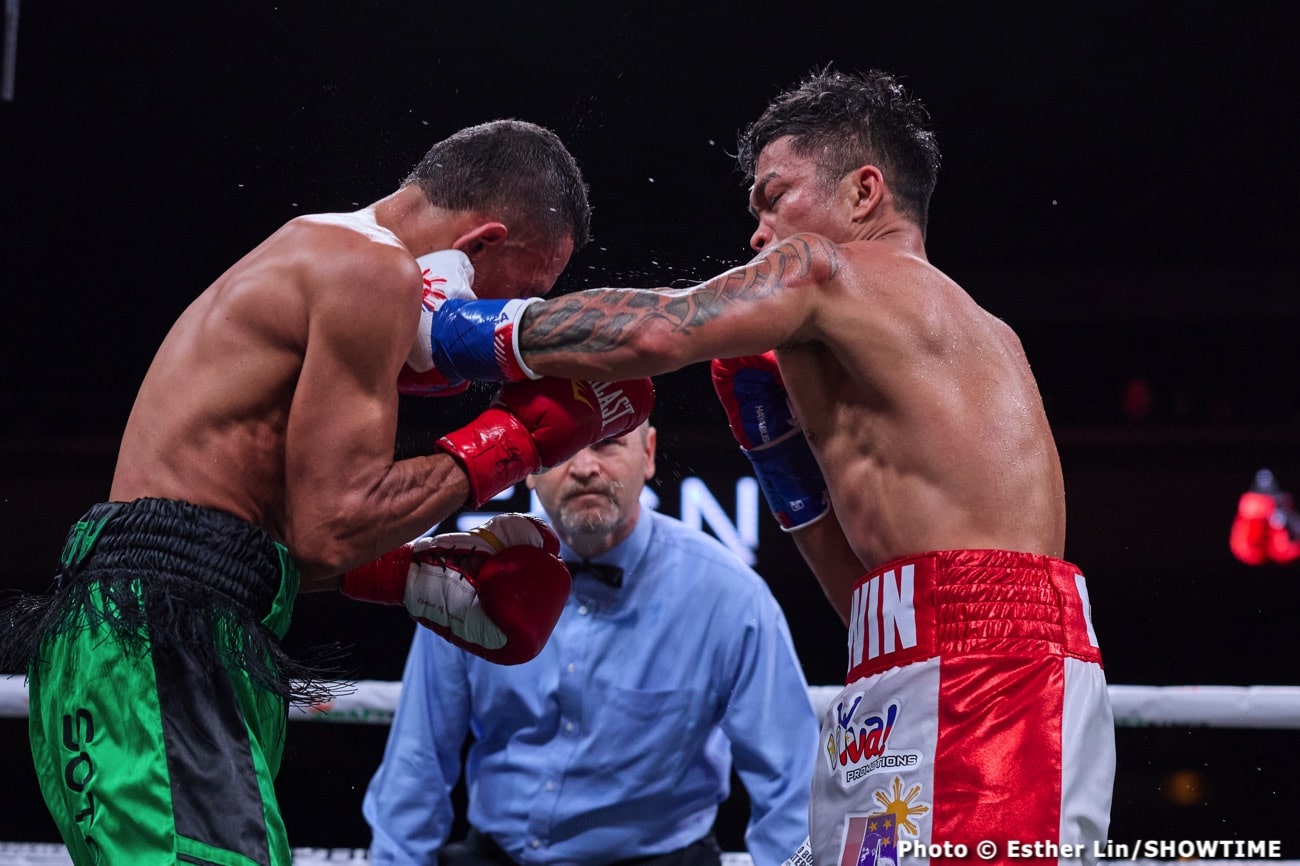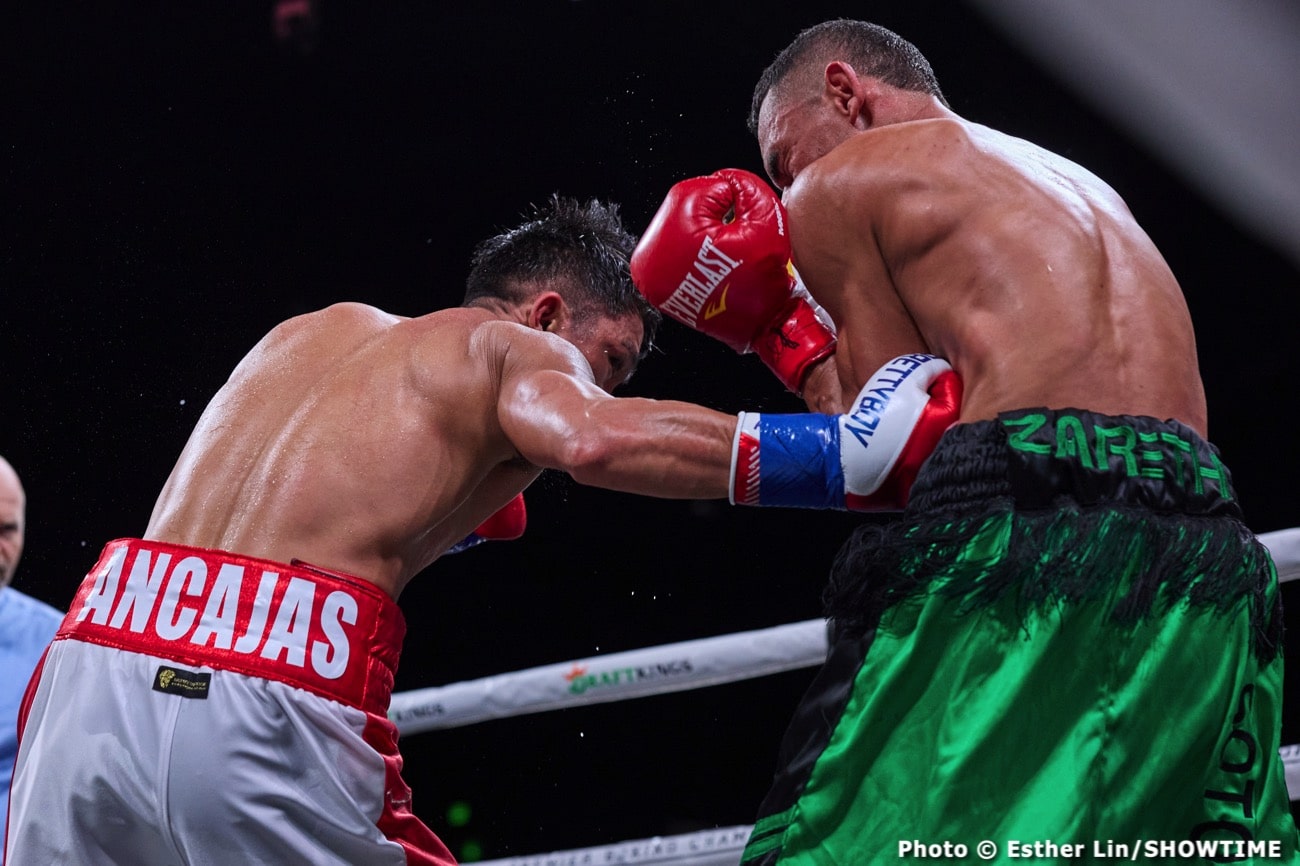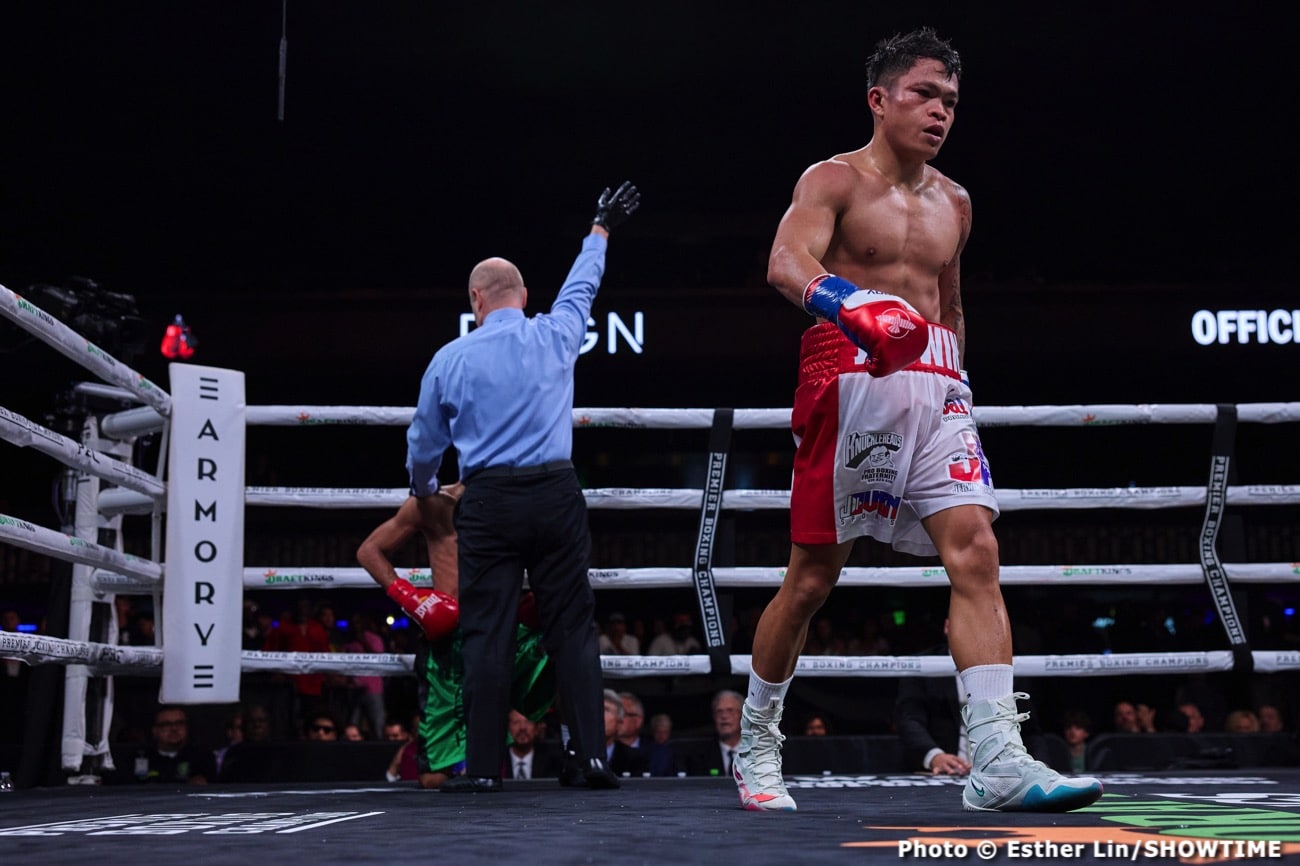 WBC interim middleweight champion Carlos Adames (22-1, 17 KOs) faces the experienced former IBF/WBA 154-pound champ Julian "J-Rock" Williams (28-3-1,16 KOs) in a bout that should have a lot of action for as long as it lasts at The Armory in Minneapolis, Minnesota. Adames needs a good showing to keep him moving forward to an eventual title shot against WBC champion Jermall Charlo. Showtime will show live boxing tonight of the Adames vs. Williams card at 9:00 p.m.
Erickson Lubin will fight on the undercard. 'The Hammer' Lubin (24-2, 17 KO) in a must-win fight against Luis Arias (20-3-1, 9 KO) at 154, scheduled for ten rounds. Lubin suffered his second career defeat fourteen months ago in a ninth round stoppage against the 6'5″ Sebastian Fundora in April 2022.
Where Lubin went wrong in that fight was electing to stand in front of 'The Towering Inferno' Fundora the entire fight, trading punch-for-punch against him.
The right way for Lubin to have fought Fundora was how Brian Mendoza did by staying on the outside, coming in to land big punches, and then getting out of range.
The exciting all-action IBF super flyweight champion Fernando Martinez (15-0, 8 KO) faces Jade Bornea (18-0, 12 KO) in a twelve round fight in the first bout on Showtime's televised portion of the card tonight.
Fernando Martinez is coming off a pair of victories over the hard-hitting former IBF 115-lb champion Jerwin Ancajas (33-3-2, 22 KOs) last year. Martinez is defending against the 28-year-old Jade Bornea (18-0, 12 KOs).
Not much is known about Bornea because he's not been facing the upper tier opposition during his career, but perhaps he might surprise the fans.
Speaking of Ancajas. He's fighting on tonight's card against against Colombian journeyman Wilner Soto (22-12, 12 KOs) in an eight round confidence-booster level fight. With the 31-year-old Ancajas losing his last two fights against Martinez last year, it's important that he get back to his winning ways against a gimme-level opponent.
Fernandez Martinez is arguably the most entertaining fighter on tonight's card, but he's not facing a big enough name for him to be placed higher on the card.
It would have been interesting to see Martinez face Roman Gonzalez, Juan Francisco Estrada, or Junto Nakatani. Those would be fights that would have gotten the attention of the fans.