Super middleweight Edgar Berlanga (21-0, 16 KOs) battled his way to a less than impressive 12 round unanimous decision over thee better than expected Jason "Quigley (20-3, 14 KOs) on Saturday night at Madison Square Garden in New York.
The scores: 116-108, 116-108, and 118-106.
Berlanga cornered Quigley to drop him in rounds 3, 5 & twice in 12th. Quigley barely survived the 12th after being badly hurt when he made the mistake of fighting with his back against the ropes, allowing the much bigger & stronger Berlanga to tee off.
It was not the performance that Berlanga needed to make a case for him deserving of a fight with Canelo Alvarez. After the contest, Berlanga called out middleweight Jaime Munguia, who is promoted by Golden Boy Promotions.
Undercard results:
In a thrilling contest, heavyweight Joe Cusumano (22-4, 20 KOs) stopped the tough contender Adam Kownacki (20-4, 15 KOs) by an eighth round knockout. Cusumano landed a scorching right hand to the head of Kownacki that stunned him in the eighth. Cusumanu teed off with a barrage of solid headshots, resulting in the referee stepping in and stopping the fight at 2:00 of the round. Kownacki was still fighting back, but the referee made up his mind and stopped it. Kownacki had been close to being stopped in the seventh after he was hit with a number of hard right hands from the big punching Cusumanu. Just when the referee was close to stepping in, Kownacki came alive, nailing Cusumanu with some nice punches to the head and body. In between rounds, Kownacki was warned that the fight would be stopped if he allowed Cusumanu to hit him with the shots he'd nailed him with in the seventh. It was no use. Kownacki was too tired & hurt for him to keep from being finished off in the eighth. Cusumanu keeps his career alive after being recently knocked out in the first round by Daniel Dubois. Cusumanu is a decent fringe-level heavyweight and more of an entertainer type but not a top-ten-level guy.
Light welterweight Rashat Mati (14-0, 8 KOs) stopped Dakota Linger (13-6-3, 9 KOs) in the ninth round of a painfully dull fight. Mati was literally running the entire fight and pushing Linger away each time he'd get close. The referee Arthur Mercante Jr stoppage the fight at 0:59 of round nine after Mait hit the 28-year-old Linger with several flush shots to the head. Mati had injured his left hand earlier in the fight, which made him hesitant to stand and fight. Still, even before Mati suffered the hand injury, he was running from Linger, showing no interest in standing and fighting.
Flyweight prospect Yankiel Rivera (4-0, 2 KOs) pounded out an impressive eight round unanimous decision over the surprisingly good Christian Robles (8-1, 3 KOs). The 2020 Olympian Rivera put Robles down in the fourth and went toe-to-toe with him in every round. The judges scored it 79-72, 78-73, and 77-74.
Light heavyweight Khalil Coe (6-0-1, 4 KOs) stayed unbeaten with a seventh round TKO win over Buneet Bisla (7-1, 3 KOs) in a scheduled eight round bout. Bisla was down in the first.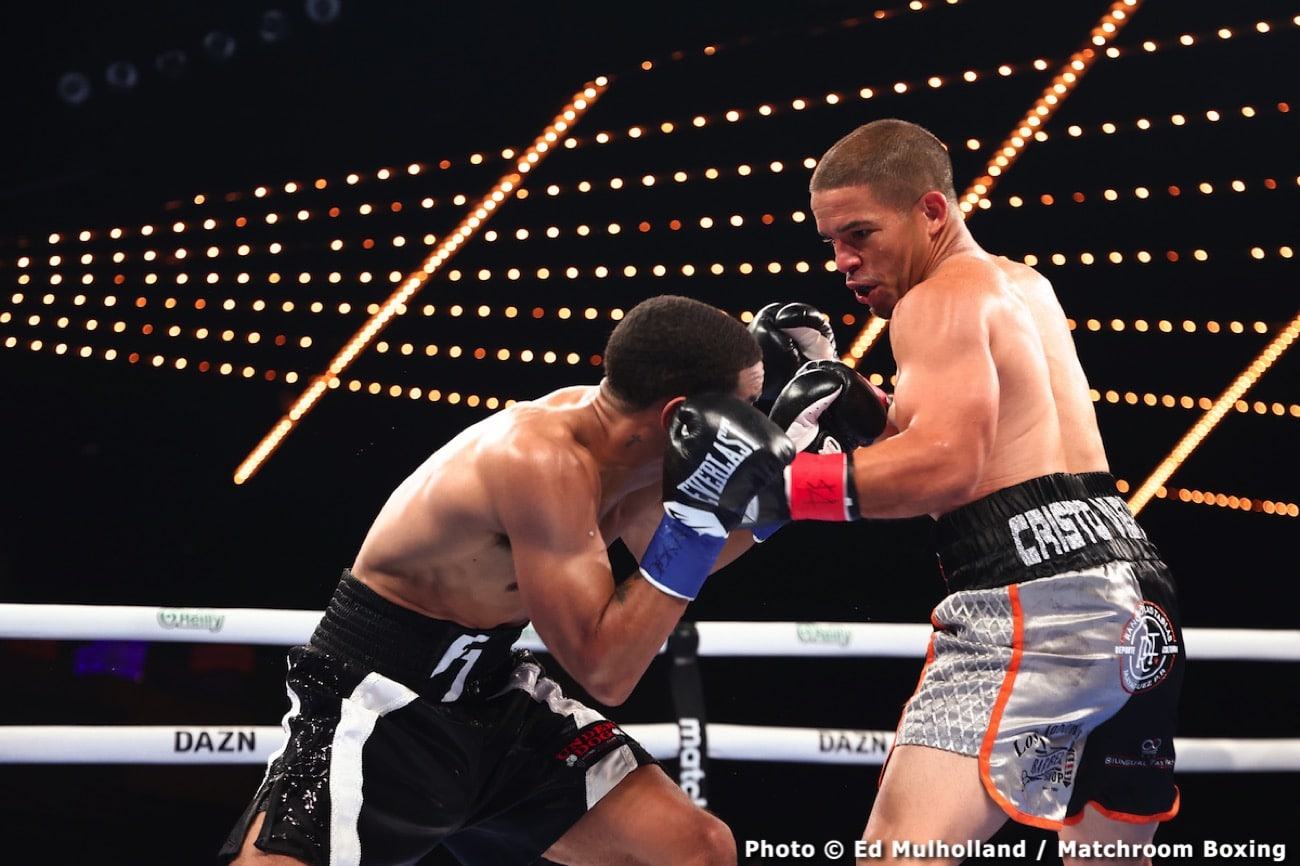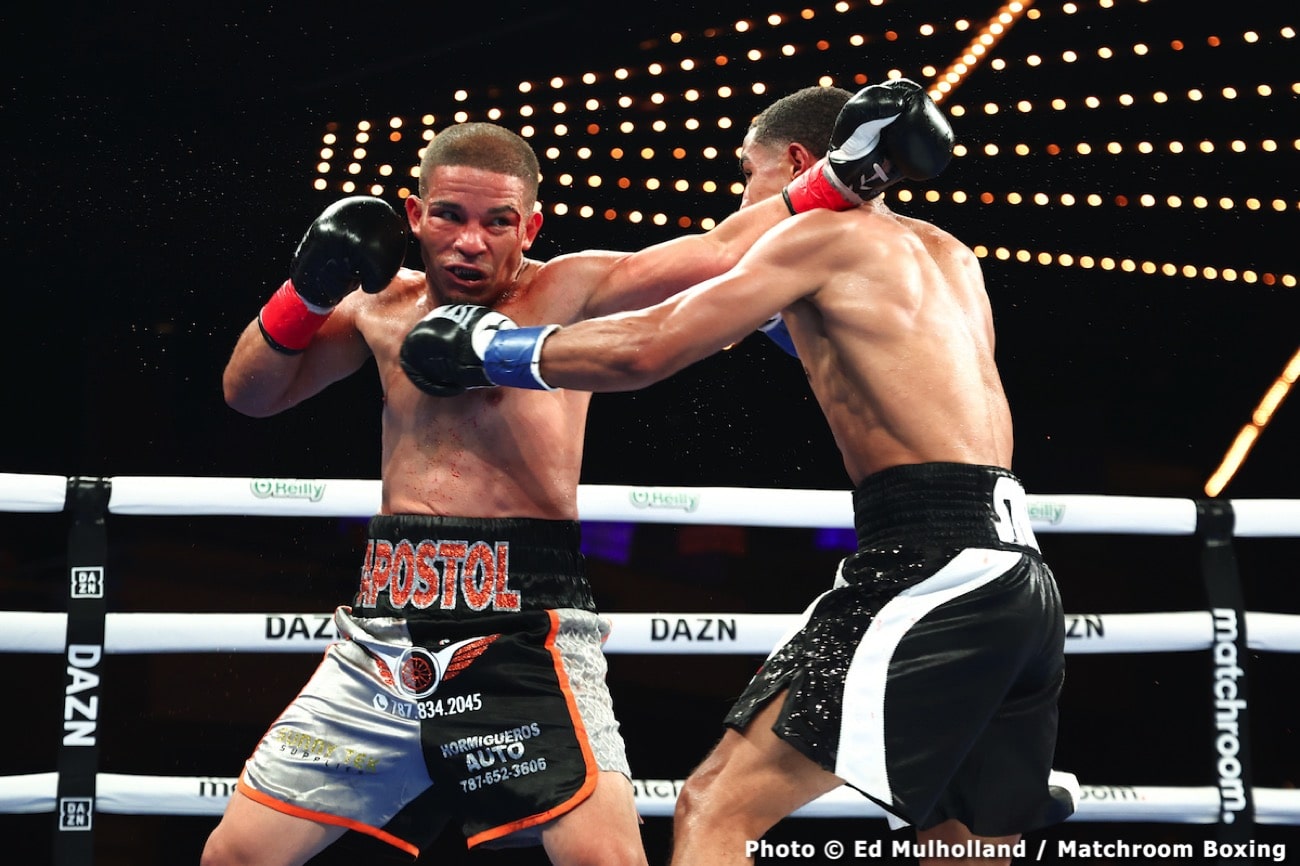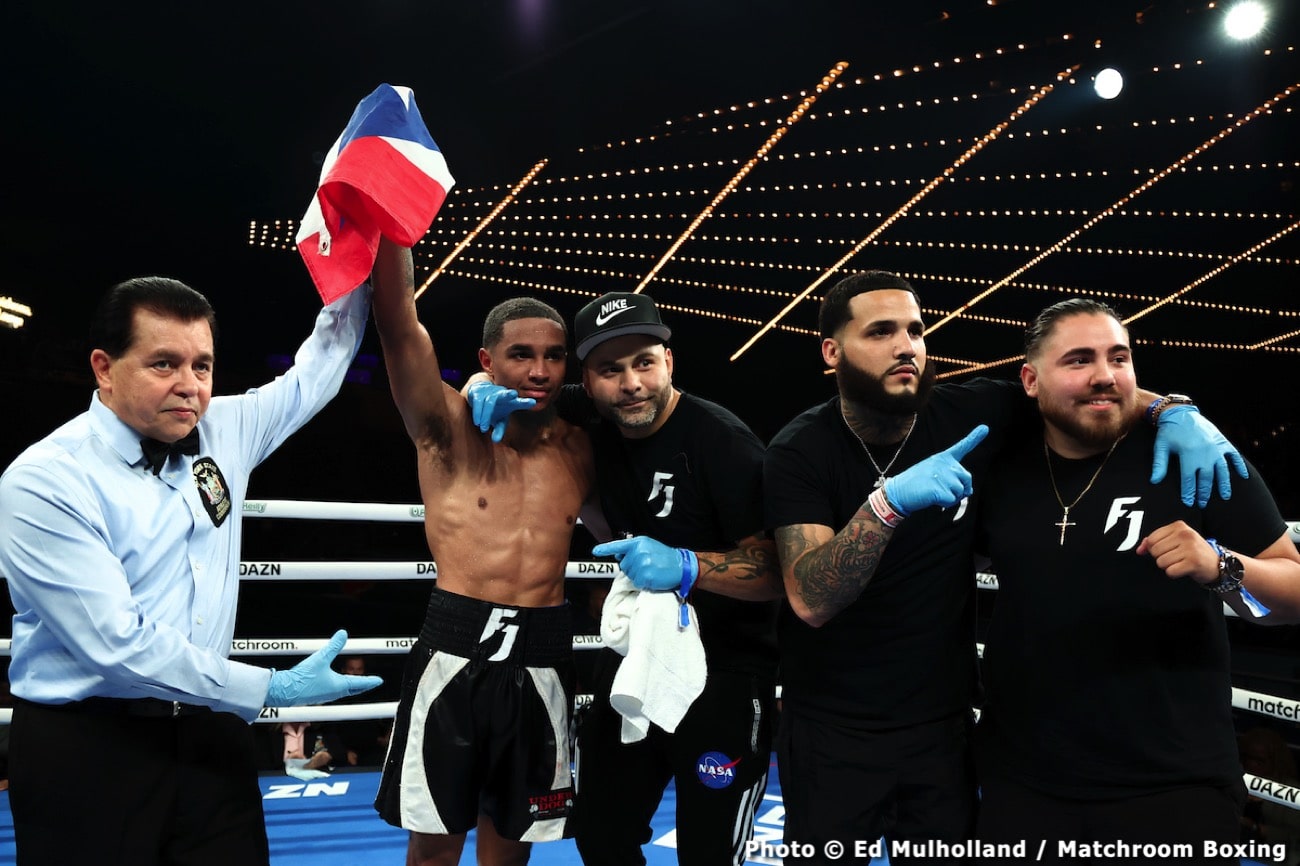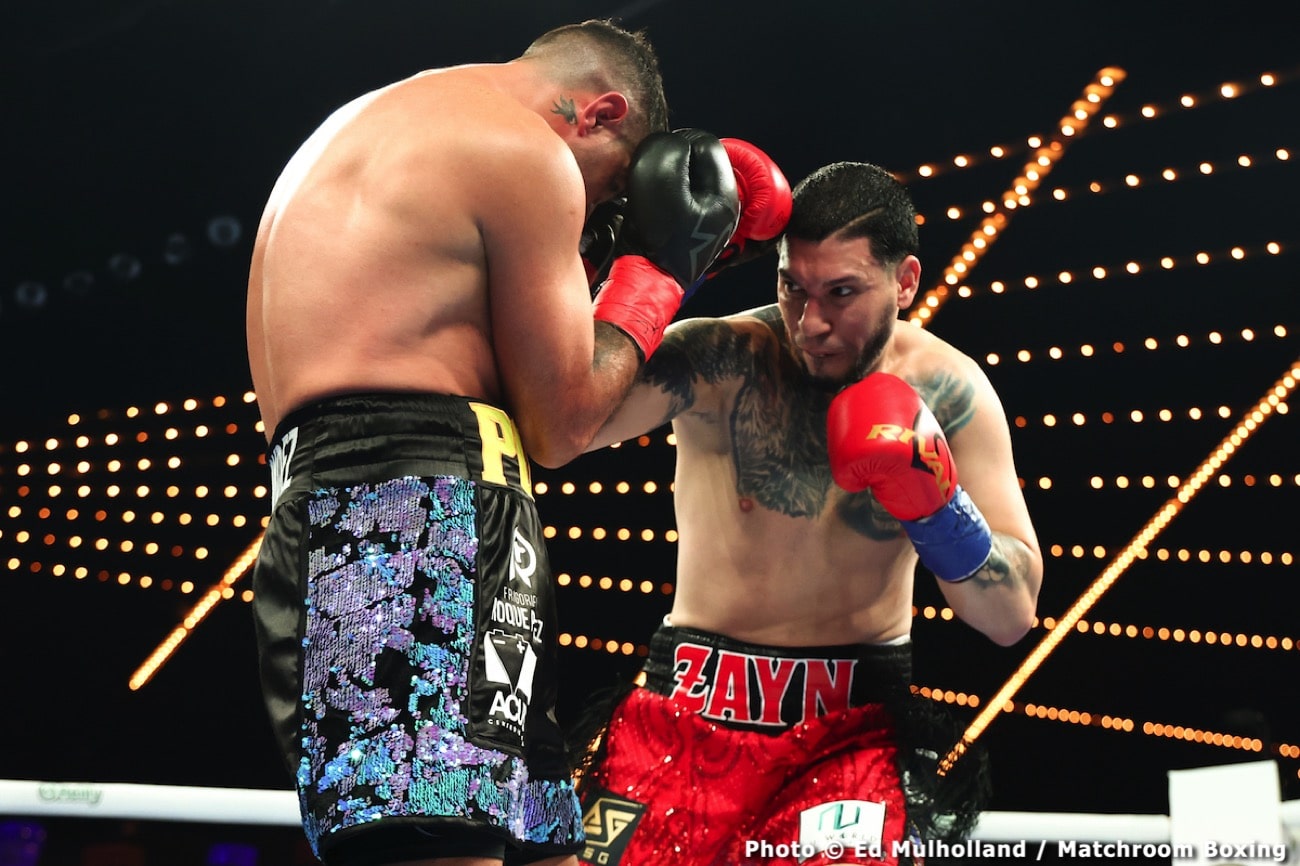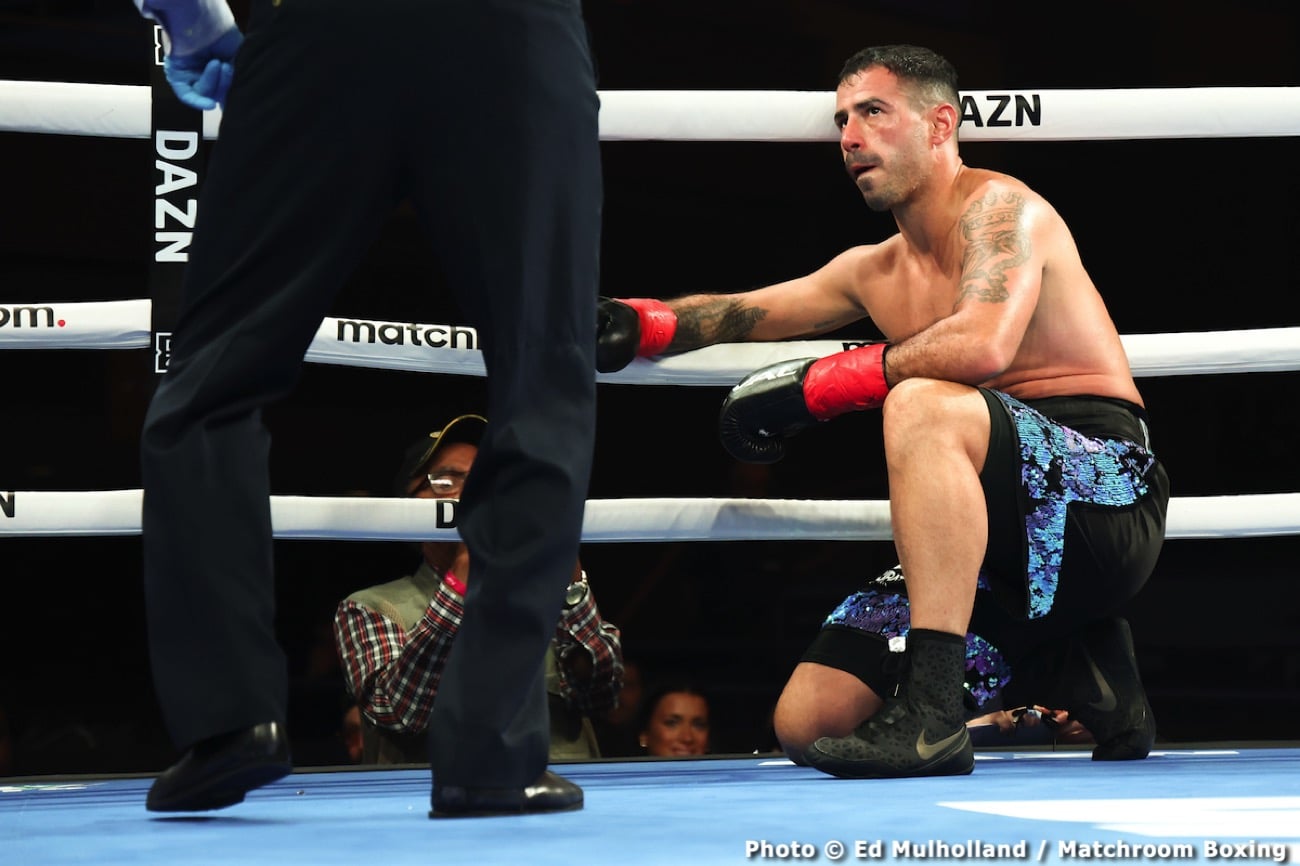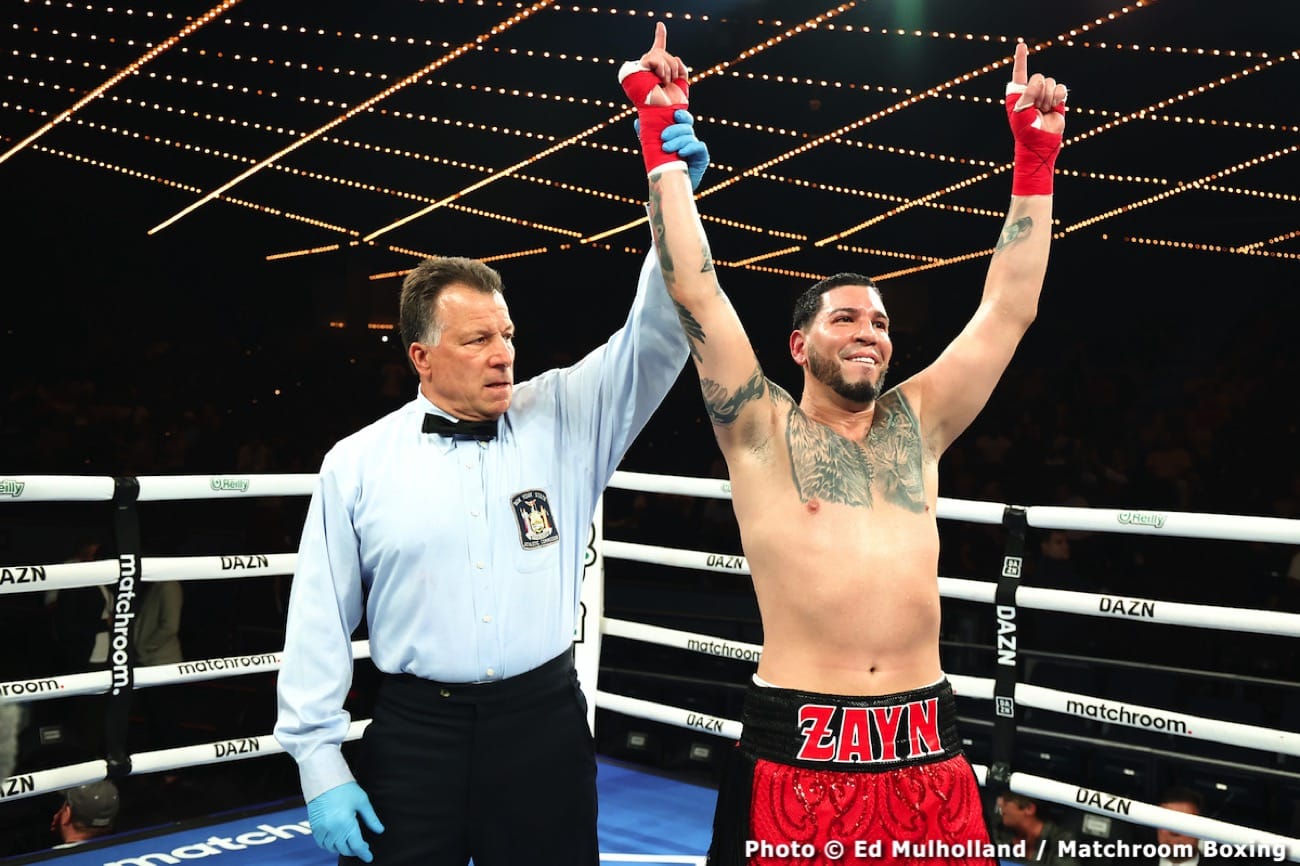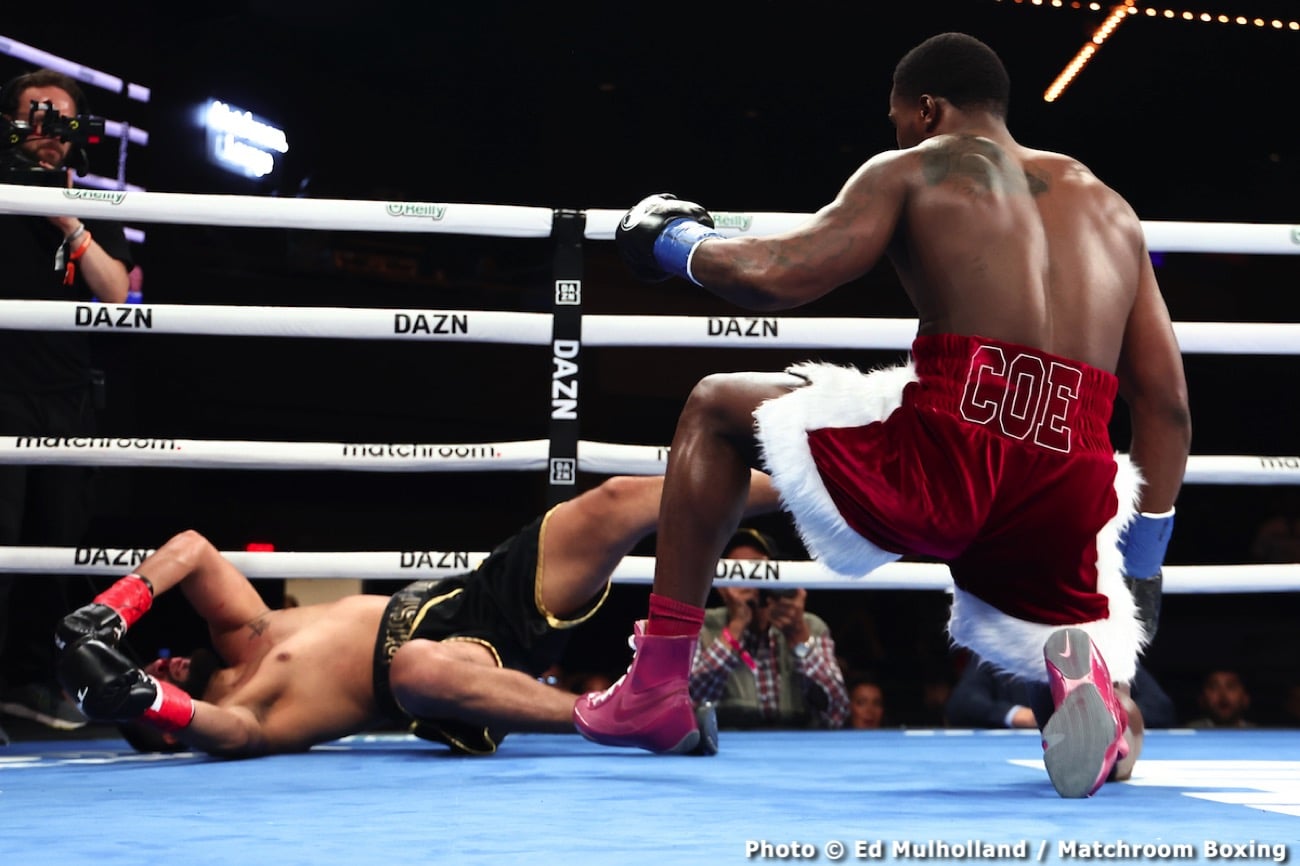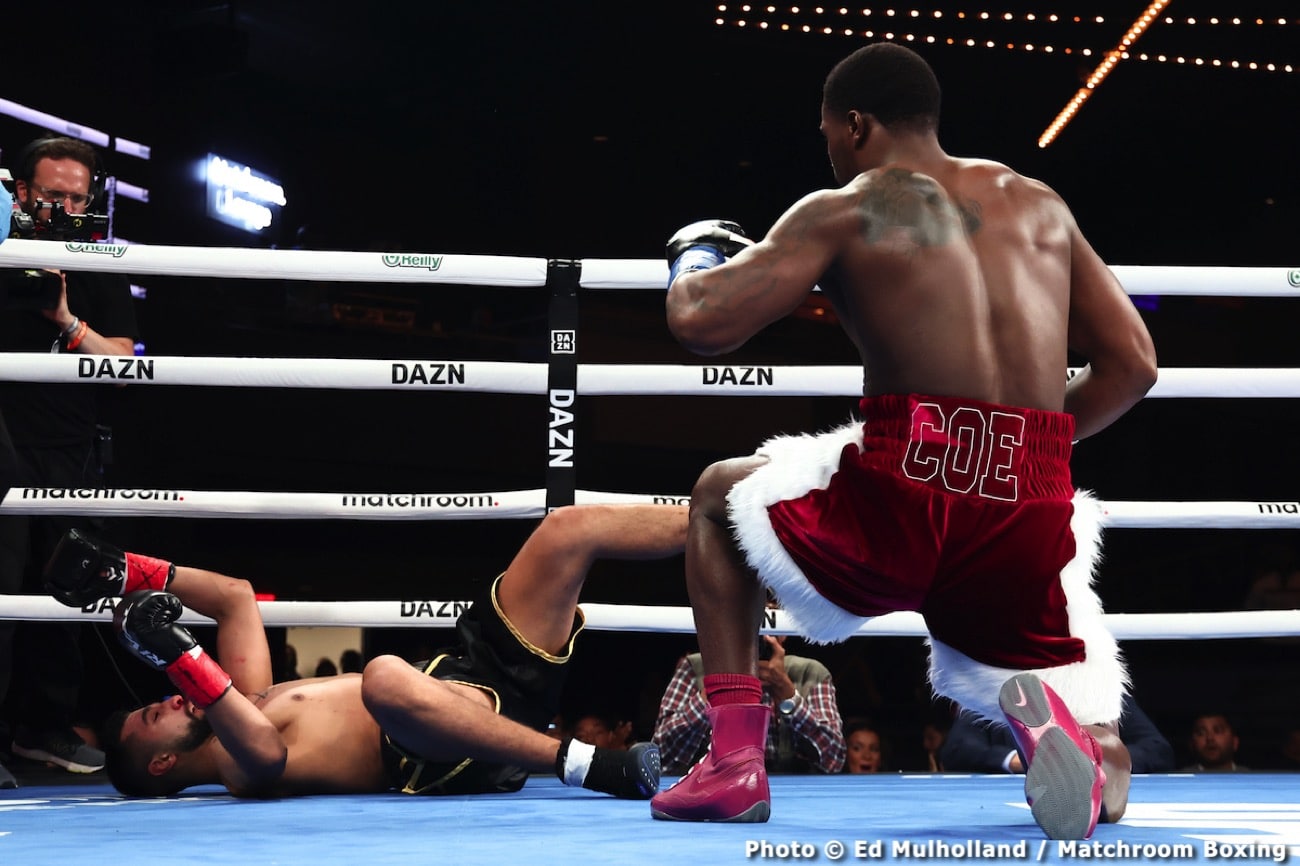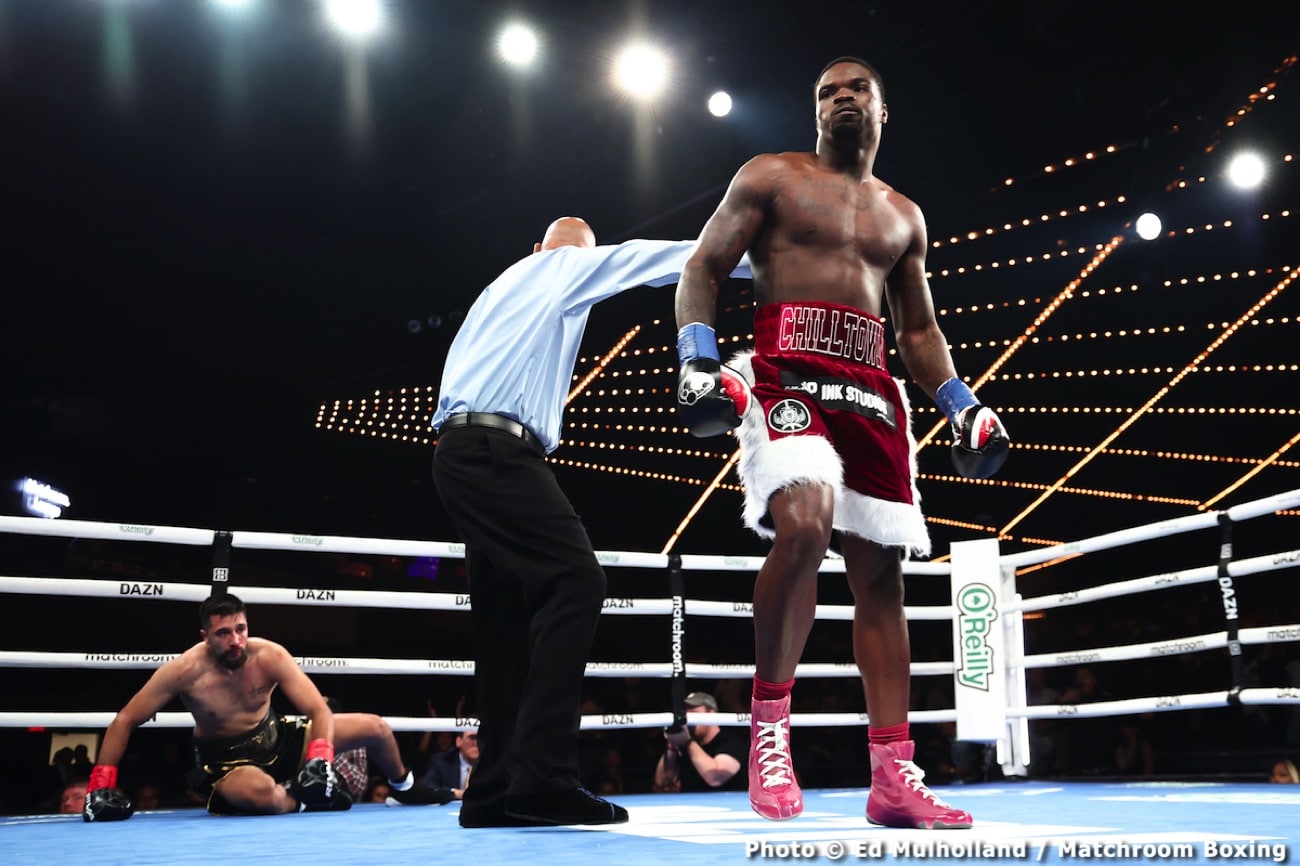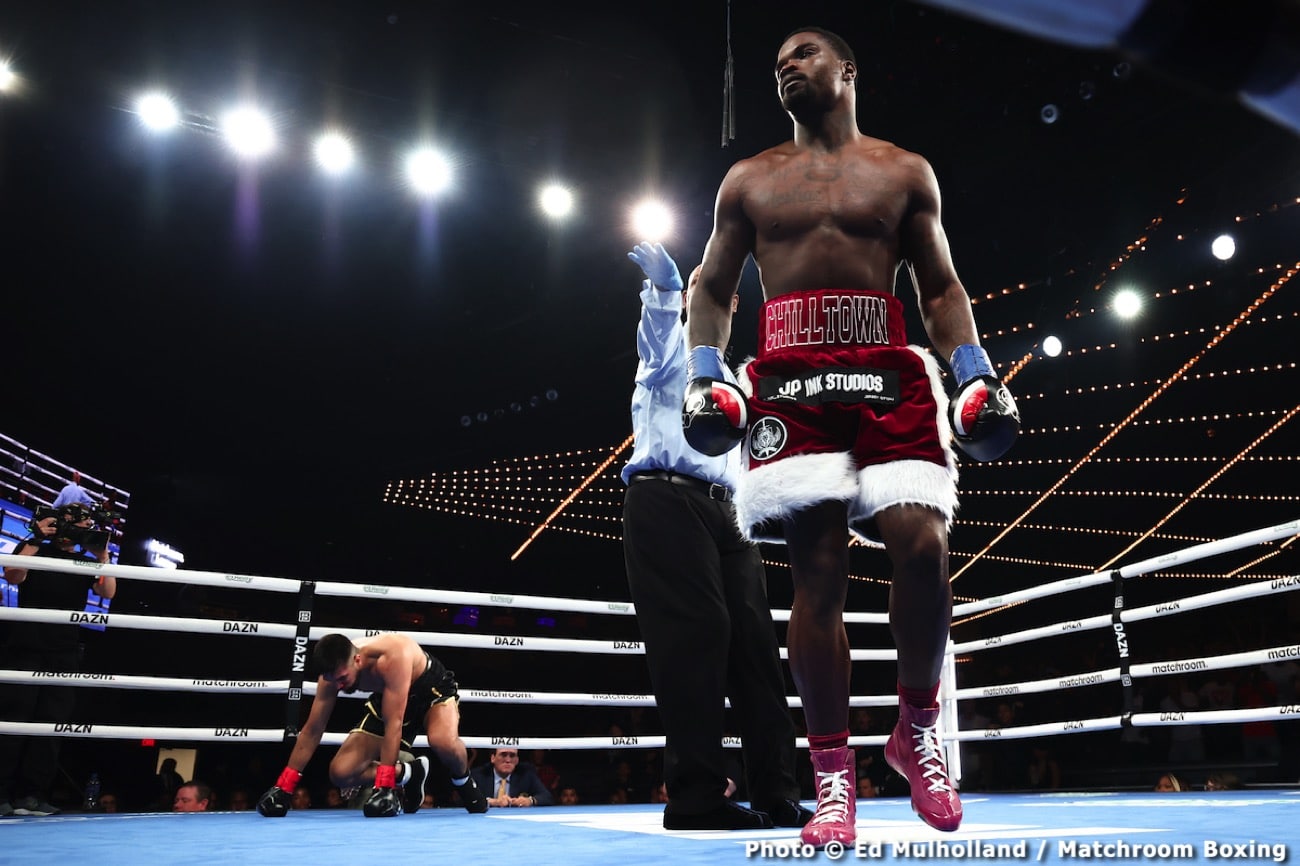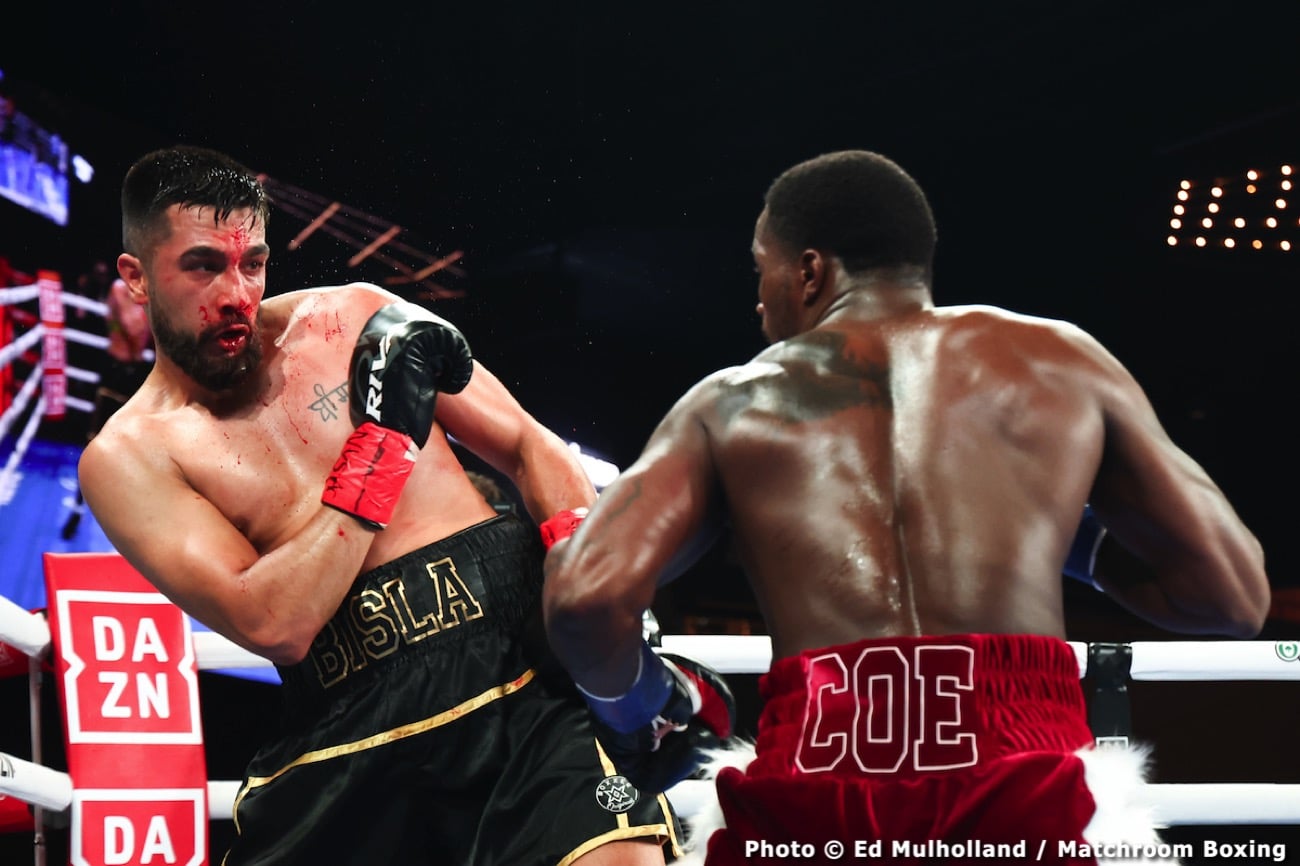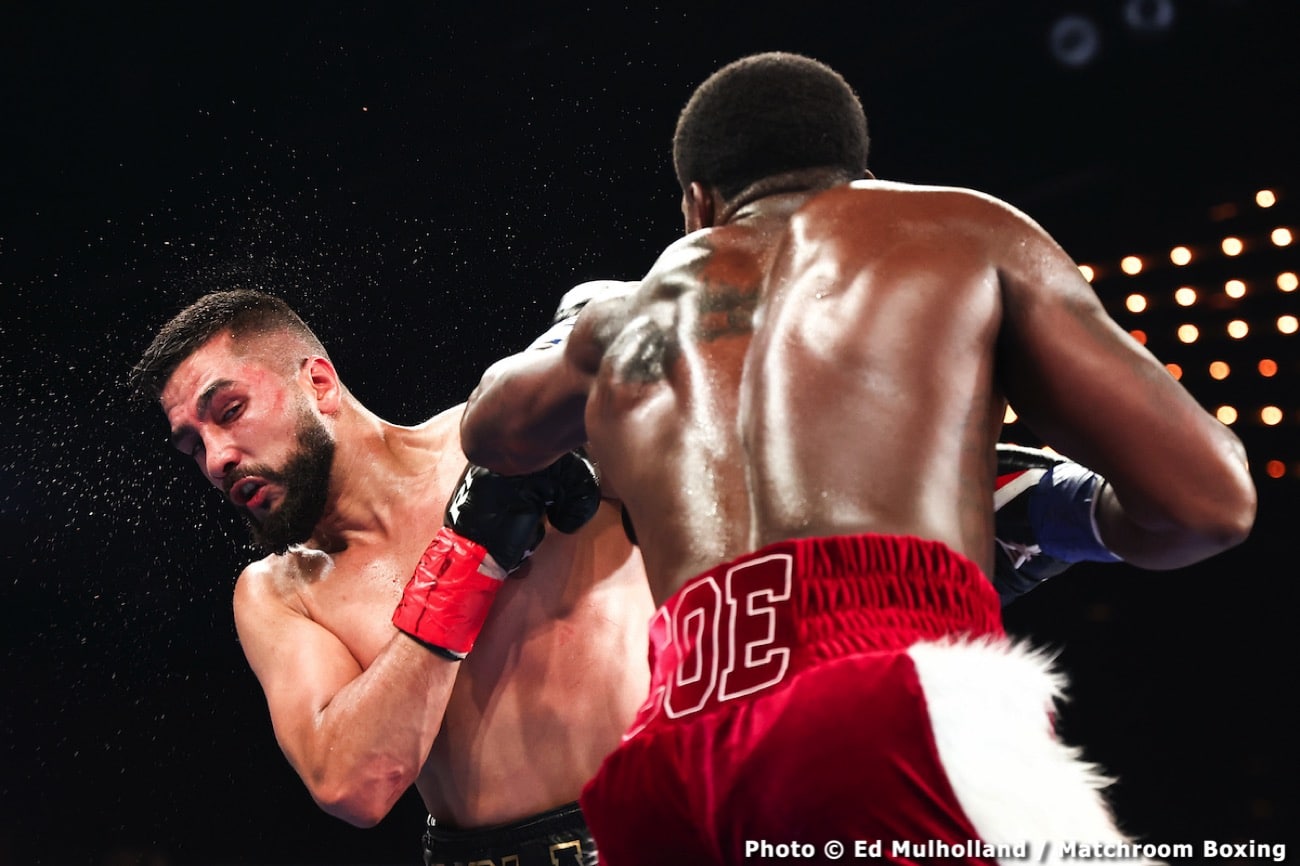 Edgar Berlanga is in action tonight, looking to perform spectacular in a showcase fight against the veteran Jason Quigley in a twelve-rounder at super middleweight at the Hula Theater in New York at Madison Square Garden.
The time of the fight tonight between Berlanga & Quigley is expected to be after 10 pm ET.
Berlanga (20-0, 16 KOs) has been inactive for a while, so his new promoter Eddie Hearn chose the 32-year-old Quigley (20-2, 14 KOs) to bring him back slowly without too much risk.
There's a lot of pressure on the 26-year-old Berlanga to look good tonight and help build him towards a future fight with Canelo Alvarez if the Mexican star doesn't retire after he completes his newly signed three-fight deal with Premier Boxing Champions [PBC].
Berlanga feeling the pressure
Eddie Hearn: "If you corner him [Quigley], he will engage. He will move, but you cut him off and land. That's why he got knocked out early against Andrade," Hearn said to Matchroom Boxing, giving advice to Berlanga.
"As soon as he got hurt, he tried to fight. He tried to have a fight. If you cut him off right, then he'll trade with you."
Edgar Berlanga: "I'm here for a reason. If I had knocked out Rolls or this dude [Roamer Alexis Angulo], everything would have never happened the way it did. That's another thing [had time to recover from bicep injury].
"My left is back. I was fighting southpaw from [the] Rolls fight because I couldn't throw my left no more. I was fighting southpaw for eight of the ten rounds.
Hearn: "Jason is bang up for it. Berlanga looks a little bit nervous because there's so much pressure," said Hearn to Boxing Social. "It's part of the problem of having me and us behind you is that we're hyping you up like you're the next big thing.
"So, all of a sudden, you're at Madison Square Garden topping the bill packed out. Everyone's saying you're the new beast in the 168-pound division, but the special ones go and prove it.
"So we'll see if we can do that tonight. Not really. We always knew that it was going to be two or three fights. So it doesn't really change a lot time-wise," said Hearn when asked if it bothers him and Berlanga that Canelo Alvarez signed a three-fight deal with PBC and might not be available to fight Edgar for a while.
"He might have to wait a little bit longer for it, but listen, that's if it even is a three-fight deal. If he [Canelo] does make it through those fights if he does retire.
"So we're not basing the future on Canelo. We'd love that fight because that's the fight to get, isn't it, in the division, but there's also Munguia, there's Golovkin, there's John Ryder, there's Billy Joe Saunders."
Edgar must earn payday fight
"There are so many fights out there, but now not having Canelo, the job is to try and build Berlanga so that you've got the bait to bring him back," Hearn said. "The reason that we got Canelo in the first place is because, one, we had a good relationship, and two, we had all the fights for him.
"Now, we've got no fights for him. We couldn't even make him an offer. So, we need to build Berlangaa into a position where Canelo against Berlanga is a monster, but he's got a long way to go.
"Yeah, I spoke to Canelo last Thursday before it all broke, and I just said I heard all the stuff. We were talking before that, and I was supposed to meet him in Italy or New York, and I just said, 'Good luck, mate,' and just said, 'Thank you so much for everything.'
"We've got a good relationship. I'm not going to turn up at his house next week. We've always done really well. We've done a brilliant job with him and made him hundreds of millions, and for that, I'm sure he's grateful," said Hearn about Canelo.