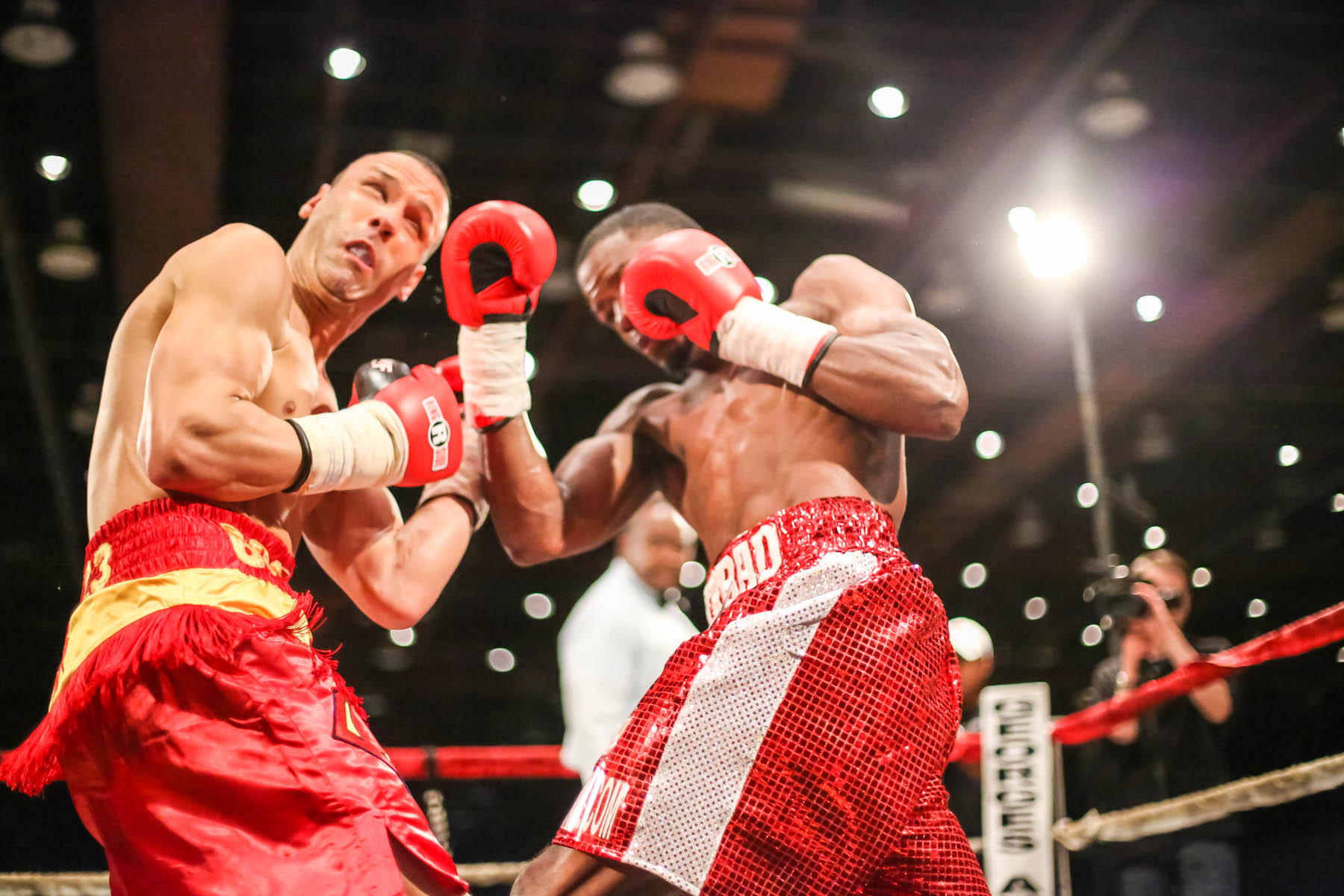 Share the post "Boxing Card Thrills in Detroit: Tony Harrison defeats McKart"
DETROIT– In front of a loud and spirited crowd at Cobo Hall, middleweight Tony Harrison (15-0), made easy work of veteran Bronco McKart (56-11-1). Harrison knocked down McKart three times in the first round and veteran referee Sam Williams stopped the contest. In post fight celebrations, Harrison showed thanks for his spiritual beliefs, thanked and remembered Hall of Fame trainer Emmanuel Steward and paid homage to his grandfather, Henry Hank. Harrison then rejoiced with and thanked his coaches and support team. Hanks had fought at Cobo Arena in 1961.
Harrison, 23, used powerful lefts to disable McKart. "I didn't expect him to come at me so fast," said Harrison. "I thank everyone in Detroit for the support."
With Detroit hosting the Chevrolet Belle Isle Grand Prix and the 'Downtown Hoedown' music-fest, the entertainment area was buzzing with people and activity. The boxing event had a good showing with plenty of walk-up ticket purchases. Promoters, KP Boxing Productions, billed the card as 'Showdown for Motown-4' and McKart looked fit and ready. The longtime pro-boxer and former champion couldn't withstand the speed and ferocious attacks from Harrison.
On the undercard, Dwayne Zeigler from Alabama, went to 3-0 as he broke the ribs of newcomer Michael Jordan. One of the few competitive fights had native son Anthony Barnes getting a TKO in the 4th over brawler Eric Moon of Grand Rapids. Barnes scored early with a technical and methodic approach. He went to 5-0. Another crowd pleasing match was the women's fight between Amanda Cooper and Brenda Rodriguez. Cooper of Detroit, got the four round decision over a persevering Rodriguez from Muskegon.
Matchmaker Carlos Llinas was off the mark with most of the other mismatches.
Former champion Tommy Hearns along with attorney and television pitchman Ven Johnson made appearances. Perennial NFL football star Antonio Gates along with junior middleweight, Cornelius 'K-9' Bundage mingled with the crowd. World champion contender Deontay Wilder was gracious with photo-opps. Wilder (31-0) has won all his matches by knockout and no one has lasted more than four rounds against the 6'7″ heavyweight.
May 30, 2014 results from Detroit Cobo Center – 10 Fights presented by KP Boxing Productions
Tony Harrison TKO over Bronco McKart
Dwayne Zeigler TKO over Michael Jordan
Ed Williams over Rick Graham
Anthony Barnes TKO over Eric Moon
Jafer Mohammad TKO over Mathew Andrews
James Ballard decision over Pete Cajigas
Amanda Cooper decision over Brenda Rodriguez
Dorell Van Horn Jr. KO over Scott Dillard
Michael Portillo KO over Jose Araguz
Leandre White TKO over Mike Pickett
By Raymond Rolak -Rolco Sports Network
Photo courtesy of Lars Hjelmroth, Rolco Sports Network
Share the post "Boxing Card Thrills in Detroit: Tony Harrison defeats McKart"