Top Rank promoter Bob Arum says he would like to make a fight between WBC lightweight champion Devin Haney and Vasily Lomachenko. That would be a great fight, says Arum.
Arum states that Haney (25-0, 15 KOs) fights with Matchroom Boxing promoter Eddie Hearn. After that, he would be interested in putting a clash together with former three-division world champion Lomachenko (14-2, 10 KOs).
Haney and Lomachenko recently traded words on social media this week, and it appears both guys are open to putting a fight together.
It's unclear whether Haney was messing with Lomachenko to clout-chase or if he's serious about facing him. Haney seems to believe that Lomachenko, 32, ducked him when he was his WBC mandatory in 2019.
At the time, the World Boxing Council made Lomachenko the Franchise champion and elevated Haney to the WBC lightweight champion.
Once the WBC made that move, there was no way that Haney could force Lomachenko to fight him.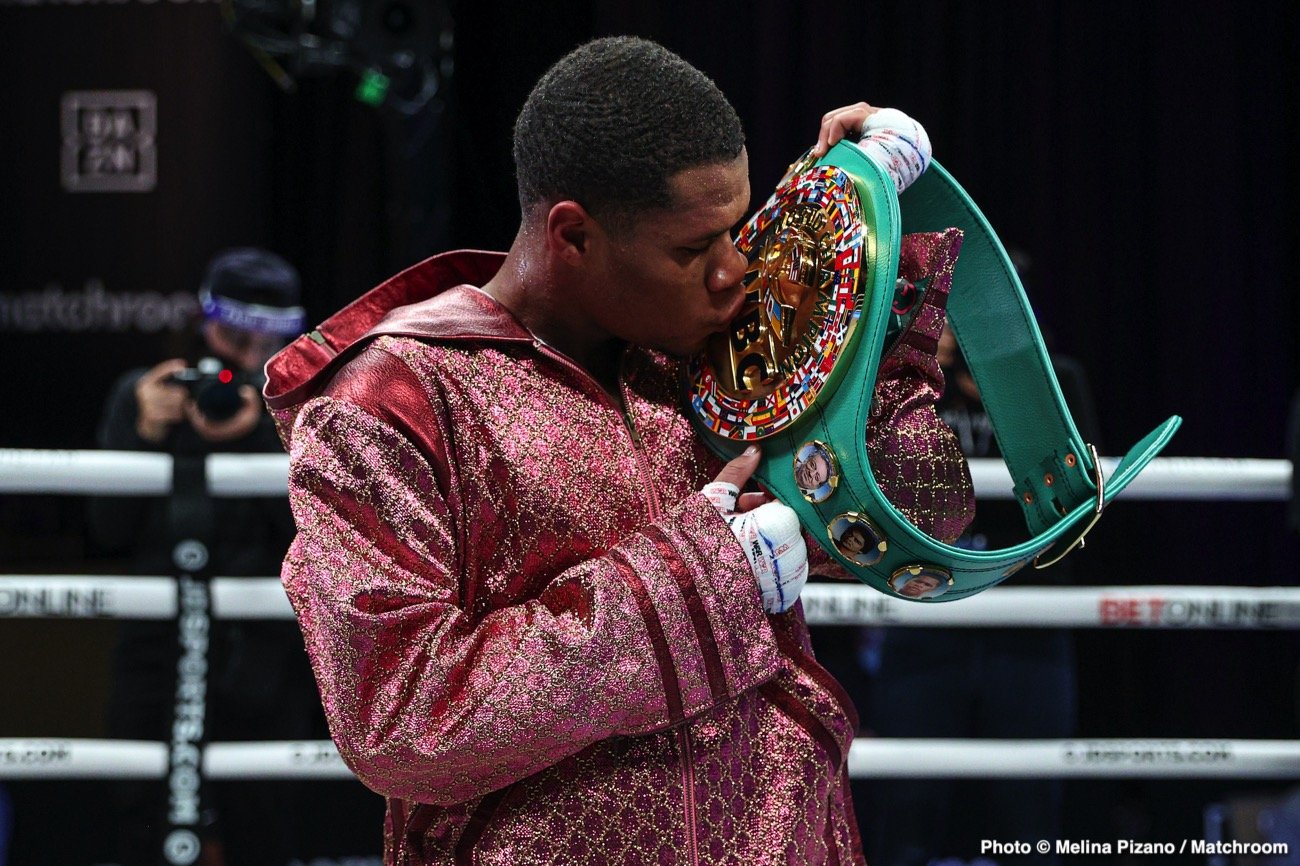 "I'd love to do that fight," said Arum when asked by iFL TV if he'd be open to matching Lomachenko against Haney. "That fight can get done.
"I think Haney has another fight with Eddie Hearn, and after that fight, if Haney wants to fight Lomachenko, I'd be happy to do that fight. That would be a good fight," said Arum.
From what Arum is saying, he will wait until Haney finishes out his current contract with Matchroom before he looks to put a fight together between him and Lomachenko.
You got to believe that Hearn will try and resign Haney quickly when his contract expires, depending on his success in his next fight.
It's unclear what kind of ratings Haney has been bringing in since Matchroom signed him. His fighting style is more of the type that boxing fans of the sweet science love.
Haney is a pure technical fighter who lacks power and uses his skills to win rather than focus on knockouts.
Lomachenko is coming off of a tough 12 round decision loss to the popular Teofimo Lopez last October, and he'll be looking to bounce back from that defeat.
According to Arum, the two-time Olympic gold medalist Lomachenko will be fighting in the summer. Masayoshi Nakatani is a name that was mentioned recently as the potential opponent for Lomachenko.
"It's going to be in the summer in July or August," said Arum when asked when Lomachenko will be fighting next.
Nakatani (19-1, 13 KOs) will be a great bounce-back opponent for Lomachenko, as he was recently involved in a war with Felix Verdejo on December 12th.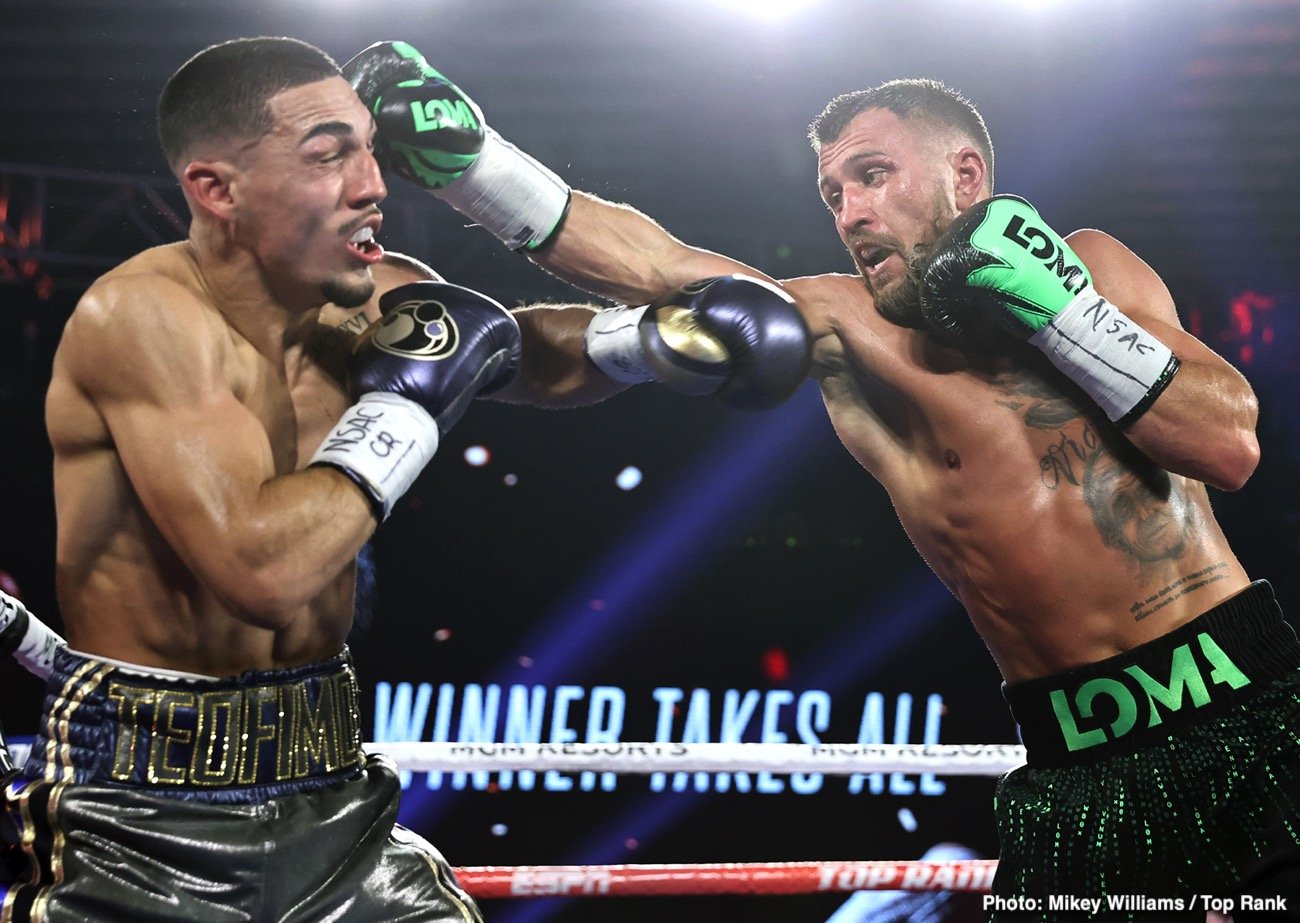 Nakatani was knocked down twice in the early going, but he rallied to stop Verdejo in the ninth round.
Lomachenko vs. Nakatani will be an exciting fight if Arum chooses to make it.
Many boxing fans think Lomachenko needs to move back down to 130, as he's not been as dominating as he once was since he moved up to the 135-lb division.
Lomachenko has been fighting bigger and more powerful guys at lightweight, and he's taken a lot of punishment since moving up in weight in 2018.
It's hard to believe it's been three years already since Loma moved up to 135 because it seems like he's only been in the weight class for a short period.
It's easy to understand why Lomachenko has chosen not to return to the super featherweight division. There aren't enough big names in the weight class for Loma to fight compared to at 135.
With that said, the Four Kings haven't shown a great deal of interest in fighting Lomachenko lately. Teofimo fought Lomachenko and beat him, but he's shown no desire to give him a rematch.
Ryan Garcia and Gervonta 'Tank' Davis have failed to step up to face Lomachenko, and it's unclear they ever will.
https://www.youtube.com/watch?v=uFU7wX_PpQI&t=28s
While it's a good sign that Haney traded trash talk with Lomachenko on social media this week, that doesn't mean that he's seriously interested in fighting him.
As I mentioned, this could be just Haney's way of getting some badly needed attention in his career by showing fans that he's not afraid of Lomachenko.