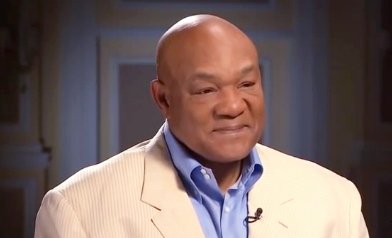 There is no doubt two-time heavyweight king George Foreman has a lofty place amongst the greatest heavyweights, indeed all fighters, regardless of weight class, in boxing history. Yet today, the ever-modest 67 year-old says he does not feel he deserves to go in his OWN list of the greatest big men in history.
Speaking with Yahoo! Sports ahead of a meet-and-greet evening in London this Saturday, "Big" George was asked to break down his choices for the best heavyweights in history.
"If I had to rate all the heavyweights, Joe Louis is my number one pick of all time," Foreman said. "After that, Muhammad Ali, Evander Holyfield, Jack Johnson and, of course, the great John L. Sullivan, who was the first heavyweight champion of the United States. I don't rate highly! I really don't."
Foreman's top 5 is an interesting one to say the least. No Sonny Liston, Foreman's hero as a young man. No Mike Tyson, the youngest heavyweight champ in history, who Foreman was so close to fighting in the 1990s. In the past, Foreman, when giving his best-ever choices, picked Lennox Lewis as his number-one heavy. Maybe Foreman has changed his mind, as he has a right to do of course.
Foreman had some interesting things to say about reigning WBC heavyweight champ Deontay Wilder. George said that at his peak he would not have wanted to rumble with "The Bronze Bomber."
"I'd be very wary of fighting Deontay Wilder because he's so reckless," Foreman said. "I think he is probably one of the best heavyweights offensively around, and at the peak of my career I certainly would not want to fight him."
Is George being nice and nothing more, or does he truly rate Wilder as highly as it seems he does? Personally, I'm certain the peak Foreman would have crushed the hittable, non too granite-chinned Wilder inside a couple of rounds, but who wants to argue with George? One thing Foreman says today and always has said, is how the late Ron Lyle is the fighter who hit him the hardest throughout his entire career.
Foreman KO5 Lyle is arguably THE greatest all-action, no concern for defence, heavyweight slugfest in modern day history. Oh, how we could use a heavyweight battle like that classic today.