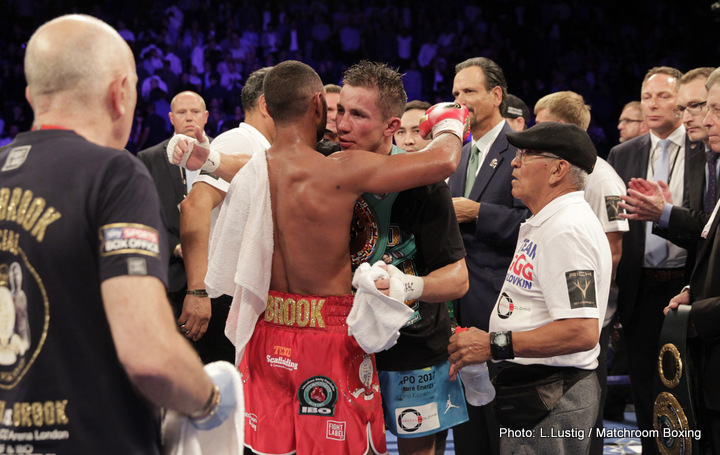 Who next for middleweight ruler Gennady Golovkin? Unfortunately, it won't be the man, the opponent, we all want it to be, as Mexican superstar Saul Canelo Alvarez insists he needs time to fully develop into a fully-fledged 160-pounder and as a result this particular super-fight will not happen until next September at the earliest (if ever!). So GGG will look to stay active against the best available opposition.
The WBA, in the interest of having just one middleweight champion they recognize, ordered how negotiations must now get underway for their "regular" champ Danny Jacobs to meet "super" champ Golovkin next. While at WBO level, reigning boss Billy Joe Saunders says he is up for the unification clash and that, after a "rust-removing" bout on the scheduled October 29 card topped by Fury-Klitschko II, he will gladly face Triple-G.
Golovkin, by all accounts, enjoyed his trip to the UK and his heavily promoted defence against Kell Brook, and a second UK appearance could well happen. GGG says he wants all the belts at 160 and that southpaw Saunders is his main target right now. Still, Golovkin has also expressed interest in a meeting with Jacobs (who has beaten cancer and has only been defeated in the ring by Dmitriy Pirog, who was once seen as the biggest threat to Golovkin).
Either New York or the UK next, it looks to be Team-GGG's call. Either fight is decent/solid/marketable, but no fan is going to get busy predicting the fall of Golovkin. Those massive fights and potential risks will only come once the 36-0(33) terror moves up to super-middleweight and, maybe, beyond. In the meantime, GGG will continue trying to totally clean out the middleweight division (even though he has done so already in the opinion of many).
Speaking of Saunders, according to a piece on RingTV.com, there are two possible opponents narrowed down for the next challenger for the unbeaten Brit: Russia's Artur Akavov, 16-1(7) and Minnesota's Rob Brant, 21-0(14).
Some knowledgable fans feel Brant, aged 25, would give Saunders hell if he got the call.