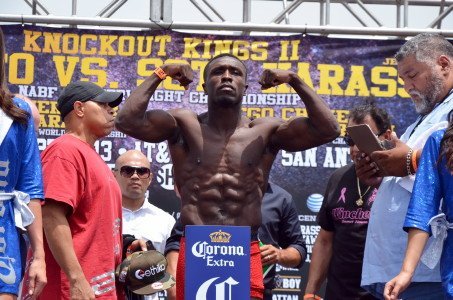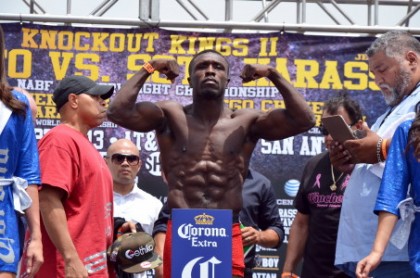 (Photo credit: Steve Lopez) Andre Berto's once promising career has come crashing down with his recent defeats against Victor Ortiz and Robert "The Ghost" Guerrero, and he's now literally in a situation tonight where he can't afford to lose to Jesus Soto Karass (27-8-3, 17 KO's) if he wants to stay at the top of the welterweight division among the other names.
A loss to Soto Karass tonight could put Berto into a category where he's little more than a gatekeeper in the 147 lb. division. Soto Karass is the type of fighter that the top welterweights are supposed to be able to beat, and if Berto can't beat him then he's going to have to make a hard decision about the direction of his career.
Sure, he can fire his new trainer Virgil Hunter, but that's not going to make anything better for Berto. The fact is if he can't beat the likes of Ortiz, Guerrero and Soto Karass, then he needs to be ranked near the bottom of the top 15 and not near the top where those guys are.
Berto still has his flashy hand speed and good power that he's always had, but his problems seems to be with his lack of leg strength and conditioning. He starts out his fights in the center of the ring and then retreats to the ropes after a couple of rounds and leans against them while fighting.
This is usually classic sign from an aging fighter, but with Berto, he's only 29-years-old and that's much too young for him needing to rest against the ropes during his fights.
At this point, Berto looks more like a 4 round fighter at best, and he then runs out of gas by the 6th round of his fights. If he tires out tonight, he's going to take a tremendous amount of punishment from Soto Karass and it might not be pretty how Berto looks by the end of the fight.
Berto took a lot of punishment in his loss to Guerrero, and there's no telling how this might have affected him, both mentally and physically. When you're coming off of a beating like the one that Berto took against Guerrero, there's a chance that he might not be the same fighter.
If Berto loses tonight he might want to consider either moving up in weight to the 154 lb. division or maybe moving back down to 140. Retirement is also an objection as well, because I think future is going to be bleak for Berto if he gets beaten.