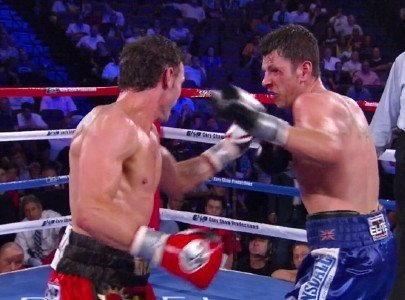 Darren "Dazzling" Barker and Daniel "The Real Deal" Geale fought an all out action packed twelve round bout that could be considered one of the fights of the year; in which Barker earned the hard fought split decision victory over Geale to become the new International Boxing Federation ("IBF") Middleweight Champion. Barker garnered two scorecards of 116-111 and 114-113 while Geale received the other scorecard of 114-113.
This fight was televised by HBO Boxing After Dark from the Revel Casino – Hotel in Atlantic City, New Jersey.
Barker from England improved his record to 26-1, 16KOs with the victory and has won three consecutive fights since his lone loss as a professional when he was stopped by current World Boxing Council Middleweight Champion and one of the pound for pound best fighters in the world, Sergio Martinez in the eleventh round. Geale, from Australia, in the loss dropped his record to 29-2, 15KOs; the other loss being to Anthony Mundine which he avenged early this year. He defended his IBF belt four times since he obtained it from Sebastian Sylvester on May 7, 2011.
This was a great back and forth fight where both boxers had their moments. It was such an evenly matched bout that it was extremely difficult to score and it was one that could have gone either way. Barker, however, did a little more to deserve the victory than Geale by throwing more punches, 852 to 693, connecting on more of them, 292 to 252 and was the overall more aggressive and assertive boxer. Geale, on the other hand, had a better landing percent, 37 to 34, scored the sixth round knockdown and landed the more powerful punches which bloodied Barker's face towards the end of the bout.
Barker established himself in the first three rounds by setting the pace and outworking Geale. Geale turned things around in the middle rounds by going to the body well and landing effective and powerful combinations. Then in the sixth round, he landed a left hook to Barker`s liver that had Barker down on the canvas in tremendous pain. He barely beat the count as he stood up as the referee, Eddie Cotton counted to nine. Barker not only survived the round but after 45 seconds of not throwing a punch, he went on the attack and hurt Geale. Barker attributed his fortitude in getting up off the canvas to his best friend and brother, Gary who passed away from a car accident and to his family, in not wanting to let them down like he did against Martinez, when he was counted out.
He fought well in the seventh and eighth round and after that it continued to be a seesaw battle as both pugilists gained the upper hand in the fight. Barker wanted it more in the final rounds, as he outworked Geale, who is usually the fighter who finishes stronger than his opposition and finds a way to prevail in the end. Geale finish the twelfth round strong as he badly hurt Barker twice but Barker managed to hold on.
Barker, in obtaining his well deserved first world title, had to overcome several trials and tribulations to get there which included multiple surgeries, a severe mugging by a group of thugs which caused him to need a significant amount of dental work to be done and the loss of Gary. Next up for Barker is most likely his mandatory defense of former world titlist, Felix Sturm in a fight that could happen in December of this year in London, England. If he prevails in that matchup, a rematch with Geale, something Geale really wants, would be a great fight that boxing fans would enjoy in 2014.
As for Geale, while he didn't fight his best against Barker, he's still a top middleweight fighter who can matchup well with anyone in this division and has the skills and talent to regain a world title. Before Geale`s potential rematch with Barker, it would be great to see him fight anyone in the top five of the middleweight division such as Martinez, Gennady Golovkin or Peter Quillin, as Quillin would be the most realist of these opponents for him to face this year as Martinez is recovering from surgery and Golovkin will likely face Curtis Stevens later in the year.