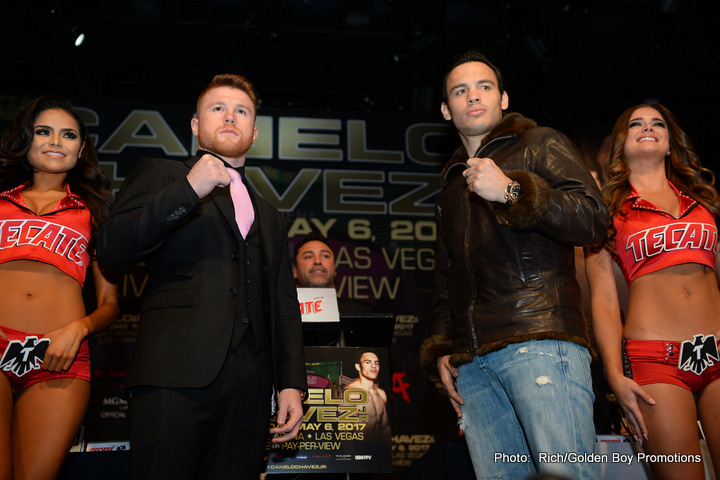 Subtle it may not be, but the official advert/commercial for the upcoming all-Mexican superfight that is Canelo Alvarez-Julio Cesar Chavez Junior definitely hits the mark – or the wall!
The 45-sec ad, promoting the massive May 6 catchweight mega-fight all of Mexico, along with around half of America, will be watching, both gets the juices flowing for the big fight and takes a punch at President Trump's infamous wall plans. Both boxers, pumped up, oiled up and looking toned up, quite literally run right through the wall and crash their way into the heart of fabulous Las Vegas, ready to fight and thrill.
In the recent past, promoter Oscar De La Hoya has let his feelings be known regarding some of Trump's comments on the Mexican and Hispanic population, and with the glossy, expensive ad, "The Golden Boy" has aimed another counter-punch at the recently elected President. It really is (no pun intended) a smashing advert!
"The message of this ad is simple: Not every Mexican is what President Trump has labelled them," De La Hoya said, as quoted by The Las Vegas Sun. "Not only are a huge majority of Mexicans hard workers, this fight between Canelo and Chavez Jr. will directly benefit American business and employees. From the Las Vegas hotels and restaurants that will be full because of this fight, American industry will have a very successful Cinco de Mayo weekend."
Indeed, and more power to both boxing and this fight in particular as a result. Donald Trump isn't the only one who has enough funds to be able to launch slick and eye catching advertisement spots. Now to business: can Canelo Vs. Chavez Jr. go one better and actually give us a truly great fight, one that more than lives up to the considerable hype? Might we even get The 2017 Fight of The Year on May 6?
Whatever happens in the ring next month, we've definitely already seen THE boxing advertisement of the year! This is the kind of stuff that our great, great sport needs.