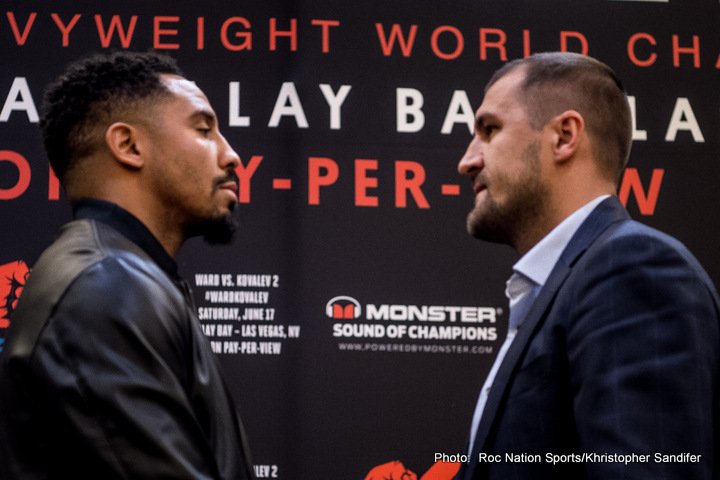 After the sheer amount of controversy the November 2016 decision picked up by Andre Ward in his win over Sergey Kovalev caused, the rematch, set for June 17, needs a clear and decisive winner. But will we get one? A KO, scored by either fighter, would of course be the best way to settle things, but one looks unlikely.
Certainly, Kovalev, who recently said that Ward "hits like woman," has no concerns of being stopped by Ward, while Ward being flattened, though possible, seems a long shot. So, with no KO, the rematch of one of the most debated decision fights of recent years will be decided once again by the three official judges.
Kovalev and his team are convinced a robbery took place in the first fight, and in an effort at fair scoring in the rematch, Kathy Duva who of course promotes "Krusher" Kovalev, recently tried to get Ward on board with her notion of asking for at least one non-American judge to officiate the second fight. But according to Duva, who was filmed by Fight Hub TV, Ward said "no way" to the request.
"In Nevada the rule is you go with what the commission says. I asked Ward's side, because I thought it would be best for everyone involved, that there would be no question, if we could go together to the commission and ask them to appoint some non-American judges," Duva said.
"Ward said 'absolutely not'. In fact I'm told there was a comment made about 'well everyone hates Americans all over the rest of the world so I want American judges.' So I guess he figures that gives him an edge. Personally, in the United States, because every state has its own commission, it's like all different countries, I kinda saw Nevada as neutral ground actually. And maybe I was naive but we're gonna trust the commission isn't going to want there to be any controversy next time and it's up to them to decide how they want to handle it."
It does seem as though the fair thing to do would be to have at least one non-American judge; Ward being American and Kovalev being Russian as if we didn't know. If there are three American judges in place for the return fight, this will simply be unfair. And the last thing we need is a second controversial result between these two, seemingly genuinely bitter rivals.